For the last three years we've been busily working on a secret project, and we're excited to be able to finally tell you about it. Our first ever mobile app, The MediterrAsian Table, is now available for the iPhone and iPad (with an Android version coming soon).
The app features over 150 simple, delicious and nutritious Mediterranean and Asian recipes, plus hundreds of variations. But it's much more than just a cooking app, it's also a complete healthy living guide based on how the world's healthiest and longest living peoples eat and live. And it's all contained within a beautiful, streamlined interface that's intuitive and easy to use.
Join us in celebrating the launch! Download The MediterrAsian Table from the App Store, and tell your friends and family the good news.
About The MediterrAsian Table
The centerpiece of the app is the collection of over 150 Mediterranean and Asian recipes, including stir-fries, pasta dishes, curries, stews, sushi, soups, salads, sandwiches, appetizers, side dishes, and desserts. This collection is a mix of new recipes (many of which we've been cooking and enjoying for years, but hadn't photographed or published before), as well as the very best recipes from our website and blog (with extended headnotes, plus added variations and serving tips).
Here are just some of the delicious new recipes:

All the recipes in the app have an accompanying full screen photo. And these photos look so vivid and detailed on the high resolution iPhone and iPad screen that it feels like you can almost reach in and grab the food! The recipes are also really easy to follow, with step-by-step recipe instructions that can each be tapped to mark as complete.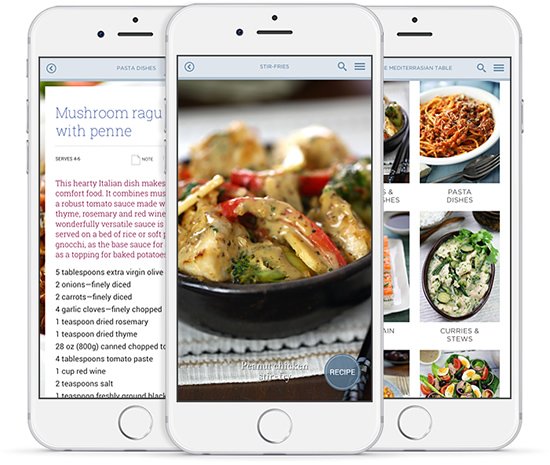 Shop, cook and eat better
Having this collection of recipes on a mobile device makes them so easily accessible. You don't even need an Internet connection. But it's the functionality of the app we love the most. The automated shopping list function, for example, makes planning and shopping for meals a breeze.
With one tap, the ingredients for any recipe are added to your own personal shopping list. This list can be viewed by recipe or by grocery aisle, and it's automatically updated every time a new recipe is added. When you go grocery shopping, simply tap each item in the shopping list to cross it off.
It's also really easy to attach a note to a recipe. If you've ever jotted down notes in the margin of a cookbook you'll really appreciate this feature.  And if you find that you're cooking a certain recipe again and again, you can add it to your own favorites collection so it's always easily accessible.
A simple and practical guide to following the world's healthiest diet
A growing number of scientists, doctors and dietitians believe that a MediterrAsian diet — which combines the best features of the Mediterranean diet and Asian diet — is the world's healthiest diet. We've been following a MediterrAsian way of eating for over a decade and a half, and over that time we've immeasurably improved our health and wellbeing. We've also learned lots of valuable lessons on how to incorporate Mediterranean and Asian eating and lifestyle practices into our hectic Western lives.
In the app we guide you through the simple process of setting up your own MediterrAsian kitchen. We show you exactly what foods to stock in your pantry, refrigerator and freezer (you'll probably be surprised by how many of these foods you're already familiar with). We also introduce you to the preparation and cooking techniques you'll use most often, and share lots of practical tips on how to save time in the kitchen.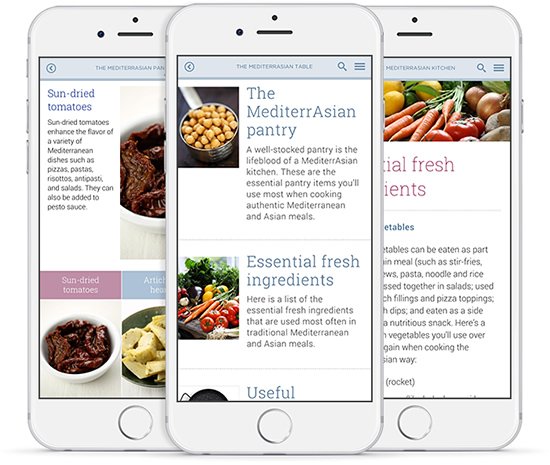 There's also a 4-week MediterrAsian meal plan which includes breakfasts, lunches, dinners and snacks for a full month. You'll find there's no counting calories, or fat grams, or carb grams, or anything like that. You'll be eating delicious well-balanced meals that are naturally moderate in calories yet very filling (so you won't get hungry), and also rich in vitamins, minerals, fiber and amazing health-giving antioxidants and phytochemicals.
Nothing is set in stone with this plan, and there certainly aren't any strict rules and regulations. In fact, it's up to you if you want to follow the plan to the letter, or just use it as a blueprint to give you inspiration.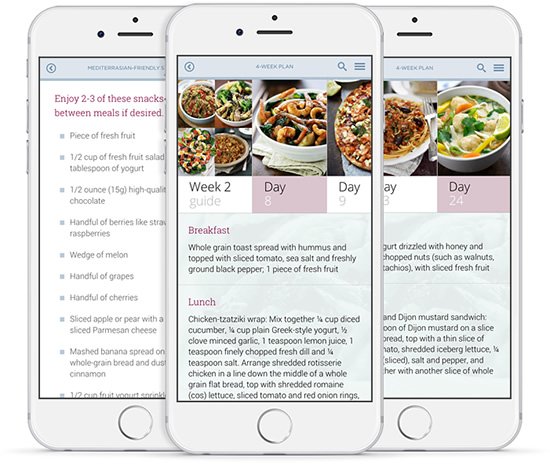 Another big feature of the app is the MediterrAsian 101 section where we show you how to easily (and joyfully!) mimic the traditional dietary practices of people who live in Mediterranean and Asian regions of the world. This section includes the 'MediterrAsian Pyramid' which is a simple at-a-glance guide to eating and living the MediterrAsian way. We also outline some highly effective ways to slip moderate daily physical activity into your everyday life, without having to formally exercise. We also reveal lots of simple ways you can mimic the relaxed, less stressful lifestyles of people from traditional Mediterranean and Asian cultures.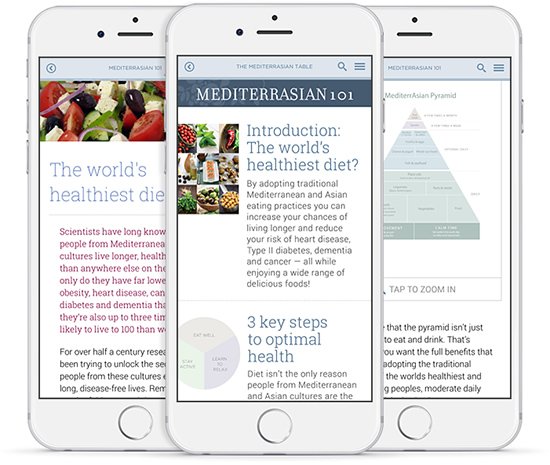 How to eat and live well the MediterrAsian way
You don't have to move to the Mediterranean region or Asia to enjoy the wonderful tastes and incredible health benefits of a MediterrAsian way of living. All you have to do is apply these same simple principles in your own life. And The MediterrAsian Table provides you with practical advice and recipes to help you do just that.
We hope you enjoy it!