PASTA DISHES
Pasta with shrimp, arugula, lemon and chili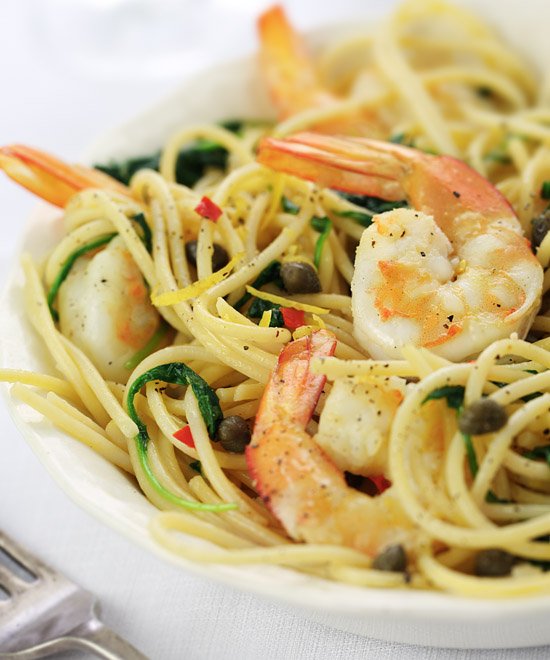 We discovered a great trick a few weeks ago that not only saves energy (electricity/gas) when you're cooking pasta, it also greatly reduces the amount of heat and steam released during the cooking process (which is great for keeping your house cool on a hot day). All we did was add the pasta to a pot of rapidly boiling water for just 2 minutes, stirred, then turned off the heat and put a lid on. After 10 minutes the residual heat plus the trapped steam cooks the pasta to perfection.
Since discovering this "trick" we've tried out the technique using several different pasta shapes — from fettuccine and fusilli to spaghetti and penne. Each time the pasta was cooked perfectly!
You can use this method to cook the pasta in this dish, or you can use the conventional method, either way we think you'll really enjoy this recipe. Once you've got the pasta cooking, it simply involves sautéing some fresh shrimp with chili, lemon zest, garlic and capers. After the pasta is cooked, you add some chopped arugula (rocket) to the bottom of the pot and top it with the hot drained pasta and shrimp (which wilts the arugula). Then you simply add a little lemon juice and extra virgin olive oil before tossing and serving.
If you're not a fan of shrimp, you can make this dish with sautéed scallops or chicken. You can also use fresh baby spinach leaves rather than arugula, and dried red chili flakes as an alternative to fresh red chili.
Pasta with shrimp, arugula, lemon and chili
serves 4
Spaghetti with a simple and nourishing sauce made with tomatoes, zucchini, garlic, fresh basil and canned tuna.
5 tablespoons extra virgin olive oil
2 onions — finely chopped
3 zucchinis — diced
5 cloves garlic — finely chopped
28 oz (800g) canned chopped tomatoes
2 teaspoons salt
½ teaspoon freshly ground black pepper
14 oz (400g) spaghetti or linguine
12 oz (340g) canned tuna in olive oil — drained and broken into chunks
3 tablespoons finely chopped fresh basil
Finely grated Parmesan cheese, to serve
HEAT 3 tablespoons of oil in a large pan over medium-high heat. COOK the onion for 6 minutes. ADD the zucchini and cook for 6 minutes, stirring occasionally. ADD the garlic and cook a further minute. ADD the tomatoes, salt and pepper, bring to the boil, reduce the heat to medium-low and cook, uncovered, for 8 minutes. WHILE the sauce simmers, cook the pasta in a large pot of lightly salted boiling water according to package directions. ADD the tuna and basil to the sauce and cook for 2 minutes. REMOVE the sauce from the heat then stir through the remaining 2 tablespoons of oil. DRAIN the pasta and toss with the sauce. SERVE sprinkled with Parmesan cheese.