BREAKFASTS
Smoked salmon bruschetta with arugula and lemon-chive ricotta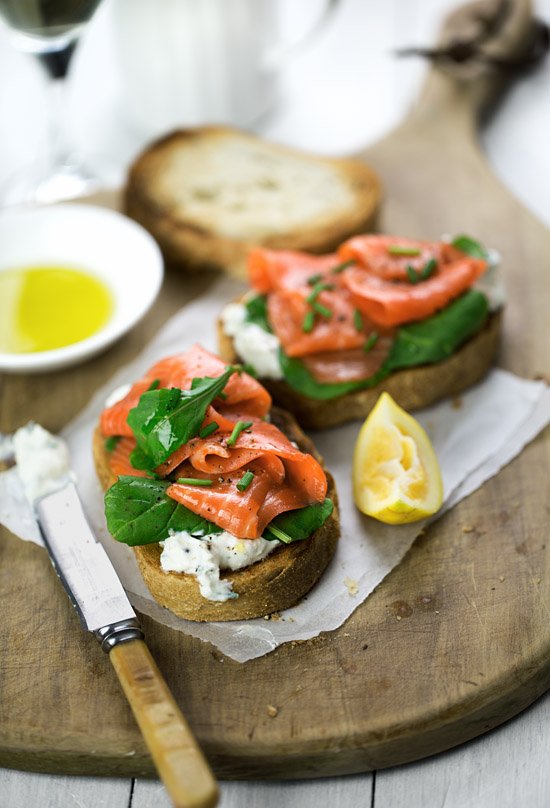 This is a lighter, Italian version of the classic smoked salmon and cream cheese bagel. Instead of bagels it uses toasted slices of Italian ciabatta bread (or you could substitute sourdough), and instead of cream cheese it uses ricotta cheese (which has almost half the calories of cream cheese).
The ricotta is turned into a creamy spread by adding chopped chives, lemon and freshly ground black pepper. And it combines beautifully with peppery arugula (rocket) and slices of delicate smoked salmon — which also happens to be rich in heart-healthy omega-3 fats.
This is one of those handy meals that's quick and easy to make, and leaves you feeling satisfied and well-fed but not overfed. We've served this dish for breakfast, lunch and as a light dinner, but it also makes a lovely starter. Or, by cutting the bruschetta into smaller pieces, you can also serve it as finger food.
Smoked salmon bruschetta with arugula and lemon-chive ricotta
Serves 2
Bruschetta topped with a creamy lemon-chive ricotta spread, fresh arugula, and slices of succulent smoked salmon.
¾ cup ricotta cheese
2 teaspoons lemon juice (plus lemon wedges for squeezing)
½ teaspoon finely chopped lemon zest
1 tablespoon finely chopped chives (plus extra to garnish)
½ teaspoon salt
½ teaspoon freshly ground black pepper
4 thick slices of crusty Italian bread (ciabatta is ideal)
4 teaspoons extra virgin olive oil
A handful of arugula (rocket)
3½ oz (100g) thinly sliced smoked salmon

MIX together the ricotta cheese, lemon juice and zest, chives, salt and pepper in a bowl until well combined. TOAST the ciabatta on both sides then brush the top of each with 1 teaspoon of olive oil. SPREAD the ricotta mixture evenly on the bread slices, arrange the arugula over each, then place the salmon on top. GARNISH with extra chives and freshly ground black pepper and serve with lemon wedges for squeezing.