SALADS
Avocado and spinach salad with toasted pine nuts and sundried tomato-balsamic dressing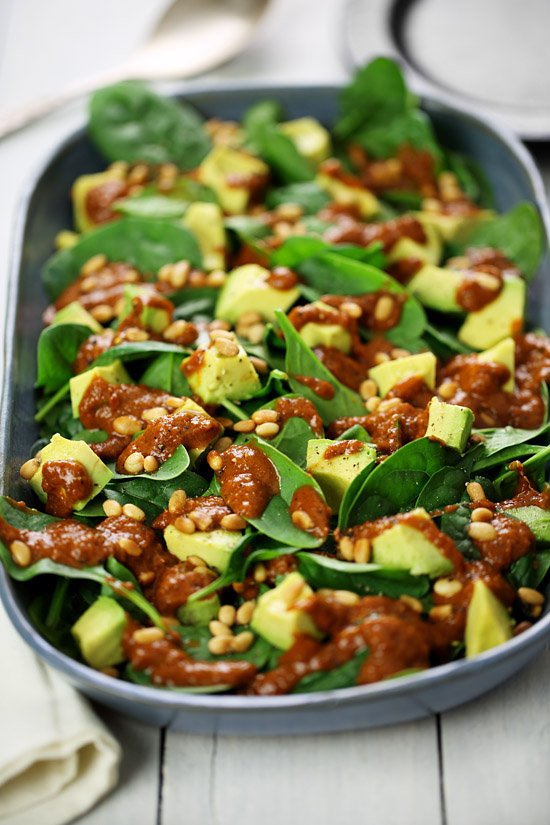 This opulent tasting salad is actually incredibly good for you. The avocado is a great source of dietary fiber, potassium and heart-healthy monounsaturated fat. Baby spinach contains iron and special compounds called carotenoids that have anti-inflammatory and anti-cancer properties. Sundried tomatoes are rich in lycopene, a powerful antioxidant that protects your cells from free radical damage. And the pine nuts contain protein and good fats that help lower LDL cholesterol levels.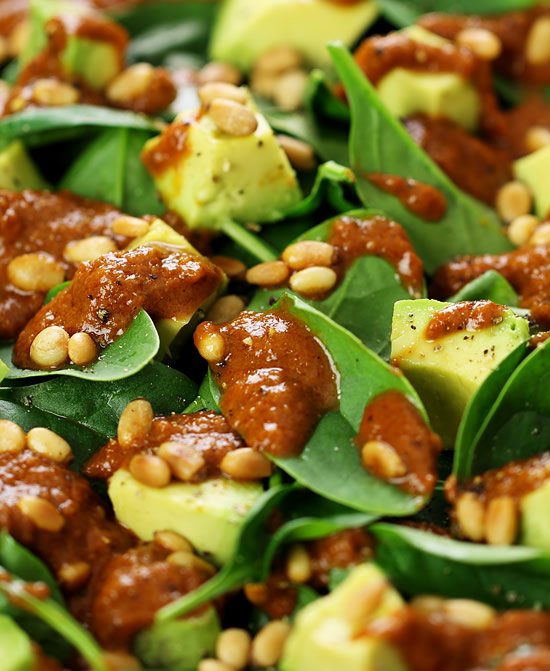 This delicious and nutritious salad makes an easy side dish for a weeknight meal, and because of the sun-dried tomatoes in the dressing this is a great salad to make when fresh tomatoes are scarce. It pairs beautifully with fish, seafood, or chicken. We also love serving it on top of bruschetta with sliced smoked salmon for a luscious brunch dish. (The salmon provides even more healthy fats!) We've also used the rich and tangy sundried tomato-balsamic dressing separately as a pasta sauce, pizza sauce, and as a dip.
Avocado and spinach salad with toasted pine nuts and sundried tomato-balsamic dressing
Serves 4
Chunks of creamy avocado on a bed of baby spinach leaves, drizzled with a luscious sundried tomato-balsamic dressing, and scattered with toasted pine nuts.
2 tablespoons raw pine nuts
¼ cup jarred sundried tomatoes — roughly chopped
⅓ cup water
¼ cup extra virgin olive oil
2 tablespoons balsamic vinegar
1 garlic clove — minced
½ teaspoon salt
¼ teaspoon freshly ground black pepper
3 cups packed baby spinach leaves
1 avocado — cut into small cubes
TOAST the pine nuts in a pan over medium heat, stirring regularly, until golden brown, then remove and set aside. PLACE the water, sundried tomatoes, olive oil, balsamic vinegar, garlic, salt and pepper into a food processor or blender and process until well combined. ARRANGE the baby spinach leaves and cubed avocado on a serving platter, drizzle the dressing evenly over the salad, and scatter the pine nuts on top.