SOUPS
Minestrone soup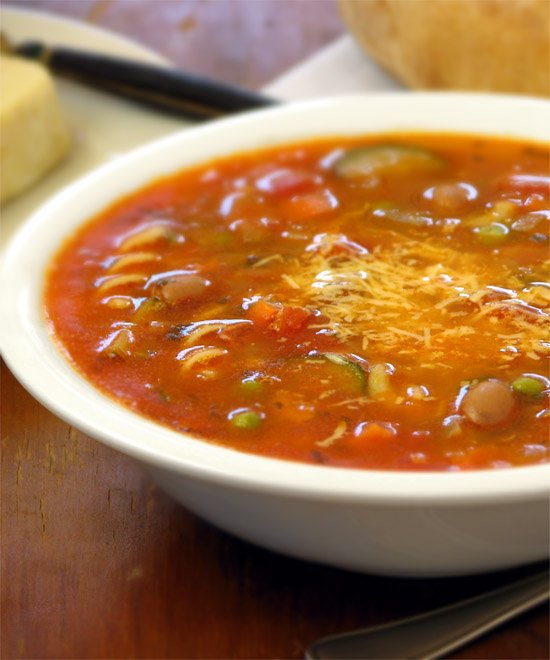 Back when times were tough in Italy, and ingredients were limited, the poor peasants had to make the most of the simple foods that were available to them such as grain foods, beans and lentils, and seasonal produce. Meat was expensive and eaten only occasionally and in small amounts. In kitchens throughout Italy, cooks learnt to use their resourcefulness and imagination to transform basic staples into delicious, nutritious and filling dishes — a style of cooking known as cucina povera, meaning the cuisine of the poor. And although cucina povera arose from necessity, it has evolved into a traditional way of cooking that gives humble ingredients the respect they deserve. 'Peasant food' has become very popular in recent years, and many classic cucina povera dishes are still enjoyed today in homes and restaurants around the world.
Take Minestrone soup, for instance, which is a hearty bean-based soup concocted from staples of cucina povera: grains in the form of pasta makes this soup more substantial; only a small amount of bacon is used for flavor, with beans instead providing protein; and a variety of everyday vegetables (fresh, canned and frozen) add lots of nutrients for little money. It never ceases to amaze me how this soup is made with such deceptively simple ingredients, yet is so deeply satisfying, flavorsome, and comforting. It just goes to show that by embracing the Italian tradition of cucina povera you don't have to fork out on pricey ingredients to eat really well.
Minestrone soup
Serves 4
This classic Italian minestrone soup is packed with flavor and nutrients and is hearty enough to be eaten as a light meal in its own right.
4 tablespoons extra virgin olive oil
2 slices lean bacon, finely chopped
1 red onion, diced
1 carrot, peeled and diced
1 stick celery, diced
2 cloves garlic, minced
6 cups vegetable stock
2 cups canned chopped tomatoes
1 teaspoon salt
½ teaspoon freshly ground black pepper
½ cup small pasta, such as elbows or orzo
½ cup frozen green peas, thawed
1 zucchini (courgette), cut in half lengthways and sliced into half-moons
1 cup canned white beans (like cannellini), rinsed and drained
2 tablespoons finely chopped flat-leaf parsley
Finely grated Parmesan cheese
HEAT 2 tablespoons of the oil in a large saucepan and cook the bacon, stirring occasionally, for 2 minutes. ADD the onion, carrot, and celery and cook, covered, for 3 minutes. STIR again and cook, covered, for another 3 minutes. ADD the garlic and cook, stirring regularly, for a minute. ADD the stock, tomatoes, salt, and pepper and stir to combine. BRING to a boil, cover, reduce the heat to medium, and simmer for 10 minutes. ADD the pasta, peas, zucchini, and beans, stir to combine, increase the heat to medium-high and cook, covered, until pasta is tender, about 8 minutes. REMOVE from the heat and stir in the parsley and the reserved 2 tablespoons of olive oil. SERVE in bowls sprinkled with a little grated Parmesan cheese.