SALADS
Bulgur salad with fava beans, cherry tomatoes, olives and feta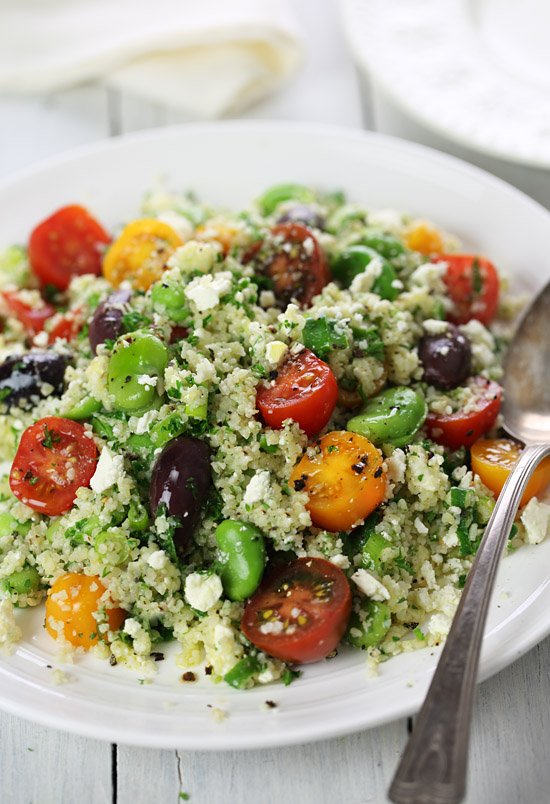 In this recipe we've taken the best bits from two classic Mediterranean salads and combined them into one. This salad contains some elements of a Greek salad — sweet juicy tomatoes, creamy feta, and plump Kalamata olives, but with the addition of some ingredients that you'd find in a classic Tabbouleh salad — bulgur, parsley, mint and scallions. Bulgur has a slightly nutty taste and chewy texture, and it's such a versatile, filling, and fiber-rich whole grain to have on hand. We usually serve it with Mediterranean-style stews, in pilafs, or in salads like this one.
We've flavored the bulgur with a simple olive oil-garlic-lemon dressing and added protein-rich fava (broad) beans to make the salad even heartier. The sweet cherry tomatoes not only give the salad a fresh burst of flavor but also a beautiful color and some amazing health benefits too. Together with the other ingredients this salad is both seriously nutritious and delicious.
You can serve this bulgur salad by itself as a simple light lunch, or accompanied with grilled fish, shrimp or chicken to round out the meal. You could also stuff the salad into whole wheat pita pockets or flat breads together with hummus and falafel.
Bulgur salad with fava beans, cherry tomatoes, olives and feta
Serves 4
Bulgur, with its slightly nutty taste and chewy texture, combines beautifully with vibrant fava beans, sweet cherry tomatoes, plump Kalamata olives, and crumbled feta.
½ cup bulgur
1 cup frozen fava (broad) beans
3 tablespoons extra virgin olive oil
1½ tablespoons lemon juice
1 garlic clove — minced
½ teaspoon salt
½ teaspoon freshly ground black pepper
1½ cups cherry tomatoes — halved
8 Kalamata olives — pitted and halved
2 scallions — thinly sliced
2½ oz (70g) feta cheese — crumbled
2 tablespoons finely chopped fresh parsley
½ tablespoon finely chopped fresh mint
COOK the bulgur according to package directions. PLACE the fava beans in a separate bowl, pour over boiling water to cover, and allow to stand for 5 minutes. REFRESH the fava beans under cold water, drain, then peel off the leathery skins. PLACE the olive oil, lemon juice, garlic, salt and pepper in a jar with a screw-top lid and shake to combine. MIX together the prepared bulgur and fava beans, tomatoes, olives, scallions, feta, parsley and mint in a bowl. DRIZZLE in the dressing and toss gently to combine well.