STIR-FRIES
Cantonese shrimp and vegetable stir-fry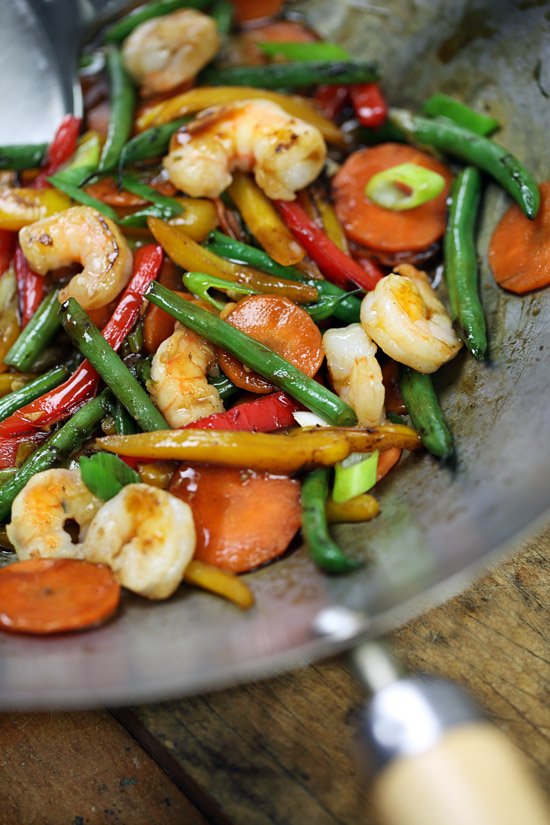 We were in the mood for a stir-fry last night, and needed just a basic sauce to go with shrimp and some vegetables we had on hand — red and yellow peppers, green beans, carrot and scallions. This is the recipe we came up with. It's very simple and absolutely delicious.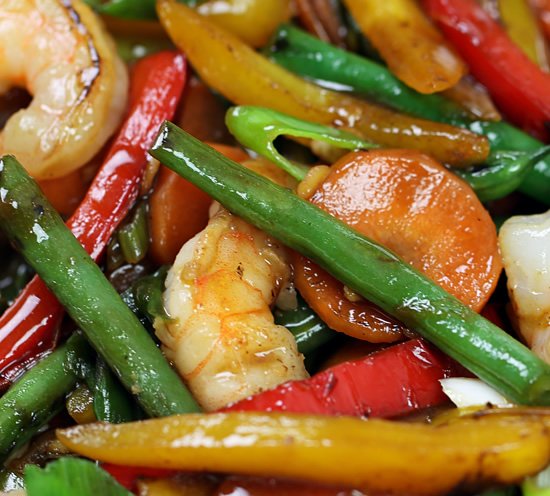 The sauce has a wonderful sweet-savory taste that makes it a versatile all-purpose base for many Chinese-style dishes. It's made with only three ingredients: oyster sauce, which adds a unique, savory but sweet flavor; rice vinegar, and soy sauce. These three ingredients turn up in a lot of our Chinese recipes including dipping sauces, marinades and stir-fry sauces. They aren't expensive and you can usually find them at large supermarkets or Asian food stores. We've found that the quality of oyster sauce varies greatly between brands, which affects the overall flavor of the dish, so we stick with the brand we know and love — Lee Kum Kee. This stir-fry is great with shrimp, but scallops, squid, chicken or tofu also work really well.
Cantonese Shrimp and Vegetable Stir-Fry
serves 2
Stir-fries are one of the easiest and tastiest ways to eat more vegetables. This veggie-packed shrimp stir-fry takes less time to prepare and cook than ordering takeout, and we reckon it tastes twice as good!
3 tablespoons oyster sauce
2 tablespoons soy sauce
1 tablespoon rice vinegar
1 tablespoon water
3 tablespoons peanut or canola oil
16 large uncooked shrimp (prawns) — peeled and deveined
½ yellow pepper — cut into thin strips
½ red pepper — cut into thin strips
16 green beans — halved
1 carrot — cut into thin rounds
1 scallion — thinly sliced on the diagonal
2 cloves garlic — finely chopped
Cooked rice or noodles, to serve
MIX the oyster sauce, soy sauce, rice vinegar and water together in a small bowl until combined. HEAT a wok or large frying pan over a high heat, add 1 tablespoon of the oil and stir-fry the shrimp for 2 minutes. REMOVE the shrimp from the wok and set aside on a plate. HEAT the remaining 2 tablespoons of oil in the wok and stir-fry the yellow and red peppers, green beans and carrot for 5 minutes. ADD the scallions and garlic and stir-fry for a minute, then return the cooked shrimp to the wok. ADD the sauce mixture and cook for 30 seconds to heat through. SERVE with rice or noodles.