SALADS
Thai shrimp noodle salad
I eat a lot of whole grains. For breakfast, I regularly have whole grain cereal such as oatmeal or muesli; or toasted whole grain bread with toppings (such as natural peanut butter, avocado, or sliced cheese and tomato). A typical weekday lunch is a sandwich, stuffed pita or a wrap made with whole grain breads. When we make pizza at home, we'll often use a large whole wheat pita as the crust. I also love bulgur (which is made from whole wheat) topped with stew, or in tabbouleh salad. And if I feel like a snack, I'll often have some air-popped popcorn (popcorn is a whole grain) or a whole grain cracker.
But I'm not a fan of all whole grain foods. I've tried brown rice several times, in several different ways, and each time I was disappointed — not only with the flavor, but also the texture. In comparison, white rice is light in texture and subtle in flavor. It embraces the flavor of the food it's paired with, whereas I find that brown rice does just the opposite and tends to overpower the taste of other food.
So I basically gave up on brown rice a long time ago. And I'm not the only one. White rice has been far more popular than brown rice throughout Asia and the Mediterranean for many generations. And no wonder — I couldn't imagine sitting down to plateful of brown rice sushi, or eating brown rice paella or risotto either.
But what about those naysayers who preach that white rice is highly fattening and unhealthy? What nonsense! The leanest, healthiest and longest-living peoples in the world eat white rice regularly. This makes it obvious that white rice is far from a dietary villain.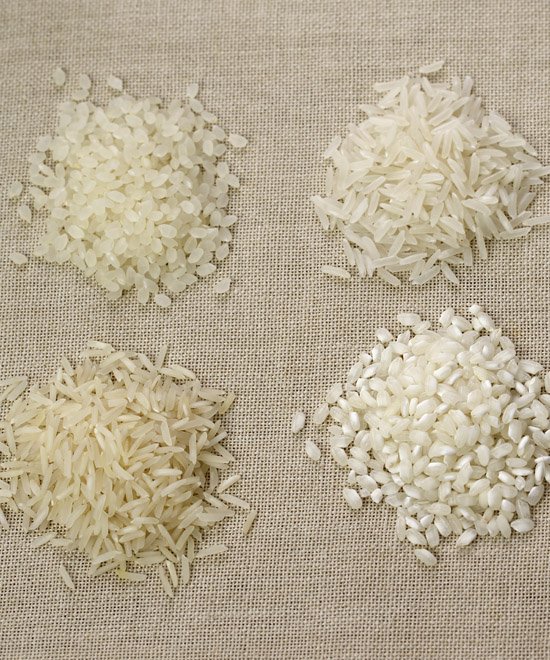 Indeed, research has found that over the last 35 years rice consumption in Japan has dropped by more than 50 percent. This is because many Japanese, particularly the younger generation, are embracing a Western-style diet rich in meat, sugar and junk food. And guess what's happened over the same time period? Obesity rates, as well as rates of heart disease and type 2 diabetes have climbed steadily. And Alzheimer's disease rates rose from 1 percent in 1985 to 7 percent in 2008.
Now I'm not saying that the answer to a leaner healthier body is to rush out and grab a sackful of white rice. But what I'm saying is that white rice, in all it's wonderful varieties (including Italian arborio, Indian basmati, Thai jasmine, Spanish calasparra, and Japanese koshihikari), can fit perfectly into a varied and balanced diet.
The key is to eat white rice like people from Mediterranean and Asian cultures do: in sensible portions (yes, calories still count), and mixed with slowly-digesting foods like fish, beans, nuts, plant oils, and vegetables. This not only makes the rice taste better, it also means that it's digested at a slow and steady rate — so you won't get blood sugar swings and rebound hunger.
This tasty Thai salad — which contains a mix of rice noodles, shrimp, vegetables, cashew nuts and sesame oil — is a great example of what I mean.
Thai shrimp noodle salad
Serves 4
Succulent shrimp, cashews, sweet peppers, snow peas and shredded cabbage combined with rice noodles and coated in a tangy lime, basil and chili dressing.
3 oz (85g) dried rice stick noodles
2 tablespoons fish sauce
2 tablespoons lime juice
1 tablespoon rice vinegar
1 tablespoon soy sauce
2 teaspoons toasted sesame oil
2 tablespoons finely chopped fresh basil
2 teaspoons brown sugar
½ teaspoon dried chili flakes
1 garlic clove — minced
2 cups finely shredded cabbage
12 snow peas — halved on the diagonal
1 yellow or red pepper — cut into thin strips
2 scallions — thinly sliced on diagonal
½ cup roasted cashews
2 cups precooked peeled shrimp
1 fresh red chili — thinly sliced into rounds (to garnish)

SOAK the noodles in boiling water according to package directions. WHILE the noodles soak, place the fish sauce, lime juice, rice vinegar, soy sauce, sesame oil, basil, sugar, chili flakes and garlic in a screw-top jar and shake to combine. RINSE the noodles under cold water and drain well. PLACE the noodles in a salad bowl with the cabbage, snow peas, yellow pepper, scallions, cashews, and shrimp and toss to mix. POUR over the dressing and toss again to thoroughly combine. SERVE garnished with the sliced chili.