RICE & GRAIN DISHES
Ham and mushroom fried rice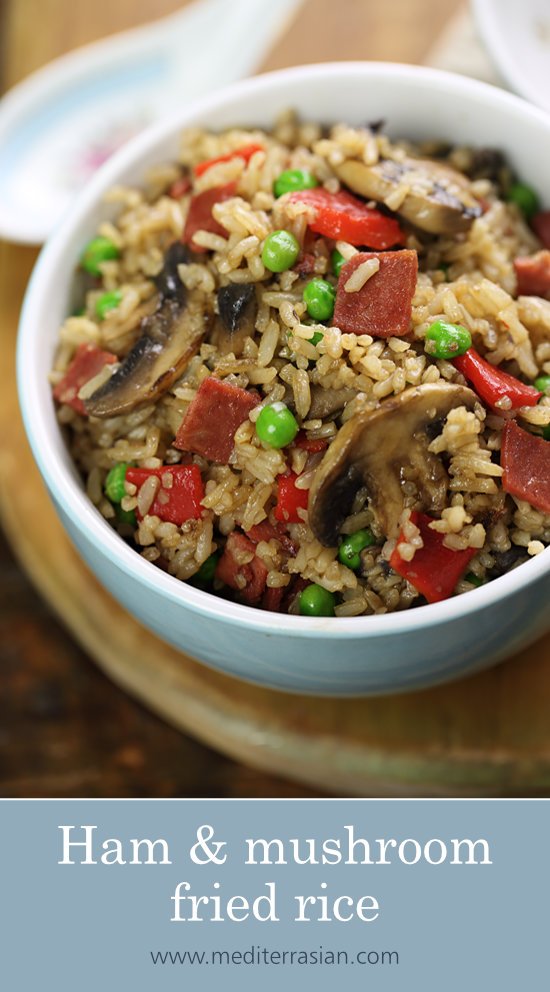 A big mistake many people make when they cook fried rice at home is to use freshly cooked rice that hasn't been allowed to cool sufficiently. This will, more often than not, lead to the rice breaking up into an undesirable mushy consistency.
The secret to making authentic fried rice is to let the cooked rice cool for a few hours (preferably overnight) before stir-frying it. By doing this, the rice dries into individual grains that stay whole and become lightly toasted in the cooking process.
This fried rice recipe is simple to prepare and makes a healthful meal in a bowl. And I always leave the table pleasantly full after a serving — even though I've only consumed a moderate amount of calories. And because the rice is mixed with protein-rich ham and slowly-digesting fibrous vegetables I stay pleasantly full for a long time afterwards.
Ham and mushroom fried rice
serves 4
Fried rice makes a quick yet tasty and nourishing meal for lunch or dinner. This version uses diced ham, together with a simple vegetable combination and traditional Chinese seasonings.
2 cups long-grain white rice
4 tablespoons Chinese soy sauce
4 tablespoons oyster sauce
4 teaspoons toasted sesame oil
4 tablespoons peanut oil or canola oil
1 red pepper — diced
2 cups sliced button mushrooms
5 oz (140g) thinly sliced ham — chopped
1 cup frozen green peas — defrosted
4 garlic cloves — finely chopped
BRING 3 cups of water to a boil in a saucepan. STIR in the rice and keep stirring until the water returns to a boil. COVER the pot with a tight-fitting lid, reduce the heat to very low, and simmer gently for 15 minutes. LEAVE the rice to cool (preferably in the fridge overnight). MIX together the soy sauce, oyster sauce and sesame oil in a small bowl. HEAT a wok or large frying pan over high heat then add the oil. ADD the red pepper and stir-fry for 2 minutes. ADD the mushrooms, ham, peas and garlic and stir-fry for 1 minute. ADD the rice and sauce mixture and stir-fry for 3 minutes.