SOUPS
Thai chicken soup with basil and lime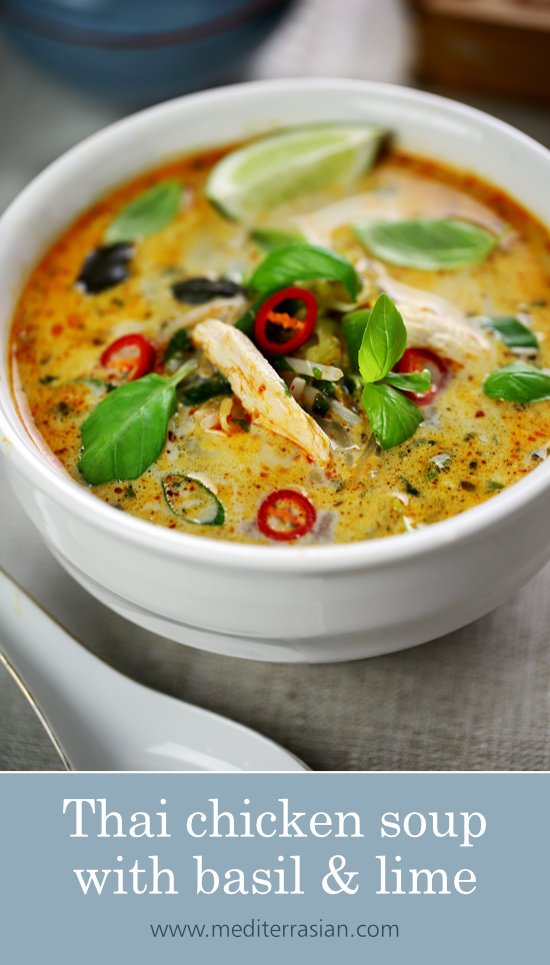 This simple and nutritious soup has a wonderful blend of hot, sour, salty and sweet flavors that are characteristic of authentic Thai cuisine. We love hot and spicy food, so we also garnish this soup with slices of red chili to add an extra kick to the coconut-infused broth. But feel free to omit this step.
To make this soup as easy to prepare as possible we use store bought Thai red curry paste (Mae Ploy brand is our favorite), and shredded rotisserie chicken. We also add a few easy-to-prep, quick-cooking veggies — green beans, bean sprouts and scallions — to make it a substantial, yet light and refreshing soup.
To turn this soup into a complete meal you can add cooked rice noodles. It can also be varied in many different ways: for a seafood version, add shrimp, squid, scallops, fish or mussels; for a vegetarian version, use tofu or tempeh in place of chicken; use different combinations of fresh vegetables such as mushrooms, snow peas, or thinly sliced zucchini; add some canned Asian veggies like sliced bamboo shoots, water chestnuts or baby corn; replace the lime juice with lemon juice; or use cilantro (fresh coriander) instead of basil.
Thai chicken soup with basil and lime
Serves 2
A warming and delicately spiced Thai chicken soup accented with fresh basil and lime juice.
1 tablespoon peanut or canola oil
1 tablespoon Thai red curry paste
2 garlic cloves — finely chopped
3 cups chicken stock
1 cup coconut milk
2 tablespoons fish sauce
2 teaspoons brown sugar
10 green beans — cut into ½-inch pieces
1 cup bean sprouts
1 scallion — thinly sliced on diagonal (reserve some green scallion to garnish)
1 cup shredded rotisserie chicken
1 tablespoon finely chopped fresh basil (plus some whole basil leaves to garnish)
2 tablespoons lime juice
1 red chili — thinly sliced into rounds, to garnish (optional)
HEAT the oil in a large saucepan over a medium heat. ADD the curry paste and garlic and cook for 1 minute, stirring. ADD the stock, coconut milk, fish sauce and brown sugar and bring to the boil. ADD the green beans, then reduce heat to medium-high and simmer for 3 minutes, uncovered. ADD the bean sprouts, chicken and scallion and simmer for 2 minutes, uncovered. REMOVE from the heat and stir in the basil and lime juice. SPOON into bowls, garnish with extra basil leaves, scallion and sliced red chili (if using).