About MediterrAsian
Hi, I'm Trudy and I eat a wide variety of delicious foods every day including pasta dishes, curries, sushi and pizza. I also drink red wine most days. And I never count calories, carbs or fat grams. Yet I'm in the best shape of my life and I've never felt healthier.
What's my secret? Actually it's not a secret at all. You've probably heard many good things about the Mediterranean diet, which is based on the traditional diets of those countries bordering the Mediterranean Sea including Greece, Italy and Spain. Decades of scientific research has found that this way of eating not only helps you stay in shape and live longer, it also greatly reduces your risk of heart disease, type 2 diabetes, Alzheimer's disease and many forms of cancer.
You probably also know that Asian diets, such as the Japanese diet, are also very healthy. All I did was combine these traditional and highly appetizing diets into one 'MediterrAsian' diet — so I literally get the best of both worlds!
I didn't come up with this concept alone. In fact it was an extraordinary set of circumstances that led me to follow a MediterrAsian way of eating in the first place.
Good Food That's Good For You
My parents are both medical doctors, so I've always had a natural interest in health and healthy living. But it wasn't until I was introduced to authentic Asian cooking by my Chinese-Malaysian sister-in-law in my late teens that I discovered that healthy food and delicious food could be one in the same. This was a revelation to me, and I've been hooked on Asian food ever since.
Then, in my twenties, I met and fell in love with Ric. Like me, Ric is very interested in health and healthy living. That's mainly because he lost his own health when he was involved in a near-fatal motorcycle accident. After lots of struggle and pain, he only fully regained his health by adopting a Mediterranean diet. When we met, I introduced Ric to Asian cooking and he introduced me to Mediterranean cooking. We ended up bonding over pad Thai and paella!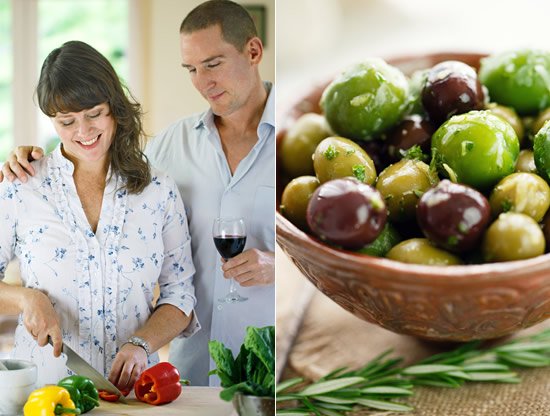 We also discovered there were so many benefits to eating a combined diet of Mediterranean and Asian foods. One of the biggest benefits was for our taste buds. So many of the world's most mouthwatering foods originate from Mediterranean and Asian regions, including pasta dishes, sushi, pizza, risotto, curries, and stir-fries. So we never feel deprived. And the health benefits have also been extraordinary. From helping to get us in the best shape of our lives to improving our cholesterol levels and blood pressure, and giving us bucket loads of energy.
Our MediterrAsian Mission
We've benefited enormously from eating the MediterrAsian way, and also from adopting other lifestyle habits of traditional Mediterranean and Asian cultures — like moving naturally as part of our everyday lives instead of slogging away in the gym, being more mindful eaters, and having a more laid-back attitude toward life.
That's why we felt it was really important to start this website and share what we've learned with others — especially with all the mixed messages out there these days about health and nutrition.
Not long after launching our site it was named as one of the best new websites by Yahoo!, and was selected as a 'Hot site' by USA Today. This led to the publication of our cookbook and lifestyle guide The MediterrAsian Way. The book received a recommendation from the Library Journal, and was named as one of the best cookbooks of the year by Southern California's oldest daily newspaper, the Santa Barbara News-Press.
Health Experts Embrace a MediterrAsian Way of Eating
Since the launch of our website and publication of our book there's been growing interest among health experts about the benefits of a MediterrAsian diet.
In fact, research by a group of German scientists from the University of Kiel found that combining Mediterranean and Asian diets can have a very positive effect on your genes. That's because many traditional Mediterranean and Asian foods — such as olive oil, red wine, turmeric and green tea — are rich in plant compounds called polyphenols. These polyphenols naturally activate a family of housekeeping genes in the body called sirtuins. Scientific research has found that sirtuins play a fundamental role in slowing cellular aging, reducing inflammation, and regulating blood sugars and metabolism. Activating sirtuins also helps increase the body's ability to burn fat.
Compared to severe calorie restriction, which is also known to activate sirtuins, the University of Kiel researchers found that a polyphenol-rich MediterrAsian diet activated sirtuins in a very similar way — but without having to restrict calories. Their groundbreaking research was published in the scientific journal Oxidative Medicine and Cellular Longevity. They wrote, "We suggest that a so-called MediterrAsian diet combining sirtuin-activating foods (=sirtfoods) of the Asian as well as Mediterranean diet may be a promising dietary strategy in preventing chronic diseases, thereby ensuring health and healthy aging."
The researchers also pointed out that the reason a MediterrAsian diet is so health-giving isn't just because it's rich in sirtfoods and many other nutrients: "We suggest that plant bioactives, antioxidant vitamins, and omega-3 fatty acids do not work in isolation. Rather they may act synergistically, thereby preventing chronic diseases." 
They also included a simple diagram that made it easy to understand why a MediterrAsian diet — with its wealth of sirtfoods and other important nutrients acting synergistically — is so beneficial for health and longevity.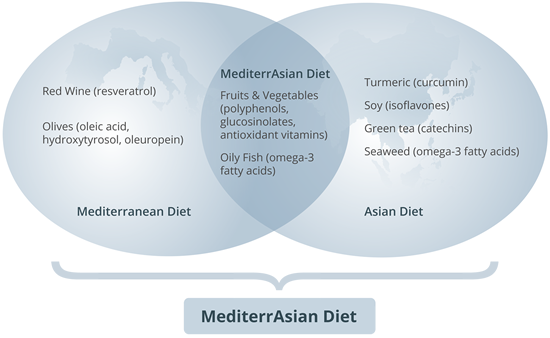 Then in 2016 Dr. Mariangela Rondanelli and a team of scientists from the University of Pavia, Italy, conducted a systematic review looking at the benefits of combining Mediterranean and Asian foods to improve cholesterol levels. They found that a MediterrAsian diet boosted 'good' HDL cholesterol, and reduced heart disease risk. The findings were published in the peer-reviewed journal BioMed Research International.
Professor Eugenio Iorio, founder and director of the International Observatory of Oxidative Stress (a non-profit scientific network of more than 3,000 researchers from 35 Countries) is also convinced of the health benefits of a MediterrAsian way of eating. He has held several popular lectures about this way of eating, and says that "the ideal paradigm for our health would be a MediterrAsian diet."
The University of Arizona College of Medicine now even offers an accredited course for physicians and dietitians which focuses on the powerful anti-inflammatory and disease-fighting effects of combining traditional Mediterranean and Asian eating practices.
How to Embrace a MediterrAsian Way of Living
So, if you want to get healthy and in shape, reduce your risk of chronic disease and live longer — all while enjoying a wide range of delicious foods — we highly recommend you adopt a MediterrAsian way of eating and living. Let our site be your guide. It's packed with simple, delicious and nutritious Mediterranean and Asian recipes, lifestyle tips, and lots of other useful resources. And don't forget to subscribe to our free MediterrAsian Newsletter for lots of delicious recipes and inspiring advice to help you live a longer, healthier life.
MediterrAsian in the Press
These are some of the media outlets that have featured our website and our recipes. Contact us for a full list of articles and features.