APPETIZERS
Red lentil kofta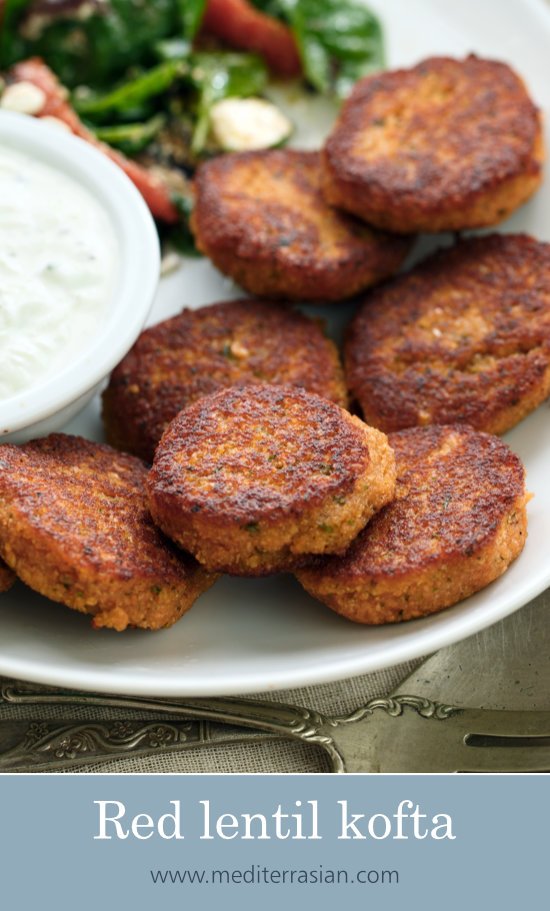 Have you got a bag of red lentils sitting in the back of your pantry and can't quite figure out what to do with them? Then this recipe is for you. And even if you haven't got red lentils on hand, may I suggest you grab some, because I know you won't regret making these delicious koftas.
They're similar to falafel (Middle Eastern chickpea fritters), except they're made with red lentils instead of chickpeas. The soaked lentils are blended with a simple combination of seasonings so they don't overpower whatever you serve them with. The mixture is then shaped into small patties and pan-fried.
They're perfect served as meze with tzatziki or tahini sauce for dipping. Or you can use them as you would falafel, stuffed in pita bread with crisp salad vegetables. But that's just the beginning. The red lentil mixture also makes excellent veggie burger patties because it firms up as it cooks and the texture becomes almost 'meaty'.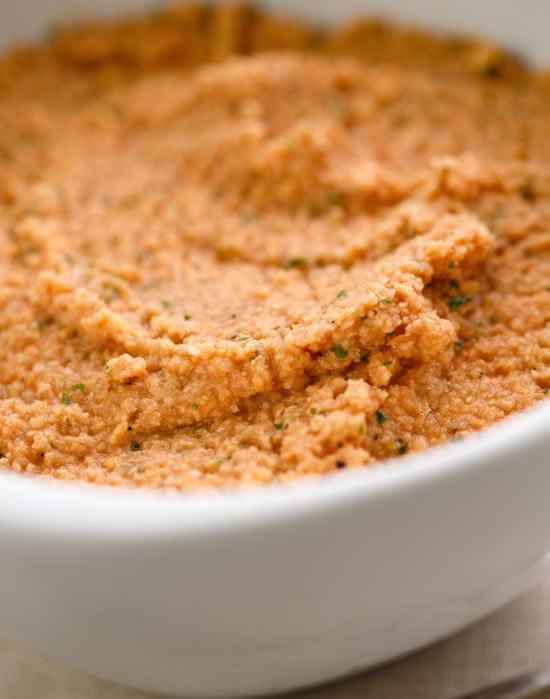 We've also formed the red lentil mixture into walnut-size balls, which we place on a baking tray and brush with olive oil, then bake in a preheated 400°F/200°C oven for 20 minutes, flipping halfway through. They make a great alternative to meatballs, and we add them to Mediterranean-style stews and sauces, including a yummy version of spaghetti and meatballs, with the oven-baked lentil balls tossed in a rich tomato Bolognese sauce.
And we've made really tasty Indian-style koftas based on a similar red lentil mixture, except we mix the lentils with ground coriander, cumin, turmeric and chili to season instead of dried oregano and tomato paste, and we replace the parsley with cilantro (fresh coriander). Formed into small patties, and either pan-fried or oven-baked, they can be added to Indian curries, or served as an appetizer with raita (Indian yogurt and cucumber sauce).
The red lentil mixture keeps in the fridge, covered for up to 5 days, so you don't have to cook it all at once. It also freezes well — just defrost overnight in the fridge before using.
UPDATE: Our Red Lentil Kofta recipe has gone viral on social media over the last few months, and it's great to see so many of you cooking them up and enjoying them! Here are some of our favorite kofta photos that you have shared...

Red lentil kofta
Serves 4
Mouthwatering little pan-fried patties made with red lentils, onion and garlic, and seasoned with oregano and fresh parsley. Perfect served as an appetizer with tzatziki or tahini sauce for dipping, added to stews, or stuffed into pita bread with crisp salad veggies. The kofta mixture can also be used to make delicious meatless burger patties.
1½ cups split red lentils
½ onion — chopped
2 garlic cloves — chopped
1½ tablespoons chopped fresh flat-leaf parsley
1 teaspoon dried oregano
1 tablespoon tomato paste
1½ teaspoons salt
½ teaspoon freshly ground black pepper
4 tablespoons extra virgin olive oil

SOAK the red lentils for two hours in plenty of cold water, covered (the dried lentils will swell to around 3 cups worth of soaked lentils). DRAIN the lentils thoroughly and place in a food processor. ADD the onion, garlic, parsley, oregano, tomato paste, salt and pepper. PULSE until the ingredients are well combined and the mixture holds together, making sure not to over-process because you don't want a paste. HEAT 2 tablespoons of olive oil in a large frying pan over medium heat. (Please note: it's very important you get the oil hot to prevent any sticking.) FORM 24 golf ball-size spoonfuls of the mixture (about 1 heaped tablespoon each) and flatten slightly with the palm of your hand. COOK 12 of the koftas for 4 minutes on each side. REPEAT the process with the remaining 2 tablespoons of olive oil and 12 koftas.