APPETIZERS
Falafel with tahini sauce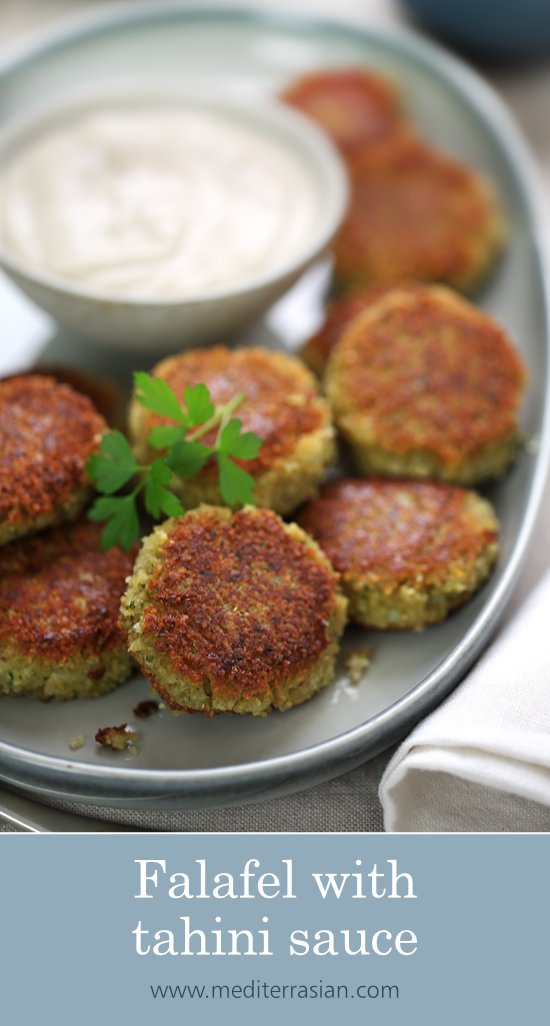 Falafel are traditional Middle Eastern chickpea fritters that are packed with protein and fiber and are incredibly versatile. As small patties, falafel make a great meze dish accompanied with the tahini sauce. We also nestle them in warmed pita bread or flat-bread with hummus, lettuce, tomato, cucumber, red onion, tahini sauce, plus a drizzle of chili sauce like sriracha.
Larger falafel patties make wonderful veggie burgers — either with the usual cheese, lettuce, onions and sliced tomatoes or turned into Falafel burgers with tahini-yogurt sauce. Sometimes we also cook walnut-size balls of the mixture and add them to a tomato-based pasta sauce for a version of spaghetti and meatballs.
The falafel mix keeps well in the fridge, in an airtight container or covered bowl, for up to a week. You can also freeze the mix for a few months and defrost it in the fridge overnight before shaping and cooking.
Falafel with tahini sauce
Serves 4
Delicately seasoned falafel (Middle Eastern chickpea fritters) served with creamy tahini sauce. Enjoy in pita bread with crisp salad vegetables, or simply by themselves as a delightful appetizer.
8 oz (230g) dried chickpeas
1 onion — diced
3 garlic cloves (1 clove roughly chopped, 2 cloves minced)
1 tablespoon finely chopped fresh flat-leaf parsley
2 teaspoons ground cumin
1 teaspoon ground coriander
1 ½ teaspoons salt
6 tablespoons extra virgin olive oil, for frying
½ cup tahini (sesame seed paste)
¼ cup lemon juice
¼ cup water

SOAK the chickpeas overnight in plenty of cold water, covered, on the kitchen bench (the dried chickpeas will swell to around 3 cups worth of soaked chickpeas). DRAIN the chickpeas well and place in a food processor. PULSE until they form a roughly chopped mixture, then add the onion, 1 clove of chopped garlic, parsley, cumin, coriander, 1 teaspoon of salt and olive oil and pulse more, scraping the sides occasionally, until the ingredients are well combined and the mixture holds together. HEAT 3 tablespoons of olive oil in a large frying pan over medium heat. FORM golf ball-size spoonfuls of the mixture (about 1 heaped tablespoon each) and flatten slightly with the palm of your hand (dampen your hands first to help prevent sticking). FRY half the patties (about 9) for 4 minutes on each side until crisp and golden. REPEAT the process with the remaining olive oil and falafel mixture. TO make the tahini sauce, place the tahini, 2 minced garlic cloves, ½ teaspoon salt, lemon juice and water into a small bowl and mix thoroughly to combine.