DESSERTS
Greek yogurt, apple, raisin and walnut cake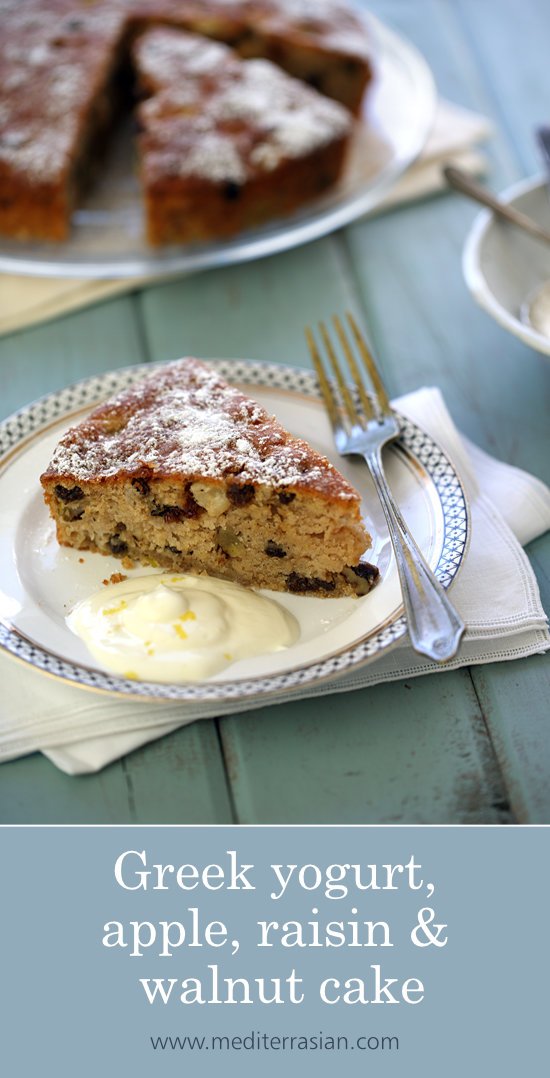 Greek yogurt is something you'll always find in our fridge. And we don't just use it in smoothies and spooned on top of breakfast cereal. We add it to everything from curries to soups, sauces to salad dressings, and desserts to baked goods.
We make this yummy cake using Greek yogurt as well as olive oil (so no butter or eggs are required). It creates a soft moist cake that keeps well without drying out. The slight tang of the yogurt also complements the natural sweetness of the raisins and apple. And because there's plenty of fruit in this cake, it doesn't require too much sugar. The yogurt and olive oil also make the cake naturally healthier. As do the walnuts, which are a good source of fiber and omega-3 fatty acids.
This cake is so chock-full of flavors and textures that it's lovely served simply as it is, without toppings or accompaniments, with a cup of tea or coffee. Although we do often serve it with a dollop of honey-sweetened Greek yogurt. It also makes a gorgeous dessert (heated if you like) with some custard or a scoop of vanilla ice cream.
Greek yogurt, apple, raisin and walnut cake
makes 1 cake
This luscious Greek-inspired cake (made with Greek yogurt and olive oil instead of butter and eggs) has a soft moist crumb, is dotted with sweet fruit, and has a lovely hint of cinnamon and nutmeg.
2 cups plain flour
½ cup packed brown sugar
2 teaspoons baking powder
½ teaspoon baking soda (bicarbonate of soda)
1 teaspoon ground cinnamon
½ teaspoon ground nutmeg
½ teaspoon salt
1 cup Greek yogurt
½ cup extra virgin olive oil
½ cup water
1 teaspoon vanilla extract
1 cup peeled, diced apples
½ cup raisins
½ cup walnuts
confectioners' (icing) sugar to dust (optional)

GREASE and lightly flour a 9-inch cake pan. PREHEAT the oven to 350°F/180°C. SIFT the flour, sugar, baking powder, baking soda, cinnamon, nutmeg and salt together in a large mixing bowl. MIX the yogurt, oil, water and vanilla essence together in a separate bowl. STIR in the apples, raisins and walnuts. ADD the wet ingredients to the sifted dry ingredients and stir gently to combine. SPOON the batter into the greased pan and spread evenly. BAKE for 45 minutes. REMOVE from the oven and let cool in the pan for 10 minutes, then turn the cake out onto a wire rack to finish cooling. DUST the top with confectioners' (icing) sugar, if using.