BREAKFASTS
Fruity couscous with honey-ginger yogurt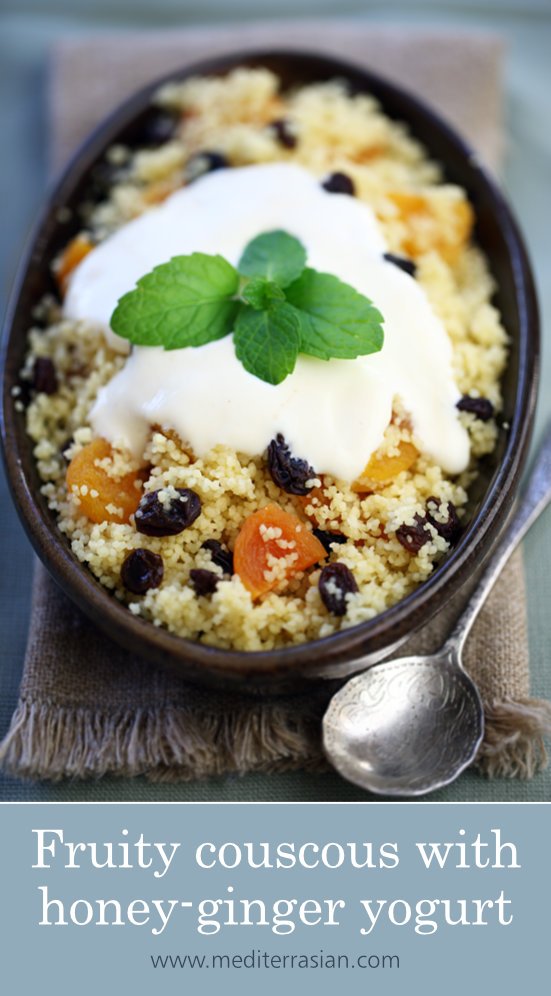 We use couscous in both savory and sweet dishes because it's so versatile and quick to prepare. In this recipe the couscous absorbs the flavors of the orange juice, and the dried fruit plumps up and softens.
It makes a beautiful sweet breakfast served with a few spoonfuls of Greek yogurt flavored with honey and ground ginger.
Fruity couscous with honey-ginger yogurt
Serves 4
Apricot and raisin studded couscous served with a dollop of honey-ginger yogurt.
1¼ cups orange juice
1 cup quick-cooking couscous
½ cup dried apricots — halved
¼ cup raisins
1 cup Greek yogurt
2 tablespoons liquid honey
2 teaspoons ground ginger

HEAT the orange juice in a small saucepan over a high heat and bring to a boil. PLACE the couscous, apricots and raisins in a heat-proof bowl, pour over the boiling orange juice, cover with a plate or clean dishcloth, and allow to steam for 5 minutes. WHILE the couscous steams, mix together the yogurt, honey and ginger in a small bowl. FLUFF up the couscous and dried fruit with a fork. SERVE the fruit couscous with the honey-ginger yogurt drizzled on top.

Variation: Add nuts, like toasted flaked almonds or pistachios, to the fruit couscous after it has steamed.