APPETIZERS
Greek-style nachos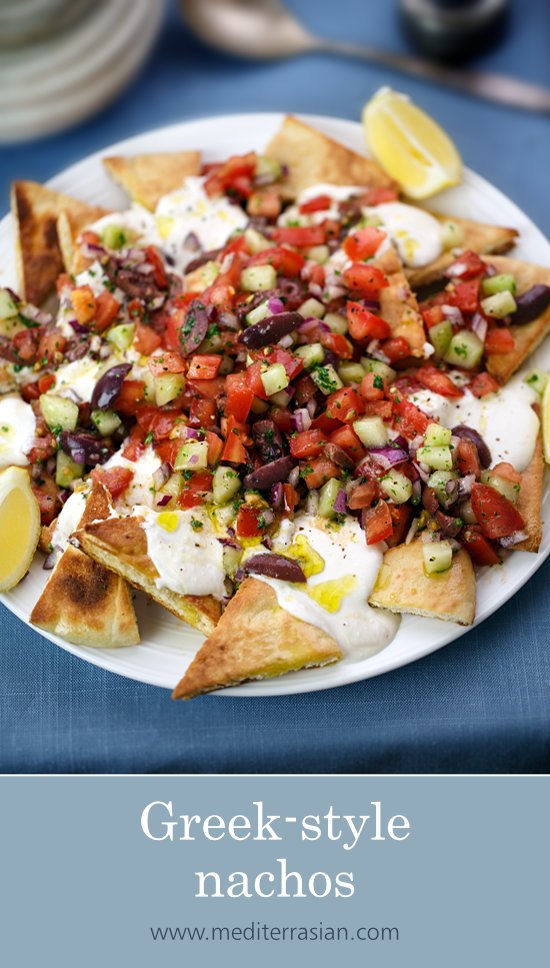 As much as we love munching on a plate of nachos, we don't much like all the calories and salt that go with it. So to make our nachos healthier but no less delicious we like to give them a Greek twist, and substitute traditional, fresh, Greek ingredients for the usual less healthy ingredients.
To lower the calorie content, we use feta and Greek yogurt in the creamy whip instead of using cheddar cheese and sour cream. Feta is stronger and saltier in flavor so you don't need much, and the thick Greek yogurt adds extra creaminess without all the calories of sour cream. Using baked pita wedges instead of fried corn chips also saves calories.
The feta and Greek yogurt whip also has a secret ingredient — white beans. This not only helps add a creamy texture, but it also provides extra protein and fiber. We also make a fresh salsa instead of using jarred salsa to further reduce the amount of salt and sugar. The juicy tomato, cucumber and red onion salsa is accentuated by the authentic Greek taste of Kalamata olives, oregano and fresh flat-leaf parsley.
Greek-style nachos
Serves 4
Baked pita wedges with dollops of feta and Greek yogurt whip, and topped with a Greek salsa of tomatoes, cucumber, red onion and olives.
4 medium-size pita breads (whole grain or regular)
3 tablespoons extra virgin olive oil
½ cup plain Greek yogurt
4 oz (115g) feta cheese — crumbled
¼ cup canned cannellini beans — rinsed and drained
2 teaspoons lemon juice
1 garlic clove — roughly chopped
2 tomatoes — diced
½ cup peeled, deseeded and diced cucumber
¼ red onion — finely diced
8 Kalamata olives — quartered
1 tablespoon finely chopped fresh flat-leaf parsley
½ teaspoon dried oregano
½ teaspoon salt
½ teaspoon fresh ground black pepper

PREHEAT the oven to 400ºF/200ºC. USING 1 tablespoon of the oil, brush both sides of each pita bread evenly. CUT each pita bread into 8 wedges. PLACE on a baking tray and bake for 9 minutes. WHILE the pita wedges cook, place the Greek yogurt, feta, white beans, garlic and lemon juice in a food processor or blender and process until smooth. MIX together the tomatoes, cucumber, red onion, olives, parsley, oregano, salt and pepper with 1 tablespoon of the olive oil in a bowl until combined. PLACE the baked pita wedges on a serving plate. DOLLOP the whip evenly over the pita wedges, then spoon the salsa on top. DRIZZLE with the remaining tablespoon of extra virgin olive oil to serve.