SANDWICHES & PIZZA
Greek pita pizzas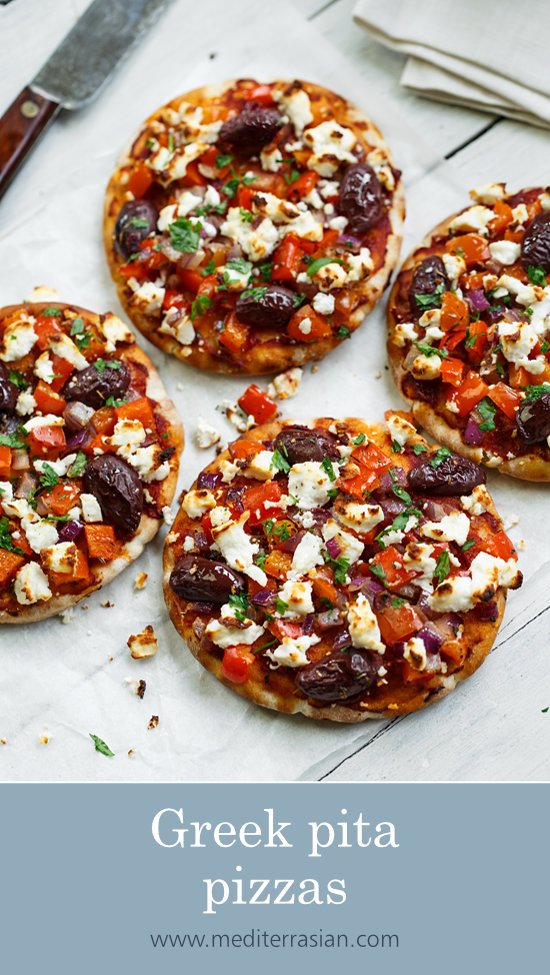 As much as we love pizzas made with homemade dough, there are times when we want pizza but don't fancy making dough from scratch. So over the years we've experimented with a variety of bread bases as alternatives to dough such as flat-breads, baguette, English muffins and even Indian naan bread. But one of the best instant pizza crusts we've used is pita bread. It's a staple of many Mediterranean meals; from pita bread sandwiches to homemade pita chips served with dips and spreads. So using traditional Greek pita bread instead of the usual pizza base provides the perfect canvas for these Greek-inspired pita pizzas.
In this recipe, whole grain pita breads are spread with tomato paste and topped with a mix of simple Greek ingredients: sweet red peppers, red onion, Kalamata olives, oregano, garlic, and crumbled feta (which browns beautifully in the hot oven).
These Greek Pita Pizzas make a deliciously healthy lunch or dinner. You can serve them with a side salad for a more satisfying meal, and they make great festive food served with a wine or cold beer.
Greek pita pizzas
Serves 4
Whole grain pita bread pizzas topped with sweet red peppers, red onion, Kalamata olives, oregano, garlic, and crumbled feta.
4 whole grain pita breads
4 generous teaspoons tomato paste
1 red pepper — diced
½ red onion — diced
10 Kalamata olives — pitted and halved
1 garlic clove — minced
1 tablespoon extra-virgin olive oil
1 teaspoon dried oregano
½ teaspoon freshly ground black pepper
4½ oz (130g) feta cheese — crumbled
1 tablespoon finely chopped fresh flat-leaf parsley
PREHEAT the oven to 450ºF/230°C. SPREAD a generous teaspoon of tomato paste evenly over each pita bread and place on a baking tray. MIX together the red pepper, red onion, olives, garlic, olive oil, oregano and black pepper in a small bowl until combined. ARRANGE equal amounts of the mixture over each pita bread. TOP evenly with the crumbled feta cheese. BAKE for 10 minutes. SPRINKLE the parsley on top and serve.

Variations: You can use green pepper instead of red; add anchovies, tuna, shrimp, or shredded rotisserie chicken; spread hummus over the pita breads instead of tomato paste; add canned or jarred artichoke hearts or baby spinach leaves.