SANDWICHES & PIZZA
French bread pizza with tomato, mozzarella, basil and balsamic-garlic drizzle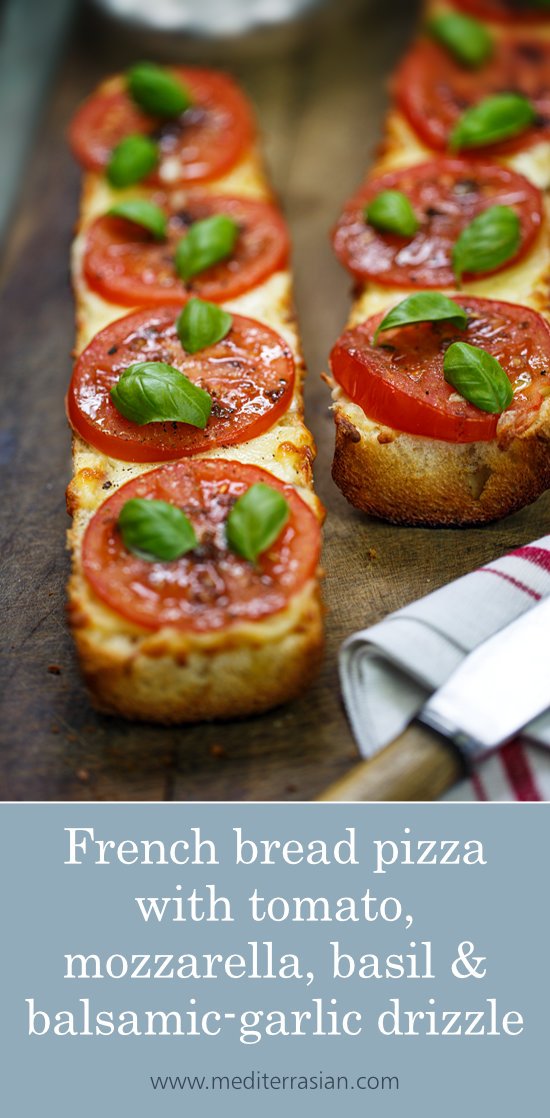 This is one of the simplest pizzas you can possibly make. You don't have to make pizza dough, you don't have to make tomato sauce, and there's no pizza stone required.
A halved baguette makes a perfect pizza crust. It gets light and crispy on the outside during cooking, while inside it retains much of its softness. There's no need for a separate tomato sauce because the sliced fresh tomatoes — drizzled with a mix of balsamic vinegar, extra virgin olive oil and garlic — soften and lightly caramelize during cooking, forming their own "sauce". The mozzarella cheese becomes delightfully melty and gooey, and the basil adds a burst of fresh herbiness. It's a simple but mouthwatering combination of classic Italian flavors, with a French twist.
This pizza tastes perfect as it is, but if you want to add some more protein then anchovies, prosciutto, diced ham or chunks of good-quality canned tuna are all tasty options.
French bread pizza with tomato, mozzarella, basil and balsamic-garlic drizzle
Serves 4
Baguette halves topped with gooey mozzarella cheese, balsamic and garlic infused tomatoes, and fresh basil. It's a simple but mouthwatering combination of classic Italian flavors, with a French twist.
2 tablespoons extra virgin olive oil
2 teaspoons balsamic vinegar
1 garlic clove — minced
1 baguette
6 oz (170g) mozzarella cheese — grated
4 tomatoes — sliced
A handful of fresh basil
Salt
Freshly ground black pepper
WHISK together the olive oil, balsamic vinegar and garlic in a small bowl until well combined. PREHEAT the oven to 400°F/200°C. CUT the baguette in half horizontally, then cut in half lengthwise to make four pieces. PLACE the pieces, cut side up, on a baking tray. SPRINKLE the cheese in an even layer over each base. ARRANGE equal amounts of the sliced tomatoes on top. DRIZZLE or brush the vinegar-oil-garlic mixture over the tomatoes. BAKE for 10 minutes, then remove from the oven and transfer to a serving plate. SPRINKLE with a little salt and freshly ground pepper then arrange the fresh basil leaves evenly on top. SERVE immediately.

Variations: Use fresh mozzarella, and arrange it in thin slices on the baguette bases before adding the tomato. If your basil leaves are on the large side, just roughly chop or tear them first.