BREAKFASTS
Mushroom bruschetta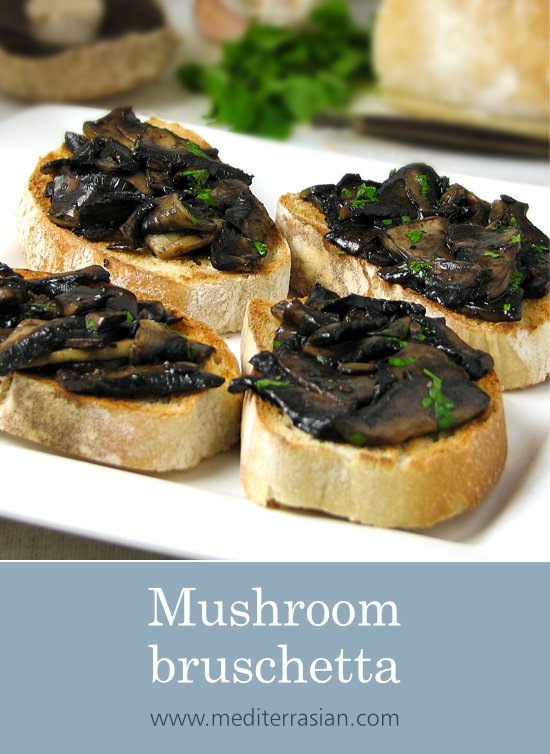 Hailing from Italy, bruschetta is popular in trattorias throughout the country, where patrons love to snack on the slices of toasted country-style bread rubbed with garlic, drizzled with olive oil, and served with tasty toppings. It's one of the simplest of Italian snacks but goes beyond basic toast and toppings.
We love to top brushcetta with all sorts of fresh ingredients including tomatoes, herbs, beans and cheese. And in its simplest garlic-oil rubbed state, we like to serve bruschetta on the side of Italian soups, pasta dishes, and stews to mop up the sauce.
And if you want to make bruschetta even tastier, nothing beats the subtle smokey flavor of bread that's cooked outdoors over an open fire or charcoal grill. Ciabatta bread is perfect for bruschetta, but you can use any crusty country-style bread, sourdough or even baguette.
Mushroom bruschetta
serves 2
Bruschetta topped with pan-fried mushrooms seasoned with sea salt, cracked black pepper and flat-leaf parsley.
3 tablespoons extra virgin olive oil
2 cups sliced mushrooms (portobello or any type of large flat mushroom)
4 thick slices of ciabatta (Italian crusty bread) — or use baguette sliced on the diagonal instead
1 clove garlic — peeled and cut in half
1 tablespoon finely chopped flat-leaf parsley
½ teaspoon sea salt
¼ teaspoon freshly ground black pepper
HEAT 1 tablespoon of olive oil in a frying pan over a medium heat. ADD the mushrooms and cook for 4-5 minutes, stirring regularly. WHILE the mushrooms are cooking, toast the ciabatta slices under an oven broiler (griller) until golden on both sides. RUB one side of each slice of ciabatta with the cut side of garlic and drizzle 1 tablespoon of the olive oil evenly over the slices. STIR the reserved tablespoon of olive oil, parsley, salt and pepper through the mushrooms and spoon equal amounts on top of each bruschetta. SERVE immediately.