BREAKFASTS
Baked mushroom, zucchini and basil frittata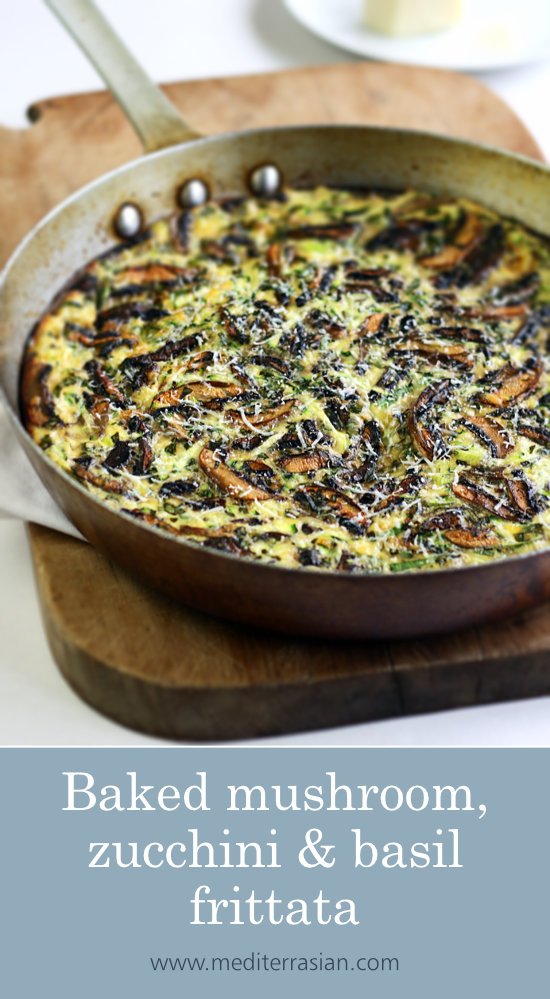 The traditional method for making a frittata (Italian omelet) is to sauté most of the filling ingredients in a skillet first, then stir the beaten egg mixture in. The frittata is then cooked over a low heat until the underside is firm and golden, and then either flipped in the pan to cook the other side, or flashed under the broiler to finish cooking the top. However, this simple frittata recipe (which is inspired by a recipe from our friend Emily) makes the process even easier because all the ingredients are simply mixed together and cooked in the oven. (The grated zucchini, thinly sliced mushrooms and scallions in this recipe are delicate enough to cook within the egg mixture.) So, it's basically set and forget.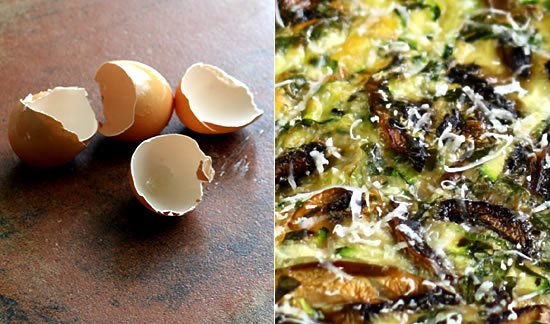 Frittatas make a wonderfully versatile base for many different ingredients. Vary the veggies and add peas, diced tomatoes or halved cherry tomatoes, cooked asparagus or green beans, sautéed sliced onions or leeks, roasted pumpkin, peppers, or spinach. Boost the protein content and add ham, cooked bacon or prosciutto, or use shredded cooked chicken, canned tuna, or smoked salmon. Experiment with different fresh herbs like parsley, or use dried herbs such as thyme or rosemary. Try different cheeses like ricotta or feta cheese. And if you have some leftover cooked potato or pasta from last night's dinner then add it to bulk up the frittata.
Frittata tastes just as good at room temperature as it does hot, so it can be served in wedges with salad and crusty bread, and can even be cut into smaller pieces and served as an appetizer.
Baked mushroom, zucchini and basil frittata
Serves 4
A simple and flavorsome oven-baked Italian frittata with mushrooms, grated zucchini and scallion, accented by fresh basil and Parmesan.
Olive oil, for greasing
8 free-range eggs
1 scallion — thinly sliced
1 zucchini — grated
8 medium-size portobello mushrooms — thinly sliced
2 tablespoons finely chopped fresh basil
½ teaspoon salt
¼ teaspoon freshly ground black pepper
½ cup finely grated Parmesan cheese, plus extra for garnishing

PREHEAT the oven to 350°F/180°C. GREASE a large baking dish or any oven-proof pan with a little olive oil (we like to use a large frying pan with an oven-proof handle). LIGHTLY beat the eggs in a large bowl. ADD the remaining ingredients and stir to mix well. POUR the mixture into the prepared dish and bake for 35 minutes. SPRINKLE with a little grated Parmesan and cut into wedges to serve.