PASTA DISHES
Mushroom ragu with penne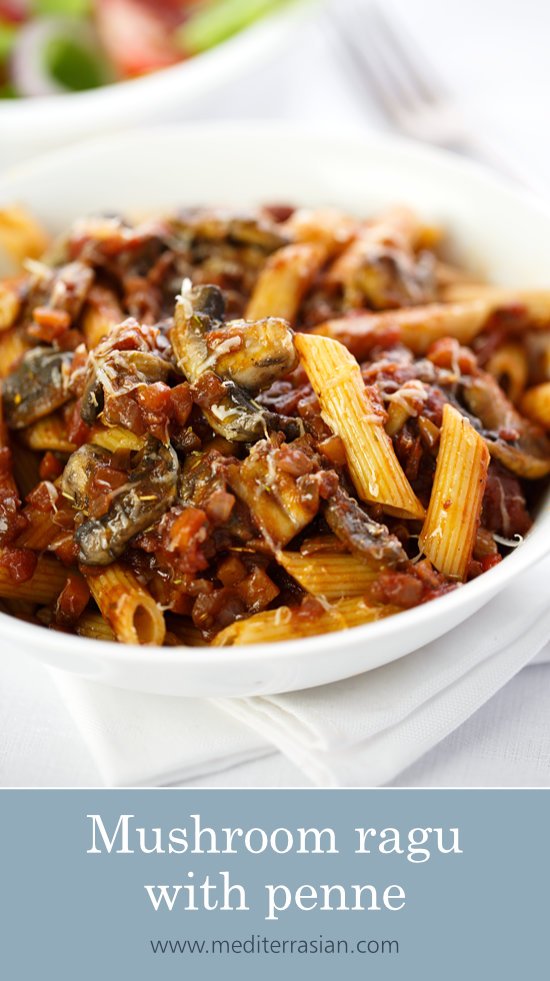 This hearty Italian dish makes the best comfort food. It combines the gutsy flavor of mushrooms cooked in garlic, thyme and rosemary with a simple tomato sauce made with red wine for added intensity.
Cooking the mushrooms separately not only helps them to stay plump and tender rather than shrinking away in the sauce, but the garlic and dried herbs also infuse them with a delicious depth of flavor. The cooked onion and carrot add natural sweetness and texture to the tomato sauce, which thickens and becomes rich and robust after just ten minutes simmering.
And you don't have to faithfully stick to the recipe. Half a cup of canned white beans or brown lentils make a good fiber-rich addition to the sauce. You could also add a little diced bacon or pancetta to cook with the mushrooms for extra protein and an even more robust flavor.
If you're serving the mushroom ragu with pasta, like we have here, it's best tossed with short shapes such as penne or rigatoni, but if you prefer long pasta, then wide ribbon shapes like pappardelle or fettuccine are classic with chunky sauces like this. Sprinkled with Parmesan cheese and teamed with a simple side salad, it makes for a very tasty and filling meal.The wonderfully versatile sauce is also great served on a bed of rice or soft polenta, over gnocchi, as the base sauce for a lasagna, or as a topping for baked potatoes.
Mushroom ragu with penne
serves 2
Tender mushrooms in a robust tomato, red wine and herb sauce, served with penne pasta.
4 tablespoons extra virgin olive oil
1 onion — finely diced
1 carrot — finely diced
14 oz (400g) canned chopped tomatoes
2 tablespoons tomato paste
½ cup red wine
1 teaspoon salt
½ teaspoon freshly ground black pepper
7 oz (200g) dried pasta (penne is ideal)
8 oz (230g) button mushrooms — peeled or wiped clean, and sliced
½ teaspoon dried rosemary
½ teaspoon dried thyme
2 cloves garlic — finely chopped
Finely grated Parmesan cheese, to serve

HEAT 2 tablespoons of the olive oil in a saucepan and cook the onion for 8 minutes, stirring occasionally. ADD the carrot and cook for 5 minutes. ADD the chopped tomatoes, tomato paste, wine, salt and pepper and bring to a boil. REDUCE the heat to medium and simmer, uncovered, for 10 minutes. WHILE the sauce cooks, bring a large pot of lightly salted water to a boil and cook the pasta according to package directions. HEAT the remaining 2 tablespoons olive oil in a large frying pan over a medium heat and cook the mushrooms for two minutes, stirring regularly. ADD the garlic, rosemary and thyme and cook for a further 2 minutes. STIR the mushrooms into the tomato sauce and mix well. DRAIN the pasta and toss with the tomato-mushroom sauce until thoroughly combined. SERVE with Parmesan cheese.

Variations: Canned cannellini beans or brown lentils make good fiber-rich additions to the sauce. You could also add a little diced bacon or pancetta for extra protein and even more flavor.