SANDWICHES & PIZZA
Banh mi sandwich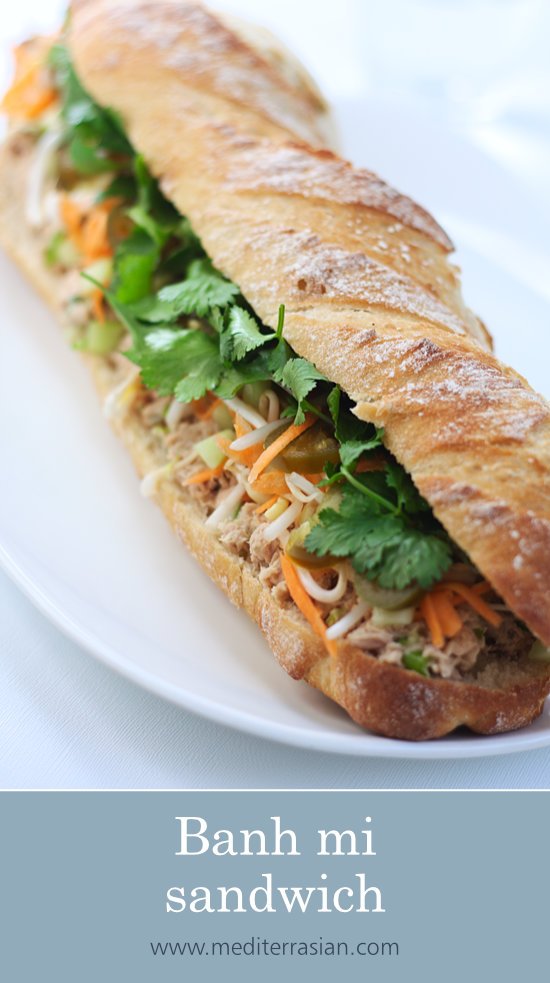 Often when people hear the term "MediterrAsian" they think of fusion food. But when it comes to Mediterranean and Asian food, Trudy and I are real traditionalists and we rarely mix Mediterranean and Asian flavors together. But there is a MediterrAsian fusion meal we do adore, and that's banh mi.
Vietnam was a French colony from 1885 to 1954, and over that time certain French foods such baguettes, pâté and mayonnaise became integrated into the Vietnamese diet. Remnants of French colonization can still be seen in Vietnamese cuisine today, and the tastiest example of this is banh mi (pronounced 'bun me'), a Vietnamese sandwich with a distinctly French influence.
The base of this mouthwatering sandwich is a light and crispy baguette, typically with a lick of mayonnaise. Added to this is often pâté, but other popular fillings include barbecued pork, chicken, ham, seared tofu, eggs and fish. Then come all the wonderful hot, salty, sour and sweet Vietnamese flavors from pickled vegetables, soy or fish sauce, chili, and sprigs of cilantro (fresh coriander).
This recipe is our take on banh mi, using staples that we always have in our pantry and fridge. As the main filling ingredient we make our own fish pâté from mashed canned tuna, fish sauce, scallions and mayo. It has the perfect consistency for smearing on the base of a halved baguette.
Pickled shredded carrots and daikon radish, known as 'Do Chua' is typically used as a filling in a banh mi, but we've found that making a simple lightly-pickled slaw with grated carrot, bean sprouts and diced cucumber provides the same satisfying tanginess and crunch.
Jarred pickled jalapeño slices add the heat element, however you could just as easily use hot chili sauce or flakes, or sliced fresh chili if you prefer. And the final flourish is cilantro — used like a vegetable in its own right instead of simply a garnish.
Banh mi makes an exotic flavor-packed lunch, (it's particularly excellent picnic fare in summer), and it can also be sliced into small portions and served as finger food.
Banh mi sandwich
Serves 2
Vietnam was a French colony from 1885 to 1954, and banh mi is a Vietnamese sandwich with a distinctly French influence.
2 tablespoons rice vinegar
1 teaspoon superfine (caster) sugar
¼ teaspoon salt
½ carrot — peeled and grated
¼ cup peeled, deseeded and diced cucumber
1 cup bean sprouts
6 oz (170g) canned tuna in olive oil — drained
1 scallion — finely chopped
2 teaspoons fish sauce
1 tablespoon mayonnaise
1 baguette
2 tablespoons jarred pickled jalapeño slices
A handful of cilantro (fresh coriander) leaves
MIX the vinegar, sugar and salt together in a bowl. ADD the carrot, cucumber and bean sprouts, toss well to combine, then let stand for at least 20 minutes while you prepare the remaining ingredients. MASH the tuna thoroughly with a fork, then stir through the mayo, scallion and fish sauce to combine. WARM the baguette in the oven to lightly crisp the outside, then cut in half lengthwise (leaving one side of the bread as a hinge) and remove some of the soft bread from the center of each half to hollow out a little. SPREAD the tuna mix evenly on the base of the baguette, then place the lightly-pickled carrot, cucumber and bean sprout mixture over the top. PLACE the sliced jalapeño peppers then the cilantro on top. CLOSE the baguette, cut in half, and serve.