SANDWICHES & PIZZA
Falafel burgers with yogurt-tahini sauce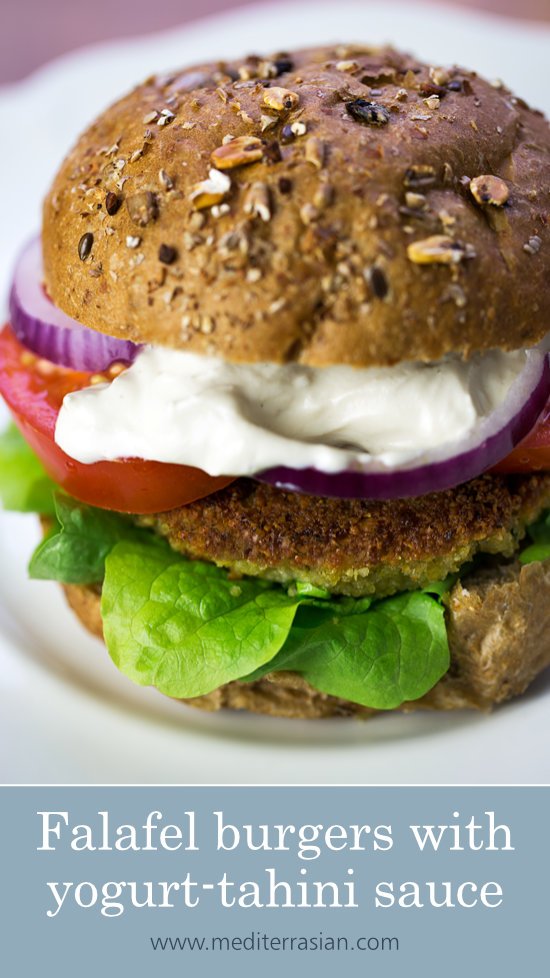 In our opinion, a good veggie burger should be as hearty and tasty as its meat-based counterpart. Just because a burger doesn't have a thick beef patty as the focus doesn't mean sacrificing the pleasure of eating a succulent burger. These falafel burgers are every bit as satisfying and delicious as meat-based burgers, and they're more nutritious.
If you like falafel (Middle Eastern chickpea fritters) as much as we do, then you'll definitely love these burgers. We discovered a while back that falafel mixture can be shaped into burger-size patties, pan-fried until crisp and golden brown on the outside and moist on the inside, and served like a hamburger. The secret to getting a firm and 'meaty' texture is to use raw chickpeas that have been soaked in water overnight to re-hydrate them. As the raw seasoned chickpeas cook they bind into firm patties that don't fall apart, without the need for eggs, breadcrumbs, or flour.
If soaking chickpeas sounds like a hassle, let me assure you it's not. Whenever we plan on having falafel or falafel burgers we simply cover the raw chickpeas in water before we go to bed, and in the morning they're plumped up and ready to be transformed into falafel mixture.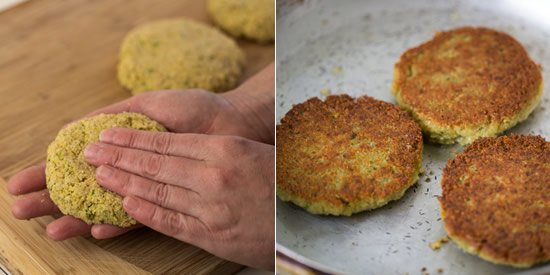 And the beauty of the falafel mixture is that you can make up lots at a time, and divide it into airtight containers which you can keep in the fridge for up to a week, or freeze for a few months. You've then got the makings for burger patties and falafel at the drop of a hat.
For these burgers, we serve the falafel patties in lightly-toasted whole-wheat buns with fresh lettuce leaves, slices of tomato and red onion, and a dollop of yogurt-tahini sauce. The firm and flavorful patties combine beautifully with the crisp salad vegetables and creamy, slightly nutty flavored sauce.
For a more traditional hamburger, you can replace the yogurt-tahini sauce with either mayonnaise, mustard or ketchup (or a combo of your favorite condiments), and, in addition to the lettuce, tomato and red onion, add sliced cheese and pickles.
Falafel burgers with yogurt-tahini sauce
Serves 6
Falafel patties served in lightly-toasted whole wheat buns with fresh lettuce leaves, slices of tomato and red onion, and a dollop of yogurt-tahini sauce.
1 x
Falafel recipe
5 tablespoons olive oil
½ cup Greek yogurt
2½ tablespoons tahini (sesame seed paste)
1 tablespoon lemon juice
1½ garlic cloves — minced
¾ teaspoon salt
6 whole wheat hamburger buns — halved
A few handfuls mixed salad leaves — washed and shaken dry
12 thick slices of tomato
½ red onion — sliced and separated into rings
MAKE the falafel mixture using our Falafel recipe. HEAT the olive oil in a large frying pan over medium heat. SHAPE the falafel mixture into 6 burger-size patties. FRY the patties for 5 minutes on each side until golden brown. WHILE the patties cook, mix together the yogurt, tahini, lemon juice, garlic and salt in a small bowl until well combined. LIGHTLY toast the burger buns. TOP the bottom half of each bun with some lettuce, a falafel patty, 2 slices of tomato, and a few slices of red onion. SPREAD equal amounts of the yogurt-tahini sauce on top and cover with the bun tops.