SANDWICHES & PIZZA
Falafel and hummus wraps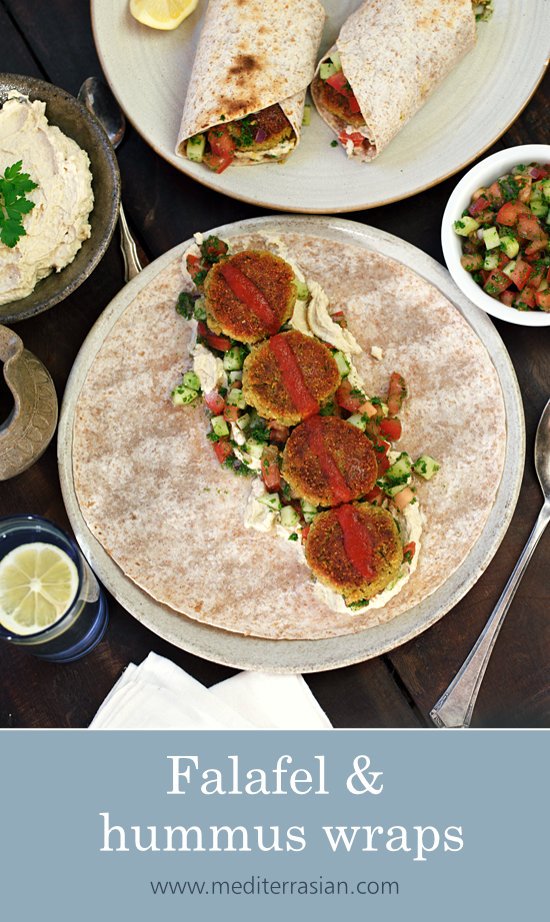 These falafel wraps have become something of an addiction. They're cheap and delicious, and satisfy our cravings for Middle Eastern style fast food. If you've never made your own falafel and hummus at home, then you're in for a real treat.
I've eaten both good and bad falafel. And in my experience the only thing worse than dry, flavorless falafel are the overly greasy kind. Thankfully, our homemade falafel are not only full of flavor, but they're lovely and moist on the inside with a slightly crunchy exterior. They're seasoned with onion, garlic, cumin, coriander, salt and parsley, and they have the ideal falafel texture that's firm, but still light and tender, and doesn't crumble on touch. Our secret is to fry the falafel in olive oil that's been preheated in a pan over a medium heat — a method which ensures they are crisp on the outside and prevents them from sticking during cooking. And by pan-frying instead of deep-frying they also require much less oil.
As well as making falafel for wraps, we also form the chickpea mixture into larger-size patties for burgers. Sometimes we also shape the mixture into balls, brush them with oil and bake them, like veggie meatballs, then toss them with an Italian tomato sauce and spaghetti, or add them to a Middle-eastern stew or Moroccan tagine.
When it comes to hummus, while you can buy it in most supermarkets these days, it's also very easy to make your own. Our homemade hummus recipe beats the ready-made stuff hands down. We're always amazed how a few simple ingredients as humble as chickpeas, tahini (sesame seed paste), garlic, lemon juice and salt can be transformed into such a smooth, creamy and positively irresistible mixture.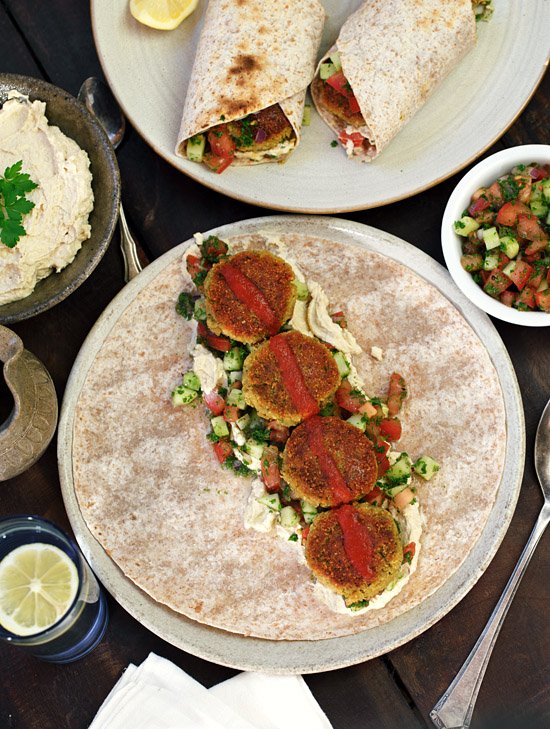 To make falafel with the best taste and texture I highly recommend not using canned chickpeas. They simply won't hold together without adding flour or egg to bind, which isn't how they're traditionally prepared. And besides, falafel made from dried chickpeas that have been soaked overnight have a nuttier, more natural taste. Same goes for hummus. We prefer the taste and texture of hummus made with freshly cooked chickpeas — although if we're feeling lazy we'll simply use canned chickpeas. Dried chickpeas are also much cheaper — if you cook a 1lb (450g) bag of dried chickpeas you get the equivalent of around five 14oz (400g) cans of cooked chickpeas.
You can wrap up all sorts of salad vegetables together with falafel and hummus. Personally, we love this refreshing salad made from chopped tomato, cucumber, red onion and plenty of parsley, lightly tossed with a tangy dressing made with a little extra virgin olive oil and fresh lemon juice. It's like a Middle Eastern version of salsa and goes particularly well with the texture of the fried falafel and creaminess of the hummus.
We also reckon that hot chili sauce plays an essential part in a great falafel wrap. It's up to you what type of chili sauce you use, but we've found that harissa or sriracha work really well. If you're feeding people who don't like it hot, then leave it out, and let everyone spice up their own wrap with chili sauce at the table.
We usually use whole wheat flatbreads for our wraps, but you can serve the same ingredients stuffed in a whole wheat pita pocket if you prefer. We also like to serve our wraps lightly toasted. After we roll up the fillings in the flatbread, we place it seal-side-down on a preheated oven tray under an oven broiler for a minute or two. It results in wraps that are nicely crisp on the outside and slightly warm on the inside. You can also gently toast the filled wraps in a sandwich press or panini grill instead, but not for too long as you don't want to overheat the salad.
Falafel and hummus wraps
Serves 2
Whole wheat wraps filled with falafel (Middle Eastern chickpea fritters), creamy hummus, and a selection of diced Mediterranean salad vegetables.
Half quantity
Falafel recipe
4 tablespoons hummus (homemade or store-bought)
2 whole wheat flatbreads
3 tablespoons extra virgin olive oil (for cooking falafel)
2 teaspoons chili sauce — optional (we use harissa or sriracha)
4 tablespoons finely chopped fresh parsley
2 tomatoes — diced
½ cup peeled, deseeded and diced cucumber
¼ red onion — finely diced
1 teaspoon extra virgin olive oil
1 teaspoon lemon juice
¼ teaspoon salt
¼ teaspoon freshly ground black pepper
HEAT 3 tablespoons of olive oil in a large frying pan over medium heat. FORM golf ball-size spoonfuls of the falafel mixture (about 1 heaped tablespoon each to make 8-10 patties) and flatten slightly with the palm of your hand (wet your hands first to help prevent sticking). FRY the patties for 5 minutes on each side until crisp and golden. WHILE the falafel cook, mix together the parsley, tomatoes, cucumber, red onion, olive oil, lemon juice, salt and pepper in a bowl until well combined. PREHEAT the oven broiler and place a baking tray 6-inches underneath to preheat. SPREAD 2 tablespoons of hummus in a horizontal line across the middle of each flatbread. ARRANGE equal amounts of the chopped salad on top. PLACE 4-5 falafel patties on top of each, and drizzle with chili sauce if using. ROLL up the flatbreads tightly and place on the preheated baking tray (seal-side-down) under the oven broiler for around 1½ minutes until crisp. CUT each in half to serve.