SOUPS
Malaysian fish ball laksa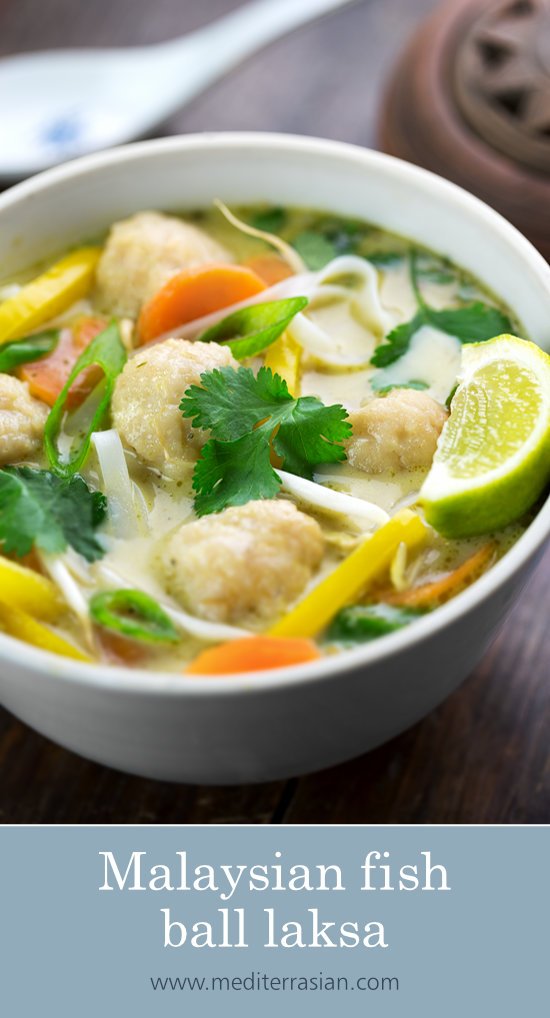 There's nothing more comforting than slurping down a big bowl of tasty laksa (a spicy coconut-based noodle soup popular in Malaysia and other parts of Southeast Asia).
The star of this laksa is the fish balls, which we make ourselves at home with fresh white fish such as cod or snapper. They're incredibly easy to put together, just roughly chop the fish, place it in a food processor with a touch of soy sauce and cornstarch, and pulse until the fish is minced. Then shape the mixture into small balls and gently poach them in the broth for five minutes. They absorb the flavors of the soup and develop a soft tender texture as they cook. When you bite into them they break apart releasing the beautiful flavor of fresh, lightly seasoned fish. Apart from laksa, you could also add these fish balls to all kinds of soups, hot pots, curries or sauces. You can freeze them too, so they're really convenient.
Another great thing about this laksa is how you can customize it according to your own preferences. You could skip the fish balls, and add bite-size pieces of white fish or salmon instead. Or add chicken, shrimp, scallops, squid, mussels, tofu, or use a combination. You can also vary the vegetables. This laksa comes with yellow pepper, carrot, bean sprouts and scallion, but we've also used the same laksa base and fish balls with cabbage, broccoli, mushrooms and red pepper — which was delicious!
Malaysian fish ball laksa
Serves 4
Spicy and fragrant Malaysian noodle soup with delicately-seasoned fish balls and a selection of colorful vegetables.
7 oz (200g) dried rice stick noodles
3 cups bean sprouts
3 scallions — white and green parts, thinly sliced and separated
A handful of cilantro (fresh coriander) leaves
20 oz (550g) uncooked firm white fish fillets (such as cod or snapper) — roughly chopped
2 tablespoons Chinese soy sauce
1 tablespoon cornstarch (cornflour)
2 tablespoons peanut or canola oil
2 tablespoons Thai green curry paste
4 garlic cloves — finely chopped
2 kaffir lime leaves — stems removed and finely chopped (or use 1 teaspoon finely grated lime zest)
28 oz (800g) coconut milk
4 cups fish, chicken or vegetable stock
5 tablespoons fish sauce
2 tablespoons brown sugar
2 yellow or red peppers — cut into thin strips
2 carrots — thinly sliced
2 tablespoons lime juice
SOAK the noodles in boiling water for 8 minutes, then drain and rinse under cold water. PLACE equal amounts of noodles in the bottom of four large bowls. PLACE even amounts of bean sprouts, the green part of the scallions and cilantro on top of each (reserve a little scallion and cilantro for garnish). PLACE the fish, soy sauce and cornstarch in a food processor and process until the fish is minced. FORM the mixture into walnut-size balls and set aside on a plate. HEAT the oil over a medium heat and cook the curry paste, garlic and kaffir lime leaf for 1 minute. ADD the coconut milk, stock, fish sauce and brown sugar, increase the heat and bring to a rolling simmer. COOK for 2 minutes, uncovered, then add the yellow peppers, carrots and white parts of the scallions and cook for 2 minutes, uncovered. ADD the fish balls, cover with a lid, and cook for 5 minutes. REMOVE from the heat and stir in the lime juice. LADLE equal amounts of the fish ball-vegetable soup into each bowl over the noodles, and garnish with extra scallion and cilantro to serve.

Variations: Replace the fish balls with bite-size pieces of white fish or salmon. Or add chicken, shrimp, scallops, squid, mussels, tofu, or use a combination. Use other vegetables such as cabbage, broccoli, mushrooms and red pepper.