SOUPS
Chicken miso ramen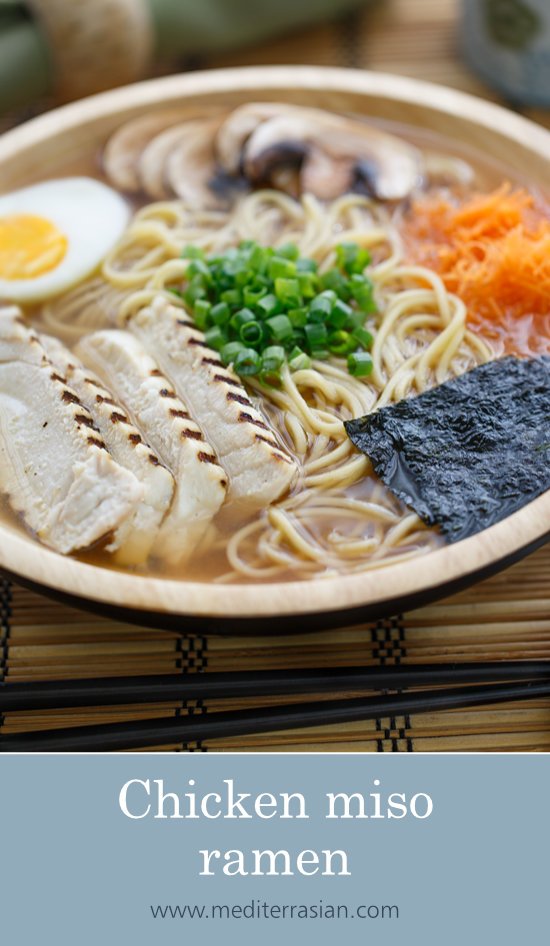 Instant ramen. It's dirt cheap, quick to make, and it's fairly tasty. But instant ramen is also low in fiber, vitamins, and minerals; the flavor sachets are typically full of artificial flavors and preservatives; and the noodles are usually dried by flash frying (typically in highly saturated palm oil). So you're not exactly doing your body a favor by eating it regularly.
Real Japanese ramen, on the other hand, is far more tasty than the instant variety and a lot more balanced and healthful. It's also much more pleasing to the eye. Admittedly, it's not as quick to make — but the actual base soup and noodles can be prepared in under 5 minutes, and the toppings don't take long to prepare either, so it's still a quick and easy meal to make.
The other great thing about ramen is that the topping ideas are only limited by your imagination. Here are a few tasty topping ideas:
Roasted or poached chicken
Cooked shrimp
Seared scallops
Sliced fish cakes
Fresh tuna or salmon — grilled and sliced
Sliced crab sticks or fresh crab
Sliced roast pork
Cubed tofu
Boiled eggs
Thinly sliced shiitake or button mushrooms, or whole enoki mushrooms
Finely grated carrot
Finely sliced scallions
Chopped chives
Finely grated radish
Bamboo shoots
Nori (sheets of dried seaweed)
Sweet corn kernels
Finely grated ginger
Cooked edamame
Finely shredded cabbage
Water chestnuts
Mung bean or snow pea sprouts
Blanched snow peas
Sautéed spinach
Thinly sliced celery
Toasted sesame seeds
So simply adapt the toppings to suit your own palate. In this version we use sliced grilled chicken, scallions, some nori (dried seaweed) that we cut into small rectangles, boiled egg, finely grated carrot and thinly sliced mushrooms.
Chicken miso ramen
Serves 4
A colorful and flavorful Japanese noodle soup topped with tender slices of chicken, hard boiled egg, mushrooms, scallions, finely grated carrot and nori (dried seaweed).
7 oz (200g) dried ramen noodles (or use thin Chinese egg noodles)
8 cups boiling chicken stock
3 tablespoons shiro miso (white miso)
2 tablespoons Japanese soy sauce
24 oz (680g) skinless rotisserie chicken — sliced
2 free-range eggs — hard-boiled, peeled and sliced in half lengthwise
4 button mushrooms — wiped clean (or peeled), and thinly sliced
2 carrots — peeled and finely grated
2 scallions, green parts only — thinly sliced
2 nori sheets (dried seaweed) — cut into small rectangles
COOK the noodles in boiling water according to package directions. WHILE the noodles cook, mix the boiling chicken stock with the miso and soy sauce. DRAIN the noodles under cold water, place in the bottom of four soup bowls, and ladle the soup on top. ARRANGE the sliced chicken, egg, mushroom, carrot, scallion and nori evenly on top.