STIR-FRIES
Gingered salmon stir-fry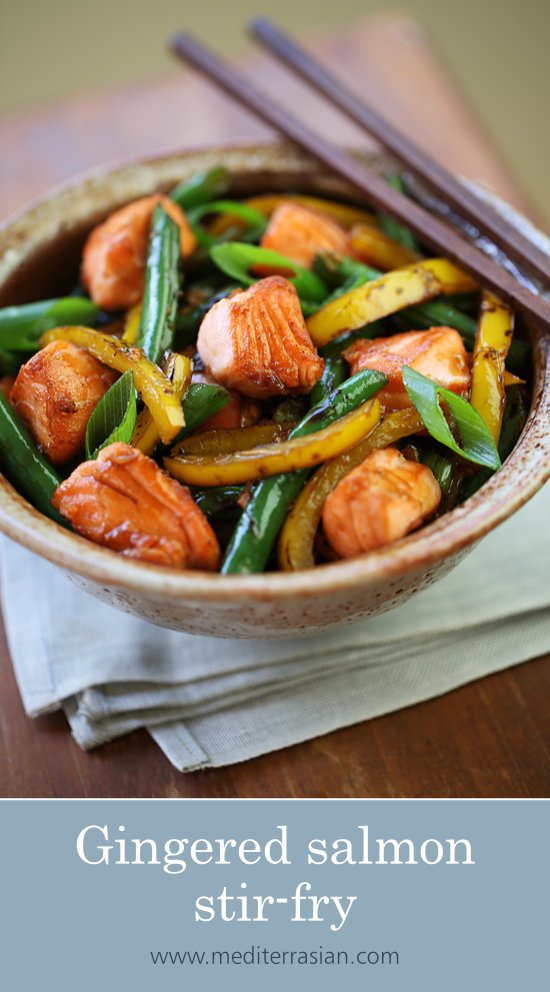 We live not far from the Marlborough Sounds, at the top of New Zealand's South Island. It's a majestic marine environment that offers an abundance of outdoor activities as well as a bounty of locally-produced foods. When we visit, we enjoy mountain-biking along the Queen Charlotte Track and kayaking in the pristine waters of the Sounds. We also enjoy eating the amazing Green-lipped mussels and arguably the world's best salmon which are farmed in the deep, crystal clear waters.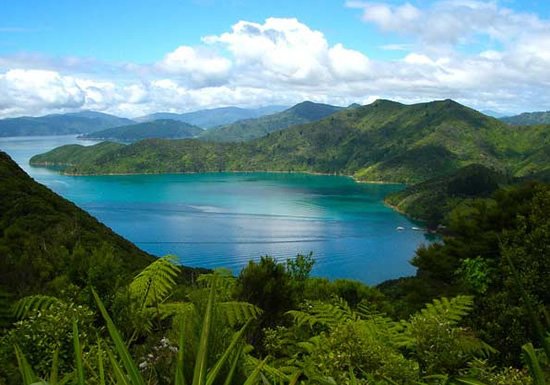 We've been hankering to head to Marlborough this summer but haven't had a chance, so when we spotted some gorgeous salmon fillets at our supermarket seafood counter that had been delivered fresh from the Sounds that morning, we figured that we could at least treat ourselves to a taste of the region in the meantime. As well as give ourselves a tasty way to get a hit of healthy omega-3s.
In terms of flavor and texture, this salmon is so good that when we do cook it at home we like to keep things simple and add just a handful of other ingredients to complement the salmon. For this dish we marinate it briefly in soy sauce and ginger before stir-frying in a dry wok (the salmon releases its natural oil during cooking so you don't need to add oil first). We like to pair the mouth-wateringly moist and tender salmon with sweet, tender-crisp stir-fried green beans and yellow pepper, but you can also use snow peas and red peppers if you prefer.
Gingered salmon stir-fry
serves 2
Marinated salmon pieces stir-fried until mouth-wateringly moist and tender with green beans and yellow pepper and lightly coated in a gingery stir-fry sauce.
12 oz (340g) uncooked salmon fillets — cut into bite-size pieces
3 teaspoons finely grated fresh ginger
3 tablespoons soy sauce
2 tablespoons oyster sauce
2 tablespoons water
1 teaspoon brown sugar
1 tablespoon peanut or canola oil
1 yellow pepper — cut into thin strips
16 green beans — halved
1 scallion — thinly sliced on the diagonal
PLACE the salmon in a bowl with 1 teaspoon of ginger and 1 tablespoon of soy sauce and mix well to coat evenly. COVER and marinate in the fridge for at least 20 minutes. WHILE the salmon marinates, mix together the remaining 2 teaspoons of ginger, 2 tablespoons of soy sauce, the oyster sauce, water and brown sugar in a small bowl. HEAT a wok or large frying pan over a high heat. ADD the salmon and stir-fry for 2 minutes. REMOVE the salmon and set aside on a plate. HEAT the oil in the wok and stir-fry the yellow pepper and green beans for 6 minutes. ADD the scallion and stir-fry for 1 minute. RETURN the cooked salmon to the wok then, stirring continuously, add the sauce mixture then immediately remove from the heat. SERVE with rice or noodles.