STIR-FRIES
Soba noodle stir-fry with edamame, mushrooms and bok choy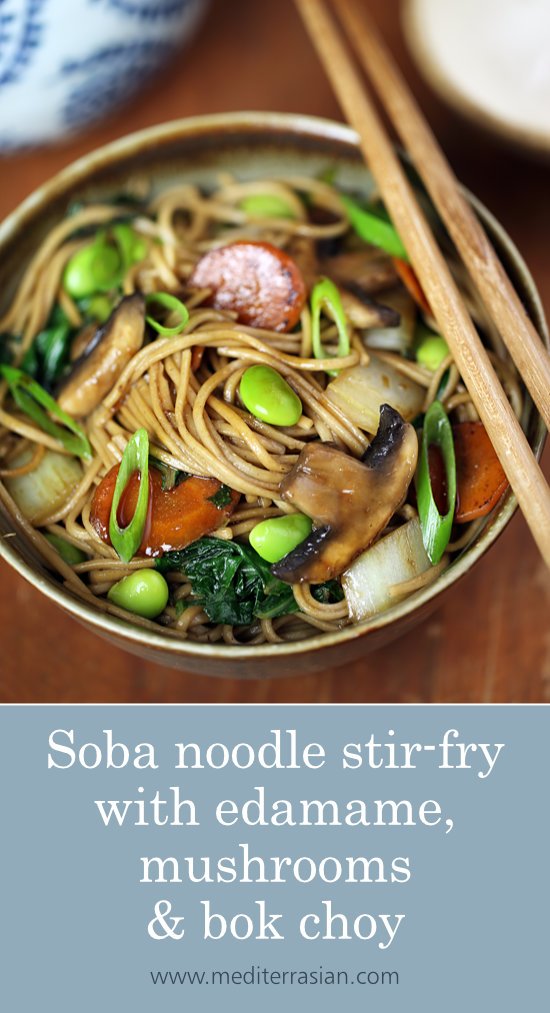 Stir-fried noodle dishes are very popular throughout Asia, including classics like pad Thai and chow mein. Stir-fried noodles are also popular in Japan, especially Yakisoba which literally means "fried noodles." It's traditionally made with stir-fried noodles, vegetables and a little pork or chicken.
You would think that with the word "soba" in the title that yakisoba would use soba (buckwheat) noodles. But the term soba is historically used in Japan to describe any long, thin noodles. And yakisoba typically uses thin wheat noodles.
But we've found that soba noodles work really well in stir-fries, so in this version of yakisoba we've used actual soba noodles. And instead of pork or chicken, our meat-free version uses edamame beans as the main source of protein. This dish is so tasty and comforting as well as easy and inexpensive.
Soba noodle stir-fry with edamame, mushrooms and bok choy
serves 2
A Japanese-inspired stir-fry with soba noodles, mushrooms, bok choy and vibrant green edamame beans coated in a rich and savory sauce.
4 oz (115g) dried soba (buckwheat) noodles
3 tablespoons Japanese soy sauce
1 tablespoon rice vinegar
1 tablespoon water
1 teaspoon toasted sesame oil
1 teaspoon brown sugar
2 tablespoons peanut or canola oil
1 carrot — thinly sliced on diagonal
2 packed cups roughly chopped bok choy
8 button or shiitake mushrooms — thickly sliced
1 tablespoon finely grated fresh ginger
1 scallion — thinly sliced on diagonal
½ cup frozen edamame beans — defrosted
COOK the soba noodles according to package directions, then rinse under cold water and drain well. PLACE the soy sauce, rice vinegar, water, sesame oil, and brown sugar in a jar with screw-top lid and shake until combined. HEAT a wok or large frying pan over a high heat. ADD the oil and stir-fry the carrot for 1 minute. ADD the bok choy and stir-fry for 2 minutes. ADD the mushrooms, ginger and scallion (reserving some green part for garnish), and stir-fry for 2 minutes. ADD the edamame, noodles and sauce mixture and stir-fry for 1 minute. SERVE garnished with the reserved scallion on top.

Variations: Use scallops, shrimp, chicken, squid, or tofu instead of the edamame. Replace the bok choy with cabbage or bean sprouts.