STIR-FRIES
Crispy-fried tofu with stir-fried vegetables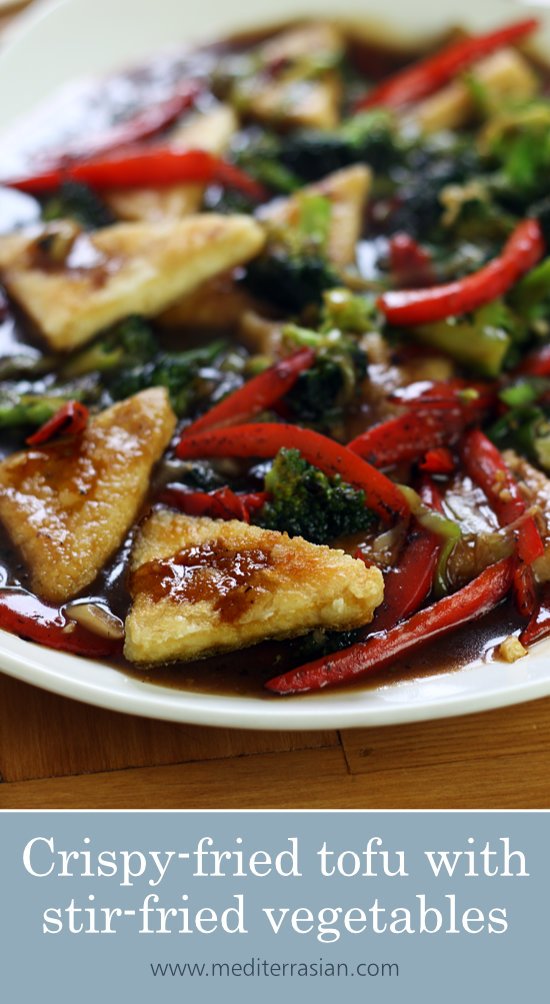 Crispy-fried tofu is probably one of the best ways I know of jazzing up tofu. The basic technique is based on the classic Japanese dish Agedashi tofu, where cubes of tofu (customarily silken) are dusted with cornstarch and deep-fried until golden brown and crispy on the outside, yet warm and soft on the inside. The fried tofu is then traditionally served with a hot broth poured over the top and garnished with chopped scallion.
For our version of fried tofu we use firm tofu instead of silken, and we cut it into triangular pieces instead of cubes. We also prefer to pan-fry the tofu in just a couple of tablespoons of oil instead of deep-frying it. (As long as you heat the oil slowly in the skillet first before adding the tofu you'll guarantee it won't stick, and ensure it turns a lovely golden brown color and gets a nice crunchy coating.)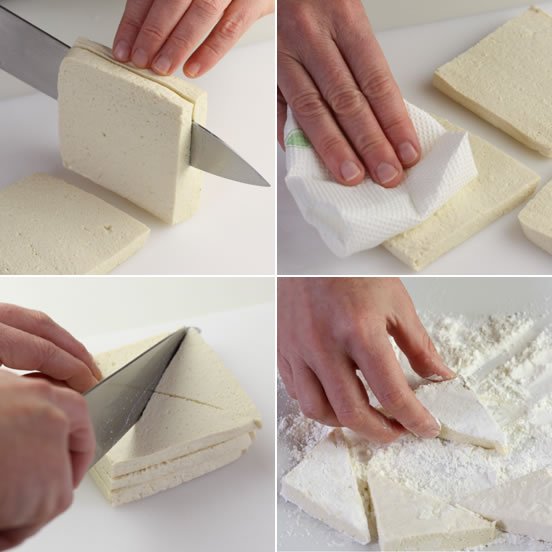 And while the tofu is cooking you can get on with stir-frying or braising veggies, preparing rice or noodles, or basically making whatever it is you plan to serve the crispy-fried tofu with. In this recipe we team it with a super simple stir-fry of broccoli, red pepper and scallion with a Chinese sesame-soy sauce that provides a rich depth of flavor and lovely unctuous texture.
An important thing to remember about this dish is to add the tofu right at the last moment, as it starts to lose its crispiness if it sits in the sauce for too long.
Crispy-fried tofu with stir-fried vegetables
serves 2
Pan-fried tofu triangles combined with stir-fried vegetables and a rich Chinese soy-sesame sauce.
1 cup vegetable or chicken stock
3 tablespoons soy sauce
2 tablespoons oyster sauce
1 tablespoon toasted sesame oil
½ teaspoon ground black pepper
8 oz (230g) block of firm tofu
3 tablespoons peanut or canola oil
1 tablespoon cornstarch (plus extra cornstarch for coating tofu)
2 cups small broccoli florets
1 red pepper — thinly sliced
1 scallion — thinly sliced on diagonal
2 cloves garlic — finely chopped
MIX together the stock, soy sauce, oyster sauce, sesame oil and black pepper in a small bowl. MIX 1 tablespoon of cornstarch to a paste with 1 tablespoon water in another small bowl. CUT the block of tofu into 3 square slices (roughly half an inch thick). PAT the tofu slices dry with paper towels. CUT the slices diagonally from corner to corner to make 4 triangles per slice. PUT a thin layer of cornstarch on a plate. Dip the tofu triangles into the cornstarch, coating the pieces lightly all over. HEAT 2 tablespoons of the oil in a large skillet or frying pan over a medium-high heat. ADD the tofu triangles and pan-fry for around 5-6 minutes on each side, or until crisp and golden. WHILE the tofu is cooking heat a wok or large skillet over a high heat then add 1 tablespoon of oil. STIR-FRY the broccoli and red pepper for 4 minutes. ADD the scallion and garlic and stir-fry for 1 minute. ADD the sauce mixture and stir-fry 15 seconds until thoroughly coated, then stir in the cornstarch paste and cook until thickened. ADD the crispy-fried tofu and toss to coat with the sauce. SERVE immediately with rice or noodles.