BREAKFASTS
Scrambled tofu with zucchini, tomato and basil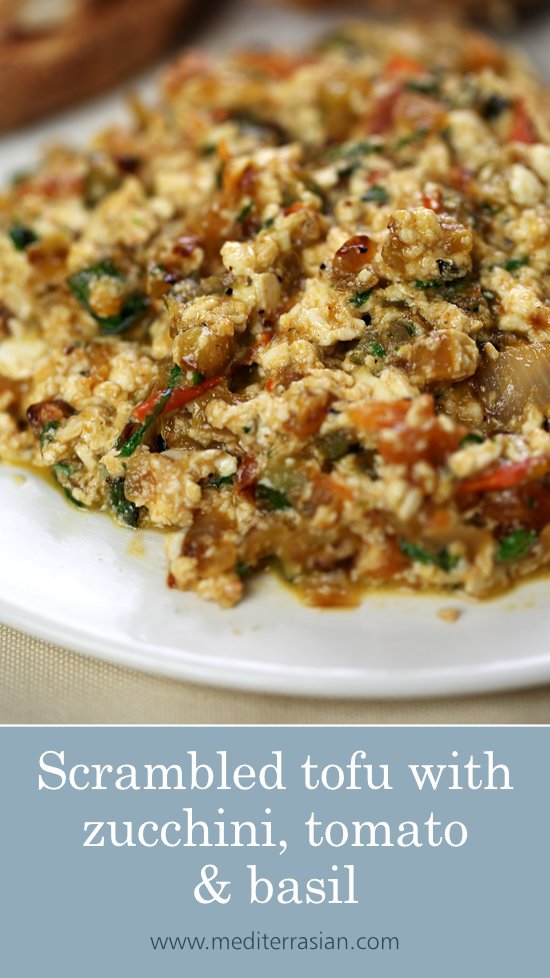 We're not normally into fusion cooking in the sense of mixing elements from different cuisines in one dish, but we make an exception for this Italian-style scrambled tofu. The crumbled tofu soaks up the flavors of sautéed vegetables, herbs and Parmesan cheese and cooks to a creamy scrambled-egg like consistency.
You can serve it on toast, or wrap it up in a whole wheat flat bread for a savory breakfast on-the-go.
Scrambled tofu with zucchini, tomato and basil
Serves 4
Sautéed crumbled tofu combined with tomatoes, zucchini, fresh basil and Parmesan cheese.
2 tablespoons extra virgin olive oil
1 onion — finely chopped
1 zucchini — finely chopped
2 tomatoes — diced
7 oz (200g) firm tofu
2 tablespoons finely chopped fresh basil
¼ cup finely grated Parmesan cheese
1 teaspoon salt
½ teaspoon freshly ground black pepper

HEAT the oil in a frying pan over a medium heat. COOK the onion and zucchini for 10 minutes until golden brown, stirring occasionally. ADD the tomatoes and cook for 5 minutes. CRUMBLE the tofu with the back of a fork then add to the pan with the basil, salt and pepper and mix to combine. COOK for 2 minutes, then stir in the Parmesan and heat through. SERVE on lightly buttered toasted ciabatta or whole wheat English muffins.

Variations: Use different vegetables like mushrooms, spinach and peppers. Replace the Parmesan with crumbled feta. Use chopped parsley instead of basil.