BREAKFASTS
Miso-glazed salmon with soy-lemon spinach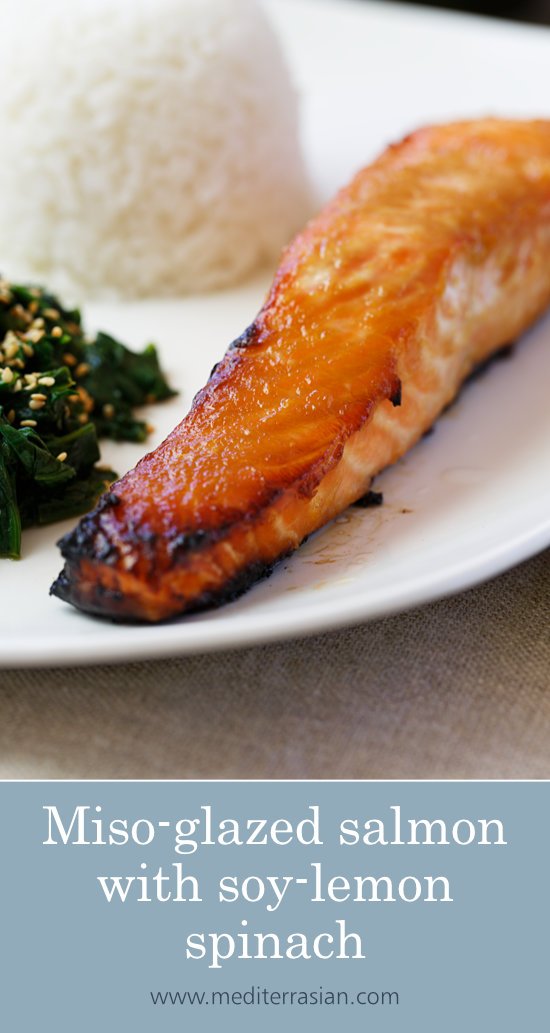 We've been really craving the fresh and simple flavors of Japanese cuisine lately. We had homemade sushi for our Sunday lunch, and over the last week we've also made a yummy Japanese noodle salad, and enjoyed a couple of different variations of miso soup. And to top it off we've just enjoyed this meal of miso-glazed salmon with soy-lemon spinach. True to traditional Japanese cuisine, these dishes use colorful fresh ingredients, prepared simply to highlight the natural flavors of the food. Both the salmon and the spinach are quick and easy to make, packed with nutrients, and yet seriously tasty.
Miso (Japanese fermented soybean paste) is the magic ingredient in the salmon dish. It adds a rich, savory-sweet flavor and luscious texture, perfect for smearing over salmon. The thick miso marinade caramelizes and turns into a sticky glaze as it roasts, and helps to keep the salmon moist and succulent. We use 'white' miso (shiro miso) as it's milder in taste and sweeter than other types of miso. You can find it either at an Asian grocer, or in the specialty foods section of larger supermarkets. Once opened miso keeps in the fridge for several months, and you can use it in all sorts of Japanese dishes, from soups and braises to sauces and dips.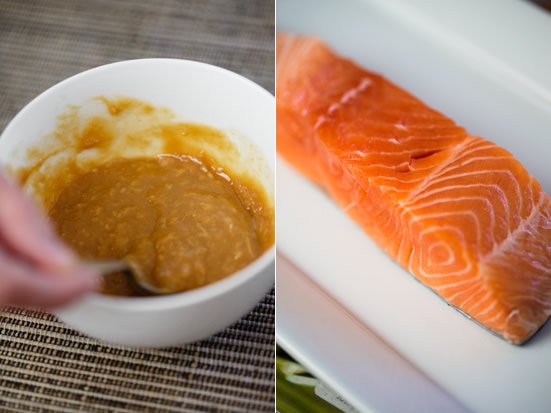 Marinating the salmon before cooking is a great way to give the fish an extra depth of flavor. Allow at least 30 minutes or, better yet, a couple of hours for the salmon to marinate.
This marinade works just as well on white fish fillets, seafood like shrimp and scallops, chicken breasts, and tofu. Even vegetables like mushrooms, eggplant, and corn on the cob taste extra good marinated in this mixture before they're roasted, grilled or broiled. We've also used it as the base for a delicious dressing by adding a tablespoon of rice vinegar and tossing it through a simple soba noodle salad with smoked salmon, avocado and cucumber.
The soy-lemon spinach goes perfectly with the richer salmon. It's basically chopped fresh spinach sautéed until just tender, then tossed with a lemon, soy sauce, and sesame dressing (and garnished with toasted sesame seeds). The subtle flavors enhance, rather than mask, the natural flavor of the spinach. If you haven't got spinach on hand you could combine the dressing with steamed asparagus, green beans or Asian greens like bok choy instead.
To complete the meal, simply serve it with some steaming hot rice on the side.
Miso-glazed salmon with soy-lemon spinach
Serves 4
Oven-roasted salmon coated in a savory-sweet miso and ginger marinade, served with spinach tossed with a lemon, soy and sesame dressing.
4 tablespoons mirin (Japanese sweet rice wine)
3 teaspoons brown sugar
4 tablespoons shiro miso (white miso)
3 tablespoons Japanese soy sauce
4 teaspoons finely grated fresh ginger
4 x 6 oz (170g) uncooked salmon fillets
2 tablespoons lemon juice
1 teaspoon toasted sesame oil
4 teaspoons sesame seeds
2 tablespoons peanut or canola oil
6 cups firmly-packed fresh spinach — roughly chopped
Cooked rice, to serve

MAKE the marinade by mixing together the mirin and 2 teaspoons of sugar in a small bowl until the sugar dissolves. ADD the miso, 1 tablespoon of soy sauce and the ginger and stir until well combined. SPREAD the mixture evenly over the salmon steaks and marinate, covered, in the refrigerator for at least 30 minutes. PREHEAT the oven to 400°F/200°C. LINE a baking tray with baking paper. PLACE the salmon fillets on the tray and bake for 20 minutes. WHILE the fish cooks prepare the spinach. MIX together 2 tablespoons of soy sauce, lemon juice, sesame oil and 1 teaspoon of sugar in a small bowl. HEAT a large pan over medium heat. TOAST the sesame seeds stirring constantly, until golden brown, then remove from the pan and set aside. HEAT the peanut or canola oil in the same pan. ADD the spinach and cook for 2 minutes, stirring regularly. POUR over the dressing, toss to combine, and cook for 1 minute. SPRINKLE over the toasted sesame seeds, and serve on plates with the salmon and cooked rice.