GRILLED & BAKED DISHES
Thai-spiced baked salmon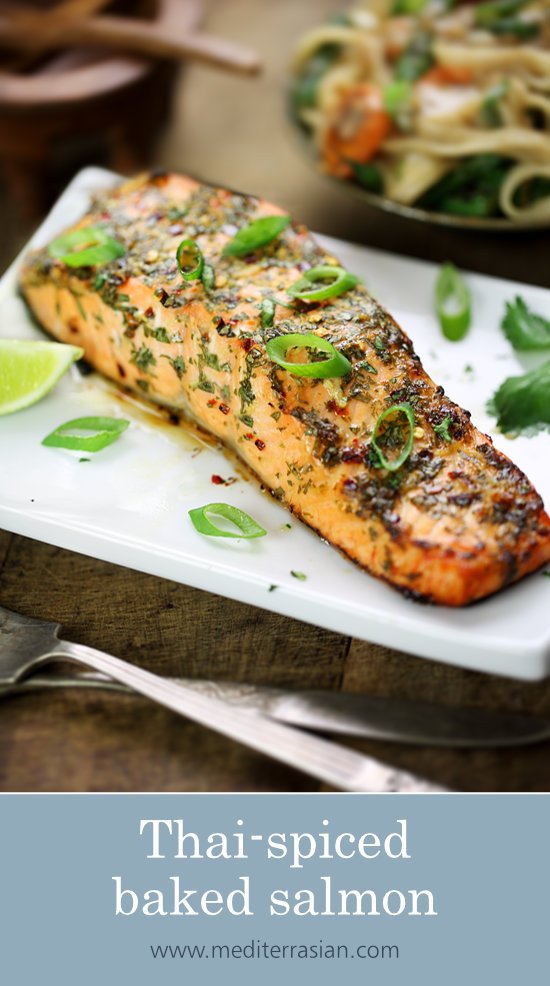 This quick and easy baked salmon is light and healthy but also super tasty. The fresh and fragrant Thai-inspired marinade permeates the salmon with the flavors of lime, ginger, chili and cilantro. It's not overly spicy, with a nice subtle heat from dried chili flakes and a warm bite from fresh ginger.
To enhance the flavors of this dish, we use most of the mixture to marinate the salmon first, to allow the hot, sour, salty, sweet flavors to soak into the fish before cooking. And then once it's baked we drizzle the reserved mixture over the salmon to add that extra oomph of flavor just before serving. This marinade could also be used for other types of fish, such as snapper or cod, or for shrimp, scallops, or chicken.
We served this Thai-spiced baked salmon alongside stir-fried rice noodles with green beans, carrots and scallions. You could also serve it with cooked rice and stir-fried veggies on the side, or with an Asian-style noodle or rice salad.
Thai-spiced baked salmon
Serves 2
Succulent salmon infused with a ginger, lime, chili and cilantro dressing, and baked until deliciously moist and tender.
1 tablespoon lime juice
2 teaspoons fish sauce
2 teaspoons soy sauce
½ teaspoon toasted sesame oil
1 teaspoon brown sugar
½ teaspoon dried chili flakes
1 tablespoon finely chopped cilantro (fresh coriander)
1 teaspoon finely grated ginger
1 clove garlic — minced
2 x 6 oz (170g) uncooked salmon fillets
1 scallion, green parts only — thinly sliced
MIX together the lime juice, fish sauce, soy sauce, sesame oil, brown sugar, chili flakes, cilantro, ginger and garlic in a small bowl until well combined and the sugar dissolves. COAT the salmon fillets evenly all over with ¾ of the mixture and marinate, covered, in the refrigerator for at least 30 minutes. PREHEAT the oven to 400°F/200°C. LINE a baking tray with baking paper. PLACE the salmon fillets on the tray and bake for 20 minutes. DRIZZLE the reserved marinade evenly over the cooked salmon fillets. SERVE garnished with the scallion.