GRILLED & BAKED DISHES
Tandoori salmon skewers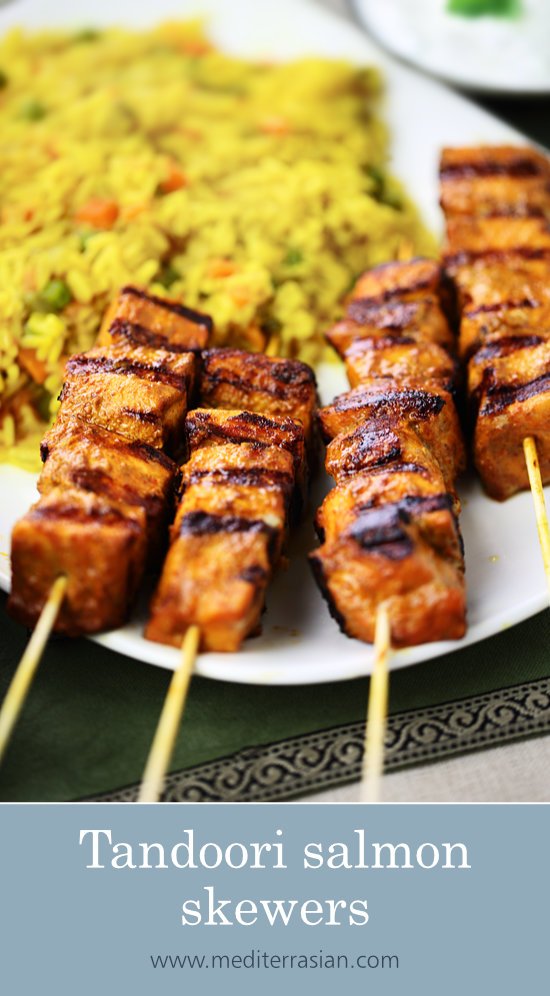 In a perfect world we would have used a tandoor oven to cook these salmon skewers. It's basically a large clay pot with a hot fire built inside, and marinated meats on long metal skewers are lowered in and cooked in the intense heat. So, tandoori food is named after this simple cooking vessel. But that doesn't mean you need a tandoor to cook tandoori food. Yes, there's no doubt that a tandoor imparts a unique smoky flavor to the food, but you can still get mouthwatering results without one. A charcoal grill will impart a similar flavor — but a gas grill or even a grill pan still produces mouthwatering results. (In fact we've even used our panini press to cook tandoori food!)
Cooking the food over a high heat is important, but just as essential is the marinade. The yogurt not only adds natural acidity to the marinade, its thickness also helps the marinade to cling to the food. And then there are the spices. We've made tandoori recipes in the past where the marinade had a list of spices as long as your arm. But over the years we've developed our own simplified tandoori spice blend that tastes just as good as any we've tasted, but it uses only a handful of warming Indian spices.
The flavor and firm texture of salmon works remarkably well with the marinade, but you can also use chicken or shrimp. We usually accompany the skewers with rice and vegetables (here we served it with saffron-infused rice studded with peas and diced carrots). You can also wrap the tandoori salmon pieces in lightly-warmed naan bread along with crisp salad vegetables and a dollop of raita (Indian yogurt and cucumber sauce).
Tandoori salmon skewers
Serves 4
A marinade of yogurt and warming Indian spices coat bite size pieces of salmon which are grilled until juicy and tender. Serve with rice and vegetables, or wrap the salmon in naan bread along with crisp salad vegetables and a dollop of raita (Indian yogurt and cucumber sauce).
4 tablespoons Greek yogurt
2 tablespoons tomato paste
2 tablespoons peanut or canola oil
4 teaspoons ground cumin
4 teaspoons paprika
2 teaspoons ground coriander
2 teaspoons ground turmeric
1 teaspoon chili powder
1 teaspoon salt
2 garlic cloves — minced
2 lbs (900g) uncooked salmon fillets — cut into bite-size cubes
8 metal or wooden skewers (soak wooden skewers in water before use)
MIX together the yogurt, tomato paste, oil, cumin, paprika, coriander, turmeric, chili powder, salt and garlic in a small bowl until well combined. POUR the mixture over the salmon pieces and thoroughly coat, then marinate, covered in the refrigerator, for at least 1 hour. PREHEAT a stovetop grill pan or outdoor grill over high heat. THREAD the salmon pieces evenly onto each skewer. COOK the skewers for 6 minutes, turning once and brushing regularly with any remaining marinade.

Variations: Use other firm fish like swordfish or tuna, or use shrimp, chicken or pieces of lean lamb or beef instead. For a vegetarian version, replace the salmon with vegetables such as mushrooms, zucchini, peppers, onion wedges, cherry tomatoes, eggplant, or add cubes of paneer cheese.

Tip: You can either cook the skewers indoors in a stovetop grill pan or electric grill or under a hot oven broiler (griller). Or, to add that classic tandoori smokiness, cook them outdoors over a charcoal barbecue.