SANDWICHES & PIZZA
Indian-style naan pizza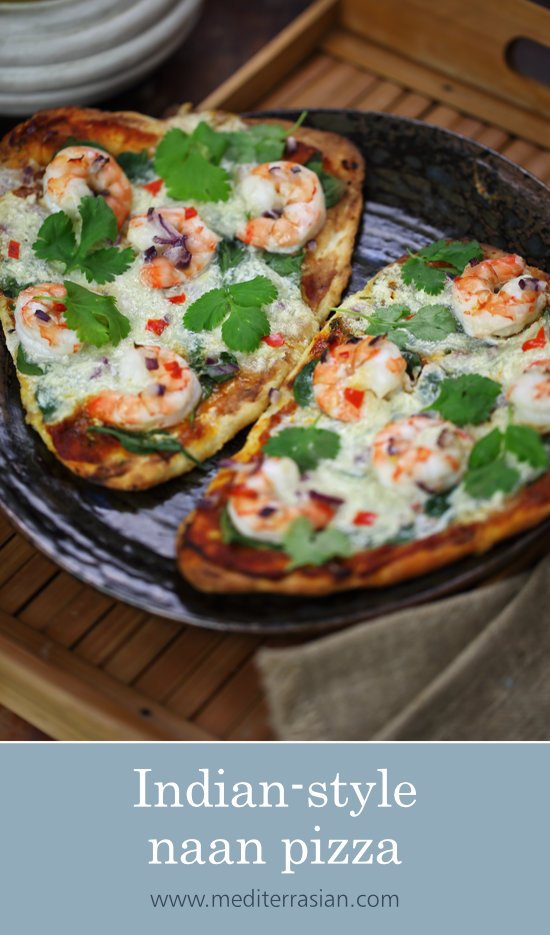 Tomatoes, garlic, onions, bread, spinach and cheese are all classic Mediterranean ingredients, right? But did you know that these foods are commonly used in Indian cooking as well?
Tomatoes, garlic, onions and spinach are often used in curries, dhals and vegetable side dishes; breads such as naan bread are a common accompaniment to a meal; and cheese — usually a soft fresh cheese called paneer — also makes a regular appearance in traditional Indian dishes. So the idea of making an Indian 'pizza' using these kind of ingredients seemed like a good idea to us. And we certainly weren't disappointed with the end result!
Naan bread (a scrumptious type of flat bread traditionally cooked in a tandoor, or clay oven) actually makes a wonderful pizza crust. And in India, naan bread is sometimes stuffed with paneer cheese before baking — so we knew that cottage cheese (which is almost identical to unpressed paneer cheese) would be the perfect cheese to use for our Indian pizza. But I think what surprised us most is how similar the texture of cottage cheese is to melted fresh mozzarella cheese.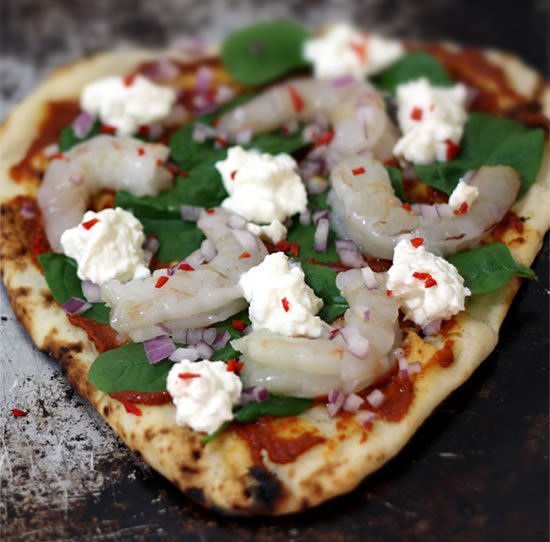 As you can see from the photo above, before we put the naan pizzas in the oven we simply dolloped some cottage cheese over the top. After baking, the cottage cheese had melted over the pizza and become stretchy, and even pulled away in gooey strands while we were eating it, just like mozzarella does.
Naan bread works best with this pizza, but if you can't get your hands on any, pita bread makes a reasonable substitute. Also, instead of shrimp you can use diced chicken, scallops, chickpeas or even good quality canned tuna or salmon. And of course paneer cheese (cut into small cubes) can be used instead of the cottage cheese.
Indian-style naan pizza
Serves 4
Indian naan bread topped with a tomato-curry sauce, shrimp, baby spinach, red onion, fresh chili, and cottage cheese, baked until golden and garnished with cilantro.
4 tablespoons tomato paste
2 tablespoons peanut or canola oil
2 teaspoons ground cumin
1 teaspoon ground coriander
1 teaspoon ground turmeric
½ teaspoon salt
1 garlic clove — minced
4 naan breads
A large handful of baby spinach leaves — rinsed and dried
20 large uncooked shrimp — peeled and deveined
2 tablespoons finely diced red onion
10 oz (280g) cottage cheese
2 small red chilies — deseeded and finely diced
A handful of cilantro (fresh coriander) leaves
PREHEAT the oven to 450°F/230°C. MIX together the tomato paste, oil, cumin, coriander, turmeric, salt and garlic in a small bowl. SPREAD the mixture evenly over the naan breads. ARRANGE the spinach leaves on top, then place five shrimp on each naan. SPRINKLE with the onion, then put dollops of the cottage cheese evenly on top (about a heaped teaspoon per dollop). SPRINKLE with the chili, place on a baking tray, and bake for 10 minutes. GARNISH with the fresh cilantro leaves and cut each in half to serve.