GRILLED & BAKED DISHES
Teriyaki tuna skewers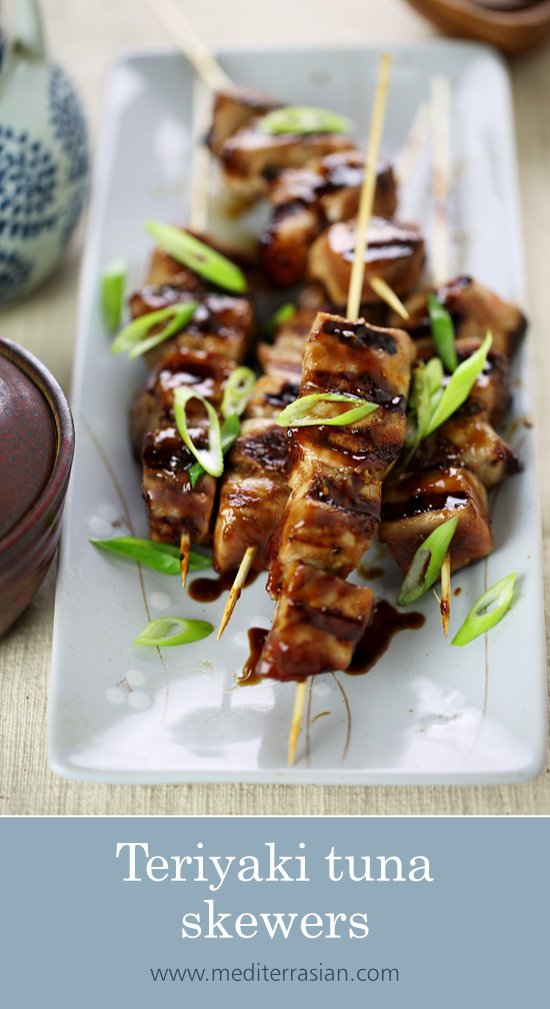 Winter's got its icy grip on us here in New Zealand, and it doesn't help that a polar blast has descended on us. One of the ways we cope with the cold is to revive memories of summer, including firing up the grill. But instead of firing up the outdoor grill, we fire up our stovetop and put our grill-pan to work.
These tuna teriyaki skewers are the result of our latest indoor grilling efforts and they're deliciously sticky, smoky, sweet and savory. The secret is we use our own homemade teriyaki sauce, which has a far more authentic Japanese taste than the bottled stuff you get at the supermarket. (It also happens to be one of the simplest sauces/marinades you can make.)
The sauce works beautifully with fresh tuna, but you can easily substitute salmon, chicken, shrimp or scallops. We also recommend doing what we did with these skewers — team them up with our Soba Noodle Salad with Sesame-Ginger Dressing, and wash it all down with a little sake!

Teriyaki tuna skewers
Serves 4
Sticky, smokey, sweet and savory grilled tuna skewers basted with homemade Japanese teriyaki sauce.
12 metal or wooden skewers (soak wooden skewers in water before use)
2 tablespoons water
1 tablespoon cornstarch (cornflour)
6 tablespoons Japanese soy sauce
4 tablespoons mirin (Japanese sweet rice wine)
3 tablespoons brown sugar
2 lbs (900g) uncooked tuna steaks — cut into bite-size pieces
4 teaspoons finely grated fresh ginger
2 scallions, green parts only — thinly sliced on a diagonal
MIX together the water and cornstarch in a small bowl until thoroughly combined. MIX together the soy sauce, mirin and sugar in a small saucepan, and bring to a boil over a high heat. STIR in the cornstarch mixture and cook until just thickened, stirring constantly. ALLOW the sauce to cool slightly in the fridge while you prepare the tuna skewers. THREAD 4 pieces of tuna onto each skewer. STIR the ginger into the cooled teriyaki sauce and brush the tuna skewers with ¾ of the sauce. MARINATE the skewers for 10-20 minutes (optional, but it does maximize flavor). COOK the skewers on a lightly oiled hot grill or grill pan for 4 minutes, turning once and brushing regularly with the remaining sauce. SERVE garnished with the sliced scallion on top.