APPETIZERS
Thai fish cakes with sweet chili-lime dipping sauce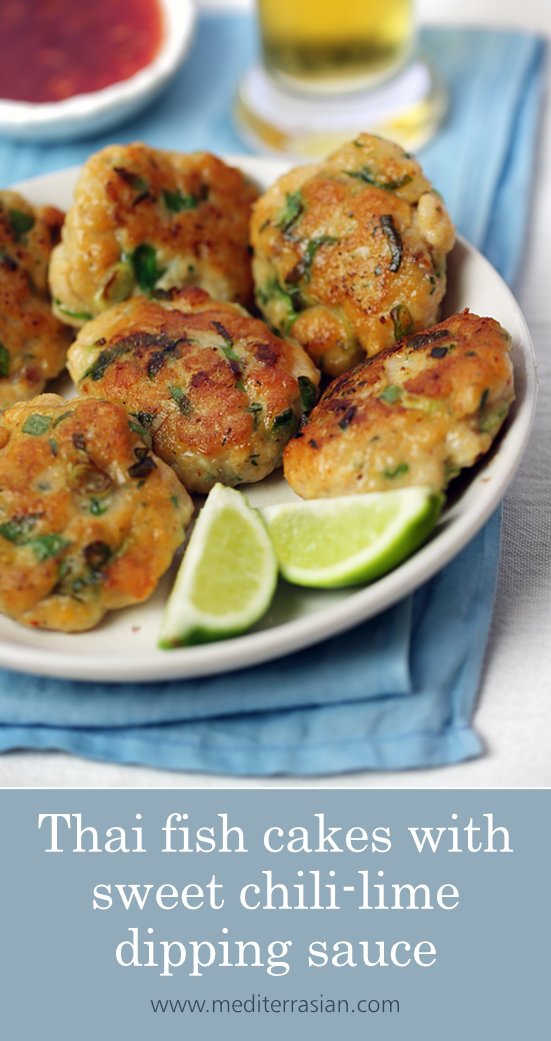 Fish cakes are a popular appetizer and snack in Thailand — and they're really easy to make at home. We not only love eating them as an appetizer, we also slice them and add them to stir-fries. The fish cake mixture can also be used in other ways. You can roll it into balls and add them to Southeast Asian soups and curries — they poach beautifully in hot broths and curry sauces.
You can also shape the mixture into larger patties for Thai-style fish burgers with lettuce, cucumber, grated carrot, and sweet chili sauce mixed with mayo for the dressing.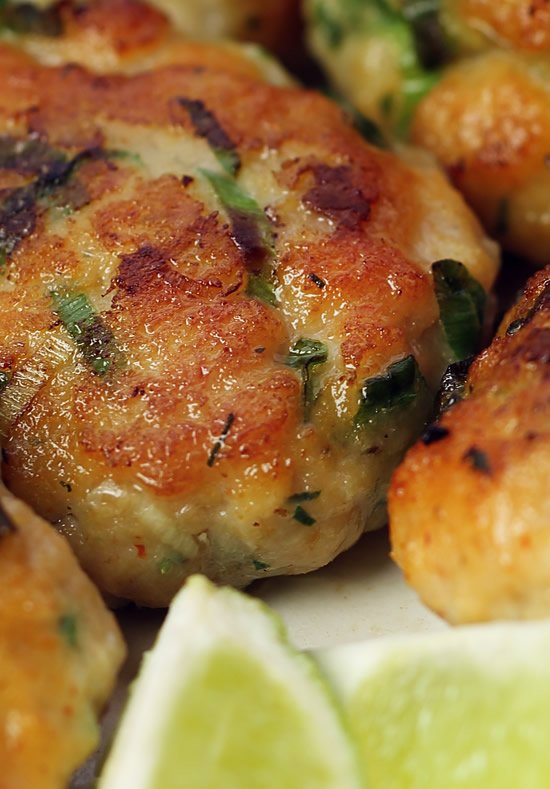 Another great thing about these Thai fish cakes is that you can make them ahead and keep them covered in the fridge until you're ready to cook them. So they're perfect for entertaining, and ideal for mid-week meals.
Thai fish cakes with sweet chili-lime dipping sauce
Serves 2
Fish cakes are a popular appetizer and snack in Thailand. In this recipe, delicately spiced fish cakes are served with a sweet chili-lime dipping sauce.
10 oz (280g) firm white fish fillets — roughly chopped
1½ teaspoons Thai red curry paste
1 garlic clove — minced
1 tablespoon plus 1 teaspoon fish sauce
1 tablespoon cornstarch
2 kaffir lime leaves — finely chopped (or 1 teaspoon of finely chopped fresh lime zest)
1 scallion — thinly sliced
2 tablespoons peanut or canola oil
¼ cup sweet chili sauce
1 tablespoon lime juice

PLACE the chopped fish fillets in a food processor or blender and pulse until smooth. ADD the red curry paste, garlic, 1 tablespoon of fish sauce, and cornstarch and pulse until well combined. TRANSFER the fish mixture to a bowl, add the kaffir lime leaves and scallion, and stir to combine. DIVIDE the mixture into 6 equal portions and shape each with damp hands into patties. HEAT the oil in a large frying pan over medium heat. COOK the fish cakes for 3 minutes each side. WHILE the fish cakes cook, mix together the sweet chili sauce, lime juice and 1 teaspoon of the fish sauce in a small bowl until well combined. SERVE the fish cakes warm or at room temperature with the sweet chili-lime sauce for dipping.

Variations: Use Thai green curry paste instead of red, and thinly sliced green beans and chopped basil or cilantro in the fish cakes.