EATING
Following a MediterrAsian way of eating doesn't mean eating only Mediterranean and Asian foods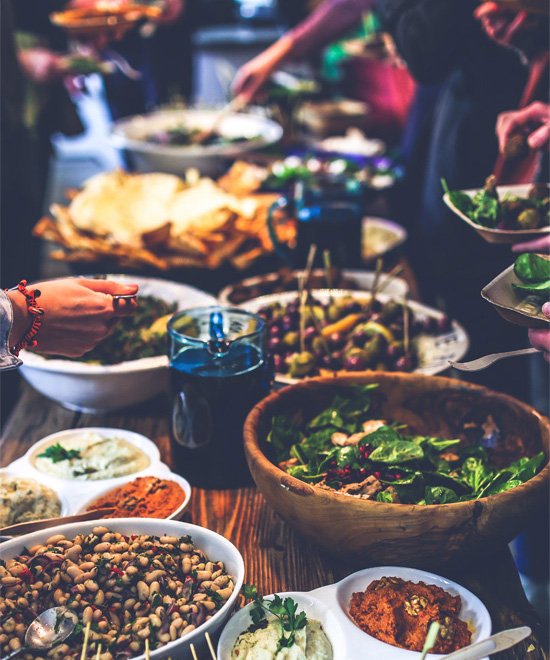 Some people think that following a MediterrAsian way of eating means only eating Mediterranean and Asian meals. Actually, it's quite possible to never eat a Mediterranean or Asian meal while still eating according to MediterrAsian eating principles.
If plant foods such as vegetables, fruits, grains, beans and nuts are the foundation of your diet, if you regularly eat fish and some poultry and not too much red meat, and if the main sources of fat in your diet come from plant and fish sources, then you're already eating the MediterrAsian way.
However, because the traditional diets of Asia and the Mediterranean are based around these foods, and because these foods are so wonderfully tasty when they're prepared in Mediterranean and Asian ways, it makes sense to mainly base your meals around traditional Mediterranean and Asian dishes. At least that's how Trudy and I feel about things. But it shows that you have almost limitless choice of what meals you can eat when you follow a MediterrAsian way of eating.
And there's certainly nothing wrong with having some normal fast food and sweet treats now and then either. About 90 percent of the time we'll eat MediterrAsian-style, but about 10 percent of the time we'll eat foods we grew up on, or fast food, or sweets. (Occasionally we'll also have a little too much to drink, but that's another story!)
Yet we've found that if we eat mostly MediterrAsian-style we look and feel our best. And because the food is so amazing we never feel like we're missing out anyway.