PASTA DISHES
Basil and almond pesto pasta with broccoli, peas and zucchini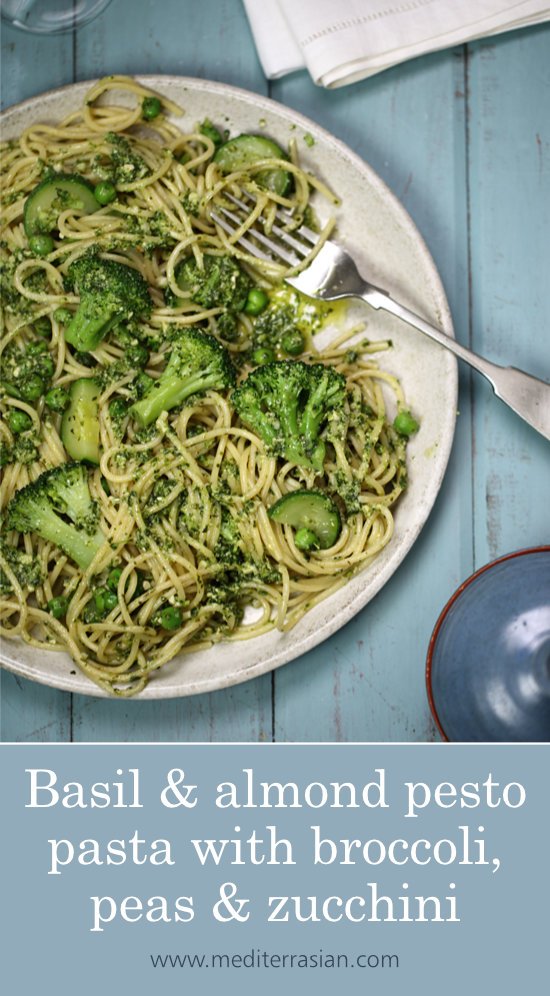 We use pesto to flavor everything from pizzas to bruschetta to soups. But more often than not we serve it the authentic way — tossed with pasta. Usually we make traditional Genoese pesto which combines fresh basil with pine nuts, garlic, Parmesan and extra virgin olive oil. But we also like to mix things up occasionally and use different herbs or nuts.
The pesto in this pasta dish is very similar to traditional pesto but instead of pine nuts we use toasted almonds, which add their own unique flavor and creamy texture. We find this pesto sauce tastes particularly good with broccoli, green peas and zucchini. And to make things extra easy, the vegetables are cooked in the same pot with the pasta!
Basil and almond pesto pasta with broccoli, peas and zucchini
serves 2
Spaghetti combined with a selection of tender green vegetables and tossed with a mouthwatering basil and toasted almond pesto.
1 cup tightly packed fresh basil leaves
⅓ cup finely grated Parmesan cheese
⅓ cup slivered almonds — lightly toasted
1 garlic clove — roughly chopped
½ teaspoon salt
¼ teaspoon freshly ground black pepper
⅓ cup extra virgin olive oil
7 oz (200g) spaghetti
1 head broccoli — cut into florets
1 zucchini — sliced into half-moons
½ cup frozen green peas
PLACE the basil, Parmesan, almonds, garlic, salt and pepper in a food processor or blender. WHILE you process, slowly pour in the olive oil until the mixture turns into a smooth paste (you may have to scrape the sides occasionally). COOK the pasta in a large pot of lightly salted water according to package directions, adding the broccoli to the pot with 6 minutes to go, then adding the zucchini and peas for the final 3 minutes of cooking. DRAIN the pasta and vegetables into a colander, reserving 3 tablespoons of cooking water in the pot. PUT the pesto in the bottom of the pot and top with the hot pasta and vegetables. TOSS together gently to combine well and heat through.

Variations: You can use an array of green vegetables including green beans, asparagus or snow peas, or try adding some fava (broad) beans to the mix.