GRILLED & BAKED DISHES
Mediterranean grilled marinated vegetables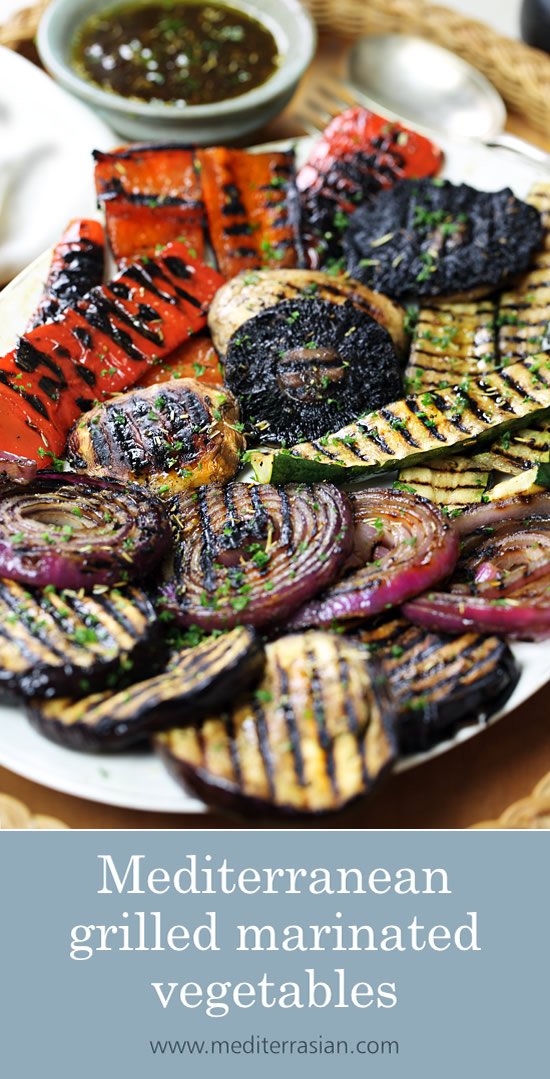 Something magical happens when vegetables are marinated then cooked on a hot grill. Not only do they become melt-in-the-mouth tender, but their flavor intensifies and sweetens.
We've found that the perfect vegetables for grilling are also the same vegetables that are staples in traditional Mediterranean cooking – red bell pepper, zucchini, eggplant, red onion and mushrooms. And not surprisingly these vegetables taste especially good coated in a herby Mediterranean-style marinade.
These grilled marinated vegetables are so tasty that we always make up extra for leftovers that we can chop up and add to other dishes. Here are just some of the ways to use them:
They make a sublime pizza topping, and combine beautifully with robustly-flavored ingredients like olives, anchovies, capers and sun-dried tomatoes.
They're delicious added to salads – we particularly love them with grain salads like couscous or bulgur salad.
They make a wonderful addition to pasta sauces, and taste extra good in lasagna.
They can be stirred into a risotto at the end of cooking.
They add great flavor and texture to stews.
They make a yummy bruschetta topping.
They can be used as a delicious sandwich or wrap filling with protein like cooked chicken or canned tuna, or simply crumbled feta.
They combine beautifully with cheese in a panini or toasted sandwich.
Mediterranean grilled marinated vegetables
serves 2-4
A selection of classic Mediterranean vegetables coated in a herb and olive oil marinade then grilled until sweet, smoky and tender.
4 tablespoons extra virgin olive oil
2 tablespoons balsamic vinegar
3 garlic cloves – minced
1 teaspoon dried rosemary
½ teaspoon dried oregano
¾ teaspoon salt
⅓ teaspoon freshly ground black pepper
1 red bell pepper – cut into thick strips
2 zucchinis – each cut into thirds lengthwise
1 eggplant – cut into half-inch rounds
4 medium portobello mushrooms – stems removed
1 red onion – cut into thick rounds
PLACE the olive oil, balsamic vinegar, rosemary, oregano, garlic, salt and pepper in a jar with screw-top lid and shake to combine. ADD the vegetables to a large bowl and pour over the marinade. GENTLY toss until the marinade evenly coats the vegetables (be careful that the red onion doesn't separate into rings). MARINATE for at least 10 minutes. COOK the vegetables on a hot grill (or grill pan) for 8 minutes, turning once, and brushing regularly with any residual marinade. GARNISH the vegetables with a little finely chopped flat-leaf parsley (optional).