SOUPS
Mediterranean cream of tomato soup with garlicky toasts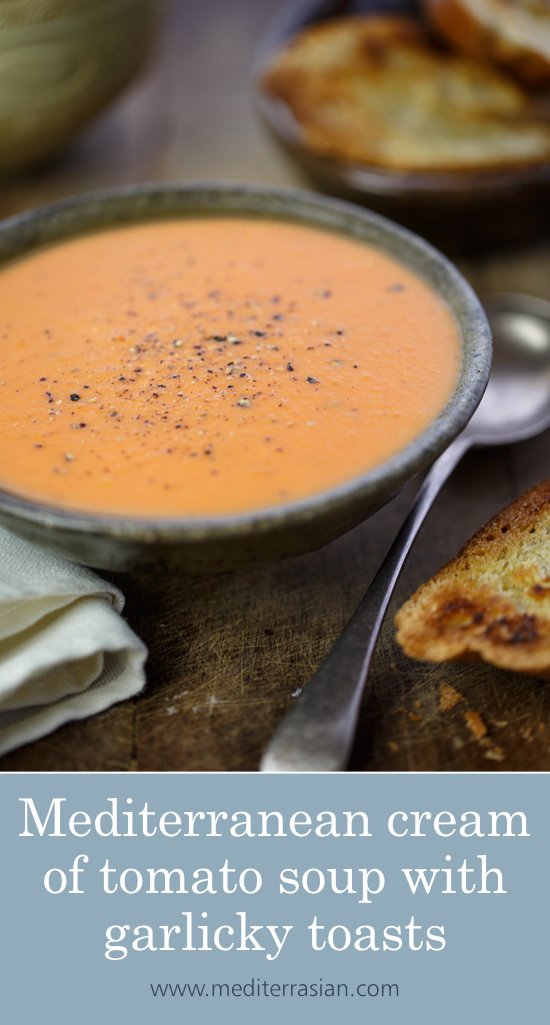 Tomato soup is one of the most delicious and comforting soups. But forget those canned tomato soups packed with preservatives and laden with sugar and sodium. This soup — made with canned tomatoes and tomato paste for convenience — gives you the rich color and natural sweetness of tomatoes, without any unwanted food additives, and it can be prepared in under 20 minutes.
The oregano and thyme have a natural affinity with tomatoes, and the addition of onion and celery creates a lovely balanced flavor. The garlicky toasts are a great accompaniment — their crunchiness complements the velvety texture of the soup, and the garlicky flavor enhances the soup's Mediterranean flavors. We prefer to pan-grill the toasts in a large frying pan because it gives them a delightfully crisp, light texture. But you can also cook them under the oven broiler.
Mediterranean cream of tomato soup with garlicky toasts
Serves 2
Velvety smooth tomato soup accented with oregano and thyme and served with garlicky pan-grilled toasts.
2 tablespoons extra virgin olive oil
1 tablespoon butter
1 onion — diced
1 celery stick — diced
2 garlic cloves
½ teaspoon dried oregano
¼ teaspoon dried thyme
2 tablespoons plain flour
2 cups vegetable or chicken stock
14 oz (400g) canned chopped tomatoes
1 tablespoon tomato paste
1 teaspoon salt
¼ teaspoon freshly ground black pepper
½ cup milk
4 thick slices of baguette (sliced on the diagonal)

HEAT 1 tablespoon of the oil and the butter in a saucepan and cook the onion and celery for 6 minutes. ADD 1 clove of finely chopped garlic, the oregano and thyme and cook for 1 minute. ADD the flour and cook for 1 minute, stirring to combine. REMOVE from the heat and add the stock gradually, stirring constantly, until slightly thickened. RETURN to the heat and add the tomatoes, tomato paste, salt, and pepper. BRING to a boil, lower the heat to medium and simmer, uncovered, for 10 minutes. WHILE the soup cooks, preheat a large frying pan over a medium-high heat. BRUSH the bread slices evenly with 1 tablespoon of oil on both sides. PLACE the slices in the pan and cook until both sides are crisp and browned. TRANSFER the toasts to a plate and, when cool enough to handle, rub one side of each slice with the cut side of 1 peeled and halved garlic clove. REMOVE the soup from the heat and puree in a blender or with a stick blender. RETURN the soup to the saucepan, stir in the milk, and reheat gently. SERVE in bowls with the garlicky toasts on the side.