RICE & GRAIN DISHES
Risotto with pumpkin, spinach, cannellini beans and walnuts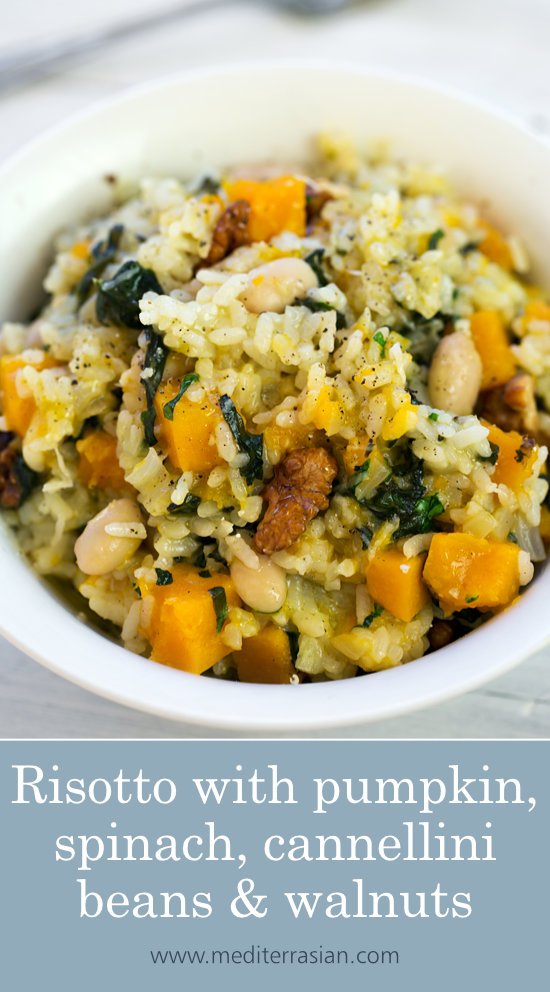 In some parts of Italy, such as Venice, they prefer a slightly liquid risotto, where the rice ripples like a wave if the plate is tilted. In other parts of Italy the rice is cooked to a creamier consistency — and that's the way we prefer it.
A few years ago we discovered that to get perfectly-textured risotto there's no need to laboriously add stock little by little while constantly stirring. Instead we add all the stock at once, top the pot with a lid and let the combination of simmering and steaming do all the work for us. It's a completely fool-proof way to cook risotto, and because you don't have to stand around stirring, you can put your feet up and relax instead!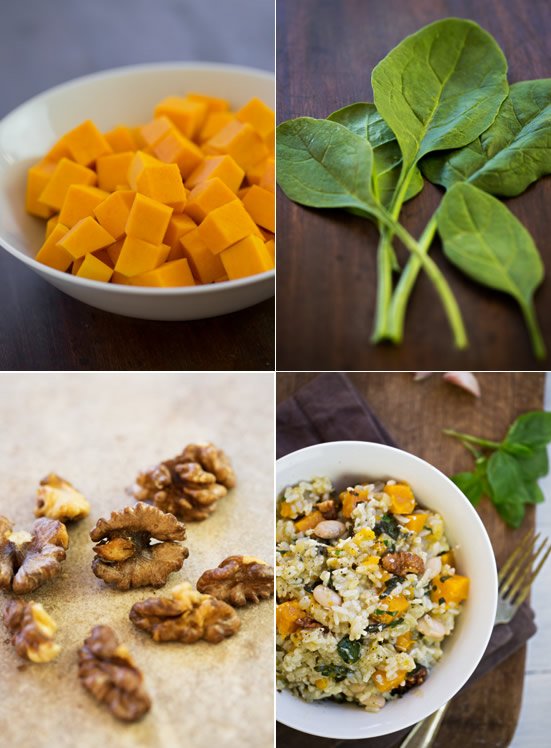 This week's recipe is among our favorite no-stir risotto recipes. The sweet pumpkin, creamy cannellini beans, and crunchy walnuts perfectly accent the delicate spinach. And when the Parmesan and fresh basil are mixed in at the end of cooking, some of the edges of the pumpkin break off and disintegrate into the rice, adding a unique and heavenly texture.
And because this risotto includes an abundance of nutrient-rich vegetables, beans, and nuts it not only tastes really good, it's also really good for you.
Risotto with pumpkin, spinach, cannellini beans and walnuts
serves 2
A colorful and luscious risotto with sweet pumpkin, crunchy walnuts, delicate spinach and creamy cannellini beans.
3 tablespoons extra virgin olive oil
1 onion — finely chopped
2 cloves garlic — finely chopped
1 cup arborio rice
2 cups vegetable or chicken stock
½ cup white wine
1 teaspoon salt
½ teaspoon freshly ground black pepper
2 cups peeled and cubed pumpkin or winter squash (cut into half inch cubes)
2 packed cups roughly chopped fresh spinach
½ cup canned cannellini beans — rinsed well and drained
¼ cup roughly chopped toasted walnuts
⅓ cup finely grated Parmesan cheese
1 tablespoon finely chopped fresh basil
HEAT 2 tablespoons of the oil in a large saucepan and cook the onion for 5 minutes, stirring occasionally. ADD the garlic and rice, stirring to coat the grains in oil and cook for 1 minute. ADD the wine, stock, salt, black pepper, pumpkin and spinach, stir to combine and bring to a boil. COVER with a lid, reduce the heat to low and cook for 20 minutes without lifting the lid. STIR in the white beans, walnuts, Parmesan, basil and remaining tablespoon of oil to combine.

Variations: Use toasted pine nuts instead of the walnuts. Use chickpeas or fresh fava beans instead of the cannellini beans.