SOUPS
Moroccan tomato, chickpea and couscous soup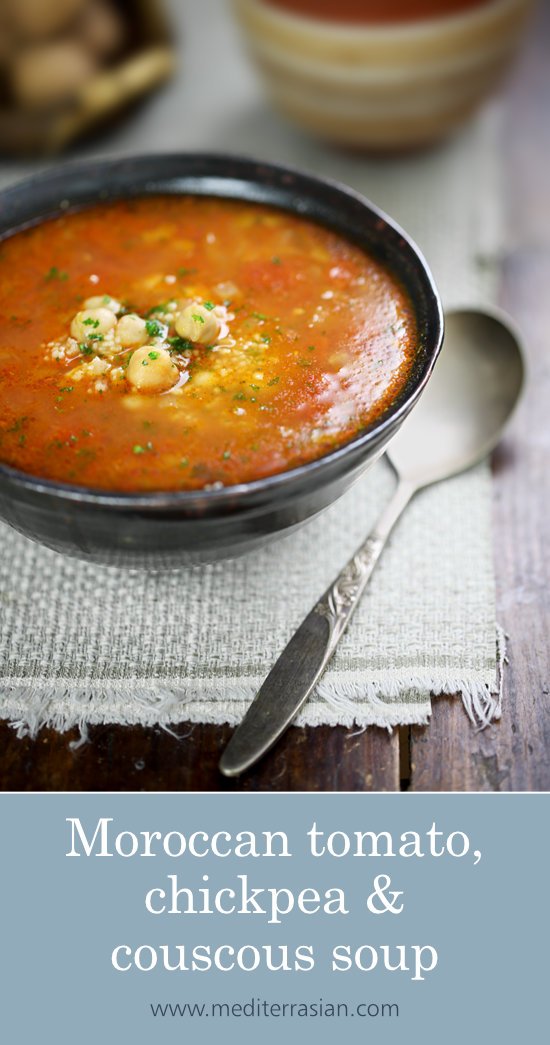 Couscous is a Moroccan staple that's often served as an accompaniment with tagine (Moroccan stew made in a traditional conical shaped clay pot), or used in salads and stuffings. Couscous can also be added in small amounts to soups such as this one to thicken and add extra texture. The tiny balls of couscous are simply added to the boiling soup and in a few short minutes they soften and plump up.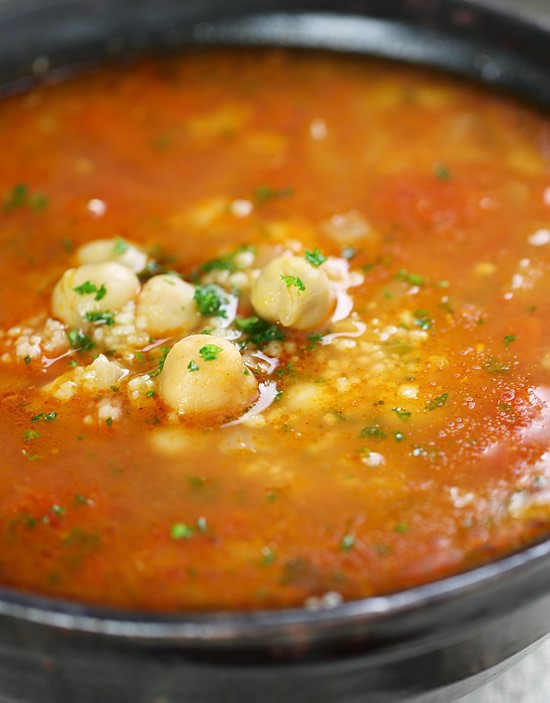 The chickpeas in this soup also add a wonderful textural contrast as well as providing plenty of protein and fiber. To create a creamier consistency we blend half of the soup into a puree before mixing it back with the rest of the soup. This really enhances the texture and flavor, but if you prefer a less creamy consistency leave this step out.
Moroccan tomato, chickpea and couscous soup
Serves 4
Couscous adds a wonderful texture to this Moroccan-spiced tomato soup, and the protein and fiber rich chickpeas make this soup extra nourishing and tasty.
2 tablespoons extra virgin olive oil
1 onion — finely chopped
2 garlic cloves — finely chopped
1½ teaspoons ground coriander
1 teaspoon ground cumin
½ teaspoon ground cinnamon
14 oz (400g) canned chopped tomatoes
5 cups chicken or vegetable stock
1½ teaspoons salt
¼ cup quick-cooking couscous
1 cup canned chickpeas — rinsed and drained
1 tablespoon finely chopped fresh flat-leaf parsley
1 tablespoon lemon juice

HEAT 1 tablespoon of oil in a large saucepan over a medium heat. COOK the onion for 6 minutes, stirring occasionally. ADD the garlic, coriander, cumin and cinnamon and cook, stirring, for 1 minute. ADD the canned tomatoes, stock and salt, stir to combine, and bring to the boil. COVER the pot, reduce the heat to medium, and simmer for 10 minutes. STIR in the couscous and chickpeas, cover, and cook for 4 minutes. ADD the parsley and lemon juice. TRANSFER half of the soup to a blender or food processor and blend for about 15 seconds until smooth. RETURN the puree to the soup, stir in the reserved olive oil and heat through before serving.