GRILLED & BAKED DISHES
Moroccan baked chicken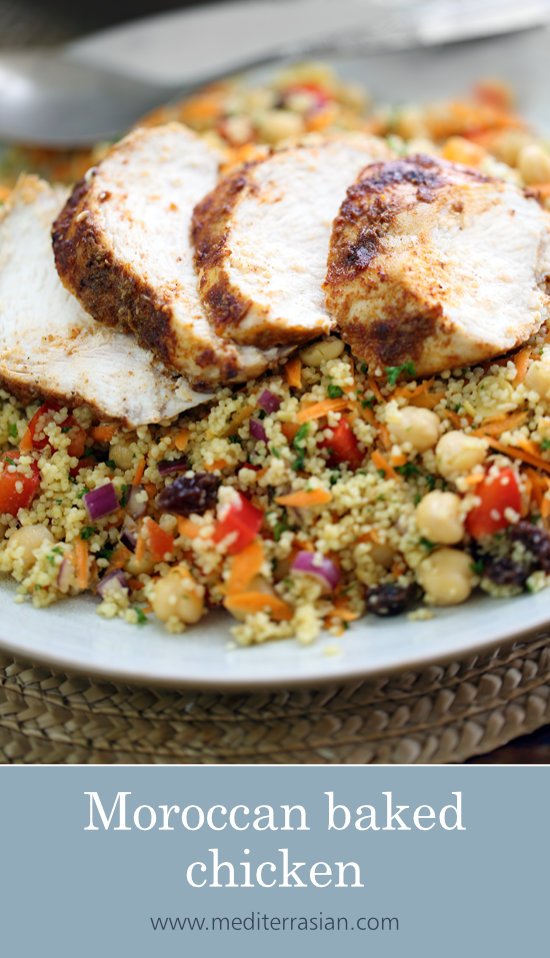 This Moroccan baked chicken recipe is a really simple and flavorful way to cook chicken breasts. Just by rubbing a mixture of olive oil, garlic and Moroccan spices on chicken and letting it marinate for 20 minutes guarantees the chicken is deliciously seasoned, not bland, and delightfully succulent, not dry. Another trick to getting juicy baked chicken is to bake it at a high temperature for a short time — just 20 minutes at 450ºF/230ºC results in perfectly cooked, tender chicken breast.
Moroccan baked chicken is particularly good served on top of our Moroccan couscous and chickpea salad, but plain couscous is fine, although better with fresh herbs tossed through. Or you could serve the chicken with a simple side salad (tomato, cucumber and red onion with fresh mint or parsley is tasty) or with cooked vegetables like potatoes, carrots and zucchini on the side.
Moroccan baked chicken
Serves 4
Chicken breasts coated in a fragrant Moroccan-inspired spice mix and baked until tender and succulent.
2 teaspoons ground cumin
2 teaspoons paprika
1 teaspoon ground ginger
½ teaspoon ground cinnamon
½ teaspoon chili powder
½ teaspoon salt
2 tablespoons extra virgin olive oil
2 garlic cloves — minced
4 uncooked skinless chicken breast fillets
MIX together the cumin, paprika, ginger, cinnamon, chili, salt, oil and garlic until well combined. RUB the mixture evenly all over each chicken breast. COVER and set aside to marinate in the refrigerator for at least 20 minutes. PREHEAT the oven to 450°F/230°C. PLACE the chicken in a baking tray lined with baking paper and bake for 20 minutes. ALLOW to rest for 5 minutes, then slice and serve.