SALADS
Pasta salad with avocado, walnuts, cherry tomatoes and rosemary-balsamic vinaigrette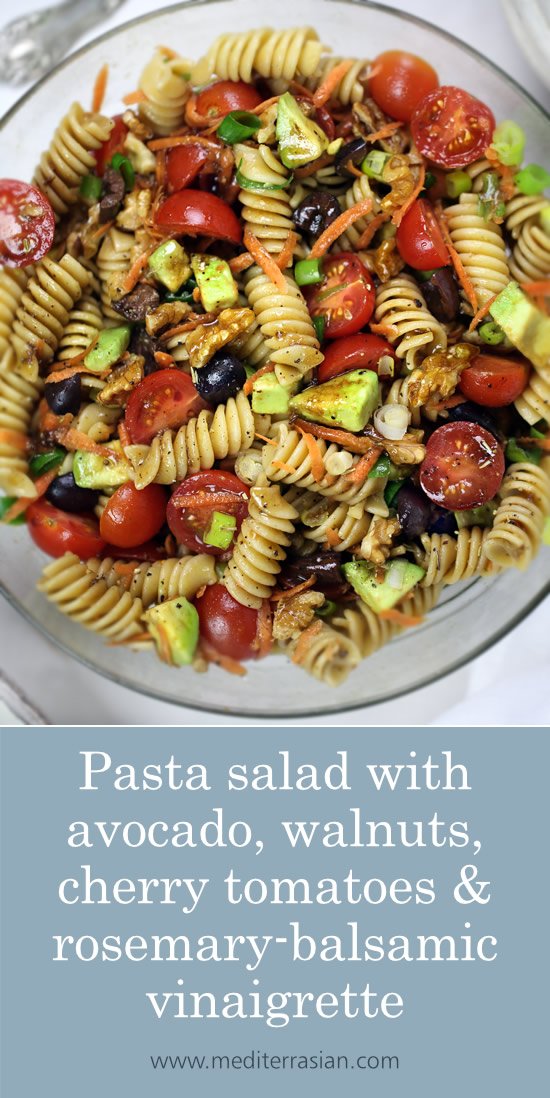 Our latest recipe isn't only one of the tastiest pasta salads I've ever eaten, it's also packed with nutrient-rich ingredients.
Avocados are rich in heart-healthy monounsaturated fat, vitamin C and potassium; walnuts are a good source of omega-3 fatty acids and dietary fiber; the cherry tomatoes are rich in lycopene – a powerful antioxidant; and carrots are a great source of beta carotene, which has anticancer properties.
Even the cold pasta is a good source of resistant starch, which helps balance blood sugars and feeds the good bacteria in your gut.
Pasta salad with avocado, walnuts, cherry tomatoes and rosemary-balsamic vinaigrette
Serves 4
A delicious and nourishing pasta salad with cubed avocado, cherry tomatoes, walnuts, grated carrot and Kalamata olives, coated in a rustic rosemary-balsamic vinaigrette.
8 oz (250g) short pasta (like fusilli)
1 avocado – cut into small cubes
20 cherry tomatoes – halved (or 2 diced tomatoes)
1 carrot – grated
8 Kalamata olives – finely chopped
1 scallion – thinly sliced
½ cup walnuts – roughly chopped
4 tablespoons extra virgin olive oil
1½ tablespoons balsamic vinegar
1 teaspoon dried rosemary
1 teaspoon salt
½ teaspoon freshly ground black pepper
1 garlic clove – minced
COOK the pasta according to package directions. WHILE the pasta is cooking, place the olive oil, vinegar, rosemary, garlic, salt and pepper in a screw-top jar and shake until well combined. RINSE the cooked pasta under cold water and drain thoroughly. ADD the pasta to a large salad bowl along with the avocado, cherry tomatoes, carrot, olives, scallion and walnuts. ADD the dressing and toss gently to combine.