PASTA DISHES
Pasta with tuna, broccoli, olives, sun-dried tomatoes and basil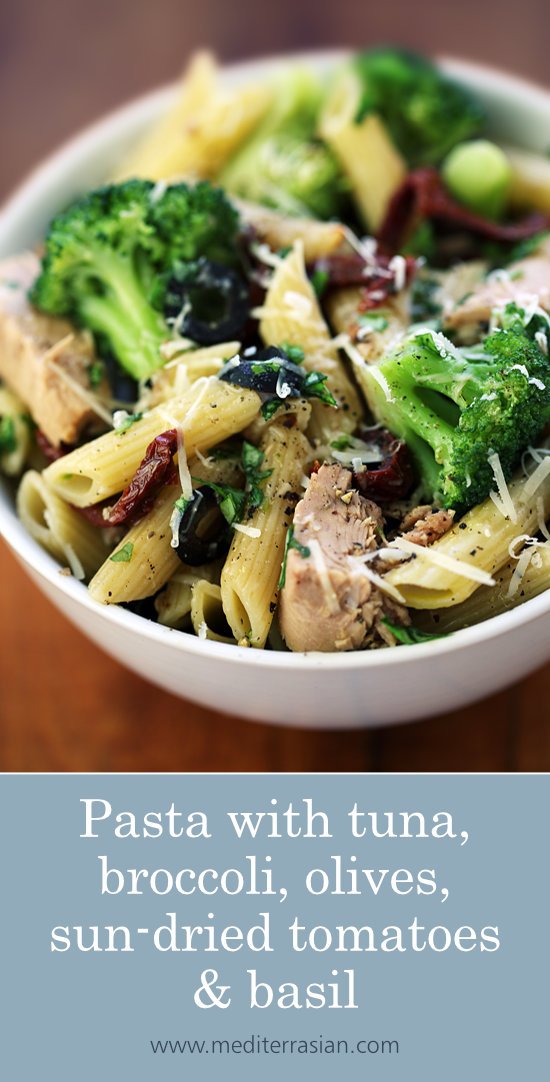 This pasta dish is one that we've been making for years. The sauce is made very simply without any actual cooking (a.k.a. 'no-cook' sauce.) The ingredients are just mixed together like a fresh Italian-inspired salsa. Plus, you can make the tuna mixture while the pasta and broccoli are cooking, so the dish comes together really quickly and still tastes amazing.
Apart from tossing the tuna mixture with pasta you can also use it in some other delicious ways: use it to top pizzas and bruschetta; serve as a sandwich and wrap filling; or stir into a risotto or rice salad. And instead of broccoli, you can toss other veggies into the pot to cook with the pasta, like green beans, zucchini, cauliflower florets, or asparagus.
Pasta with tuna, broccoli, olives, sun-dried tomatoes and basil
serves 2
We love this pasta dish not only because it's so tasty, but also because it's so easy to make. Most of the ingredients are straight from cans and jars, and the broccoli cooks in the same water as the pasta.
7 oz (200g) penne pasta
1 broccoli head — cut into small florets
6 oz (170g) canned tuna in olive oil — drained and broken into chunks
¼ cup sun-dried tomatoes — roughly chopped
2 tablespoons finely chopped fresh basil
6 black olives — pitted and finely chopped
3 tablespoons extra virgin olive oil
1 teaspoon balsamic vinegar
1 garlic clove — minced
½ teaspoon salt
¼ teaspoon freshly ground black pepper
Finely grated Parmesan cheese, to serve
MIX together all the ingredients, except the pasta and broccoli, in a bowl until well combined. COOK the pasta in a large pot of lightly salted boiling water according to package directions, adding the broccoli florets to the pot in the final 6 minutes of cooking. DRAIN the pasta and broccoli, reserving 2 tablespoons of the pasta cooking water in the pot. TOSS the pasta and broccoli with the tuna, black olive, sun-dried tomato and basil mix and serve topped with finely grated Parmesan cheese.