PASTA DISHES
Lentil and tuna Bolognese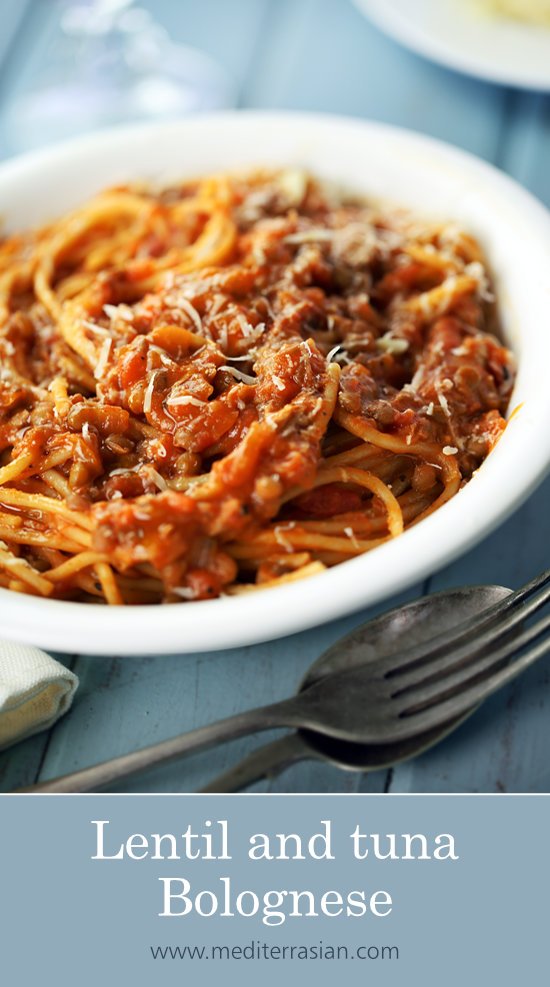 Instead of a traditional meat-based sauce, the Bolognese sauce in this recipe is made with canned brown lentils and tuna, which makes a healthier, high fiber alternative to minced meat while still tasting 'meaty' and delicious. And rather than cooking the sauce slowly for hours until it's rich and thick, we achieve the same velvety texture by thickening it slightly with a flour and oil roux so that it coats the pasta perfectly.
This sauce freezes well, so make it in big batches and freeze it in portions, then you've always got some ready to toss with pasta, layer in lasagna, stuff into cannelloni, pour over polenta, or serve on a baked potato.
Lentil and tuna Bolognese
serves 6
A deliciously different fiber-rich version of spaghetti Bolognese using brown lentils and canned tuna instead of ground beef.
5 tablespoons extra virgin olive oil
2 onions—finely chopped
2 carrots—finely chopped
6 garlic cloves—finely chopped
1 teaspoon dried oregano
1 teaspoon dried rosemary
4 tablespoons plain flour
28 oz (800g) canned chopped tomatoes
2 cups chicken or vegetable stock
⅓ cup tomato paste
2 teaspoons salt
⅔ teaspoon freshly ground black pepper
28 oz (800g) canned brown lentils—rinsed and drained
16 oz (500g) fettuccine or spaghetti
6 oz (170g) canned tuna in olive oil—drained and flaked
Finely grated Parmesan cheese, to serve
HEAT 4 tablespoons of the oil in a large saucepan over a medium heat and cook the onion and carrot for 10 minutes, stirring occasionally. ADD the garlic, oregano and rosemary and cook for 2 minutes. STIR in the flour and cook for 1 minute. REMOVE from the heat and stir in the tomatoes, stock, tomato paste, salt and pepper. RETURN to a high heat and bring to a boil, stirring regularly, then cover with a lid and reduce the heat to medium and cook for 10 minutes. ADD the lentils and cook, covered, for a further 10 minutes. WHILE the sauce is simmering, bring a large pot of lightly salted water to a boil and cook the pasta according to package directions. STIR the tuna and reserved tablespoon of olive oil into the sauce. DRAIN the cooked pasta into a colander and put the sauce in the bottom of the pot. TOP with the hot pasta and toss together gently to combine. SERVE with grated Parmesan cheese on top.