CURRIES & STEWS
Chickpea, parsnip and potato curry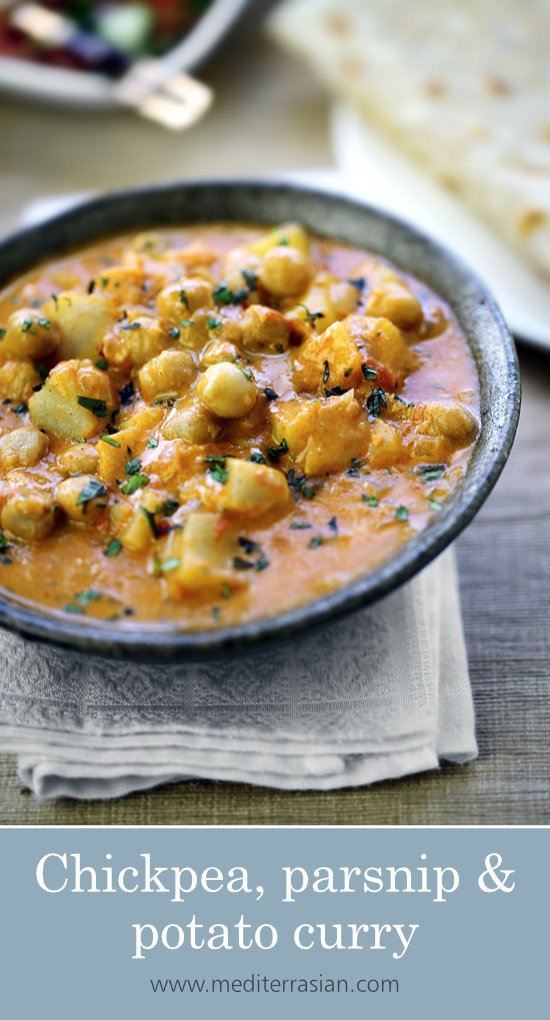 A potato, a parsnip, and an onion. Not the most exciting sounding trio of vegetables, I'll admit. But apart from a couple of salad vegetables, they were the only fresh vegetables we had on hand a few days ago (it was just before our weekly grocery shop).
How could we jazz up this trio, we thought. Luckily, we always have a well-stocked MediterrAsian pantry which makes it very easy to create tasty and nutritious meals even with a minimum of fresh ingredients.
After a quick scour through our pantry we spotted just what we needed to turn our simple combination of vegetables into a flavorful Indian curry: a can of chickpeas, a can of tomatoes, a can of coconut milk, and a couple of spices (plus we also picked a little fresh mint from our garden to add extra flavor and freshness). A little over half an hour later we were sitting down to one of the most soul-satisfying curries we've had in a long time.
This hearty curry is a balanced meal in a bowl and needs no additions. But if you've got a large appetite it can also be served with Indian bread such as naan or chapati on the side. In fact you can use the bread as an edible spoon, in the Indian way, and tear off pieces to dunk into the curry and scoop up into your mouth. A bit messy, but lots of fun!
Chickpea, parsnip and potato curry
serves 2
A warming and soul-satisfying Indian vegetable curry with chickpeas, parsnip and potato in a delicately-spiced tomato and coconut milk gravy.
2 tablespoons peanut or canola oil
1 onion — finely diced
2 cloves garlic — minced
2 teaspoons finely grated fresh ginger
2 teaspoons ground cumin
2 teaspoons ground coriander
½ teaspoon chili powder
¼ teaspoon ground cinnamon
1 potato — peeled and cut into small cubes
1 parsnip — peeled and diced
14 oz (400g) canned chopped tomatoes
14 oz (400g) coconut milk
1 teaspoon salt
1 cup canned chickpeas — rinsed and drained
1 tablespoon finely chopped fresh mint (or cilantro)
1 tablespoon lemon juice
HEAT the oil in a large saucepan over a medium heat and cook the onion for 8 minutes, stirring occasionally. ADD the garlic, ginger, cumin, coriander, cinnamon and chili and cook, stirring, for 1 minute. ADD the potato and parsnip and stir to coat with the spice mixture. ADD the tomatoes, coconut milk and salt, bring to the boil and cover with a lid. REDUCE the heat to medium and simmer, covered, for 20 minutes, stirring occasionally. STIR in the chickpeas and simmer, uncovered, for 5 minutes. REMOVE from the heat and stir in the mint and lemon juice. SERVE with naan bread.

Variations: Add cubes of uncooked chicken or fish, or try shrimp or scallops, in place of the chickpeas. Or use canned brown lentils or frozen peas instead. Replace the fresh mint with cilantro (fresh coriander).