SOUPS
Chunky bean and vegetable soup with basil pesto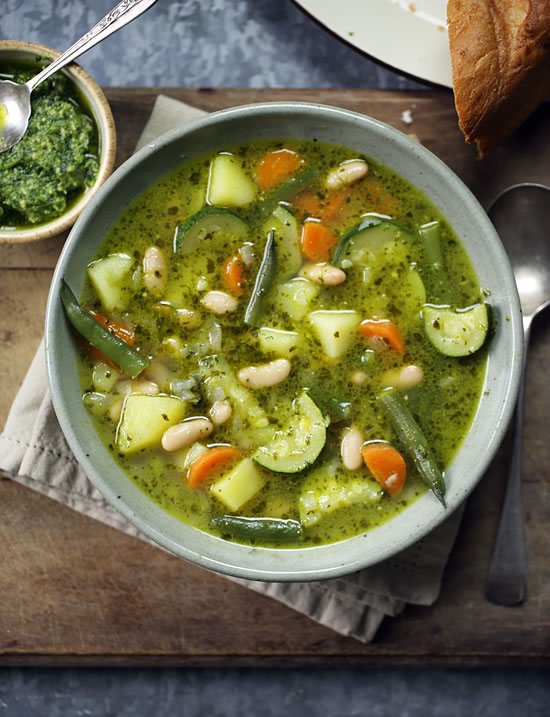 We're real traditionalists when it comes to Mediterranean and Asian cooking. But convenience is also a big consideration for us. If we've got plenty of time on our hands, we don't mind making our own stocks from scratch, or even making our own curry pastes with a mortar and pestle.
But often, time isn't on our side so we use stock powder, or a pre-made curry paste instead. I'll be the first to admit that the end result isn't quite as good, but the flavors are close, and the time and energy saved makes the compromise worthwhile.
This soup is a good case in point. We could have made the stock from scratch and also the pesto. But this was a weekday dinner for us, which means it has to be on the table in 30 minutes or less — or else we start to get hangry :)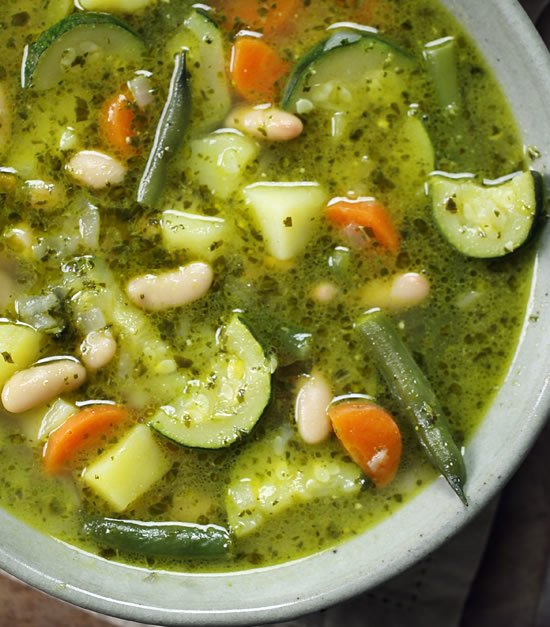 So to save time we used stock powder and a good quality store-bought pesto. During the cooking process the vegetables release their own flavors anyway, so the finished soup has a wonderful depth of flavor, which is accented by the robustness and creamy texture of the pesto. Combined with some fresh crusty bread it made a delicious, healthy and balanced meal. And all without much hassle.
Chunky bean and vegetable soup with basil pesto
Serves 4
A hearty fiber-rich soup chock full of protein-packed beans and chunky vegetables, and accented by the robustness and creamy texture of basil pesto.
2 tablespoons extra virgin olive oil
1 onion — diced
1 carrot — halved lengthwise and sliced into half-rounds
1 zucchini — halved lengthwise and sliced into half-rounds
1 potato — peeled and cut into small cubes
16 green beans — cut into 1-inch pieces
6 cups vegetable or chicken stock
1 teaspoon salt
½ teaspoon freshly ground black pepper
14 oz (400g) canned cannellini beans — rinsed and drained
¼ cup pesto (store-bought or
homemade
)
HEAT the oil in a large saucepan over a medium heat. COOK the onion for 4 minutes. ADD the carrot and cook for 2 minutes, then add the zucchini, potato and green beans and cook for 2 minutes more, stirring occasionally. ADD the stock, salt and pepper, bring to the boil, then cover the pot, reduce the heat and simmer for 15 minutes. ADD the white beans and pesto and cook for 1 minute.