SANDWICHES & PIZZA
Mediterranean tuna sandwich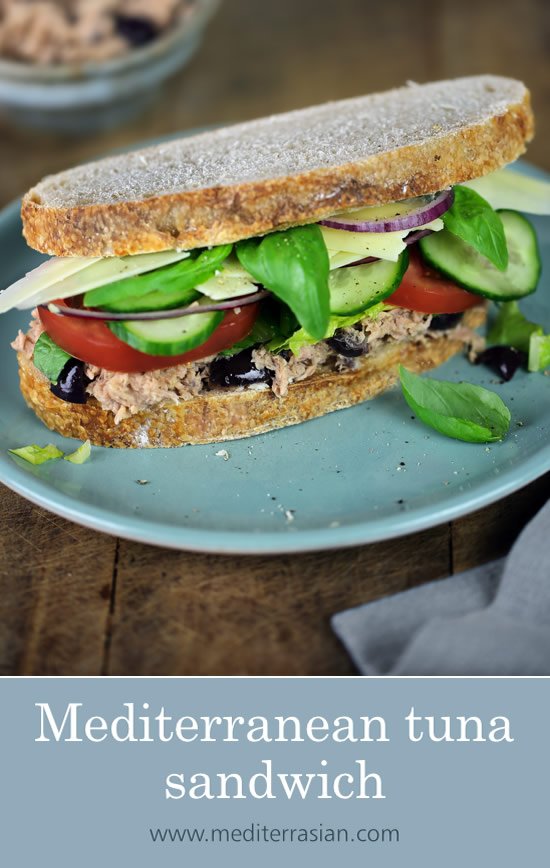 As you may already know, Ric and I eat a diet of mostly Mediterranean and Asian foods, which we call a 'MediterrAsian' diet. The reason we do this is quite simple. People from Mediterranean and Asian regions such as Greece, Japan and Southern Italy are the longest living peoples on earth. And scientific studies dating back more than 60 years have found that diet plays the key role in the exceptional health and long lives enjoyed by people from these 'Blue Zone' regions.
Like most people, we want to live long and healthy lives. So of course it makes sense to mimic Mediterranean and Asian dietary practices in our own lives — which we have successfully been doing for well over a decade.
But there's absolutely no way we could have followed a MediterrAsian diet for so long if it was bland and boring. Thankfully this way of eating is as far from bland and boring as you can get! Fragrant stir-fries, creamy risottos, mouthwatering sushi, freshly baked pizza, warming curries, and garlic and olive oil infused pasta are just some of the delicious foods we eat — all washed down with a wine or cold beer. Sounds pretty tough to stick to doesn't it?
This tuna sandwich, packed with classic Mediterranean ingredients, is another great example of good food that also happens to be good for you.
Mediterranean tuna sandwich
Serves 2
Packed with flavor and goodness, this Mediterranean-inspired sandwich is a great way of jazzing up a humble can of tuna.
6 oz (170g) canned tuna — drained and mashed
1 teaspoon Dijon mustard
½ clove garlic — minced
2 teaspoons lemon juice
1 tablespoon extra virgin olive oil
4 black olives — finely chopped
2 romaine (cos) lettuce leaves — shredded
4 slices sourdough or whole grain bread
1 large tomato — sliced into rounds
8 sliced cucumber rounds
A few thin slices of red onion
1 oz (30g) shaved or very thinly sliced Parmesan cheese
8 basil leaves
Salt and freshly ground pepper
IN a small bowl, mix together the tuna, Dijon mustard, garlic, lemon juice, extra virgin olive oil and black olives. SPREAD 2 slices of the bread evenly with the tuna mix. TOP with the lettuce, tomato, cucumber, shaved Parmesan, red onion and basil leaves. SEASON with salt and pepper, cover with the top half of the bread, and cut each sandwich in half to serve.