SIDE DISHES
Peas and fava beans with mint and feta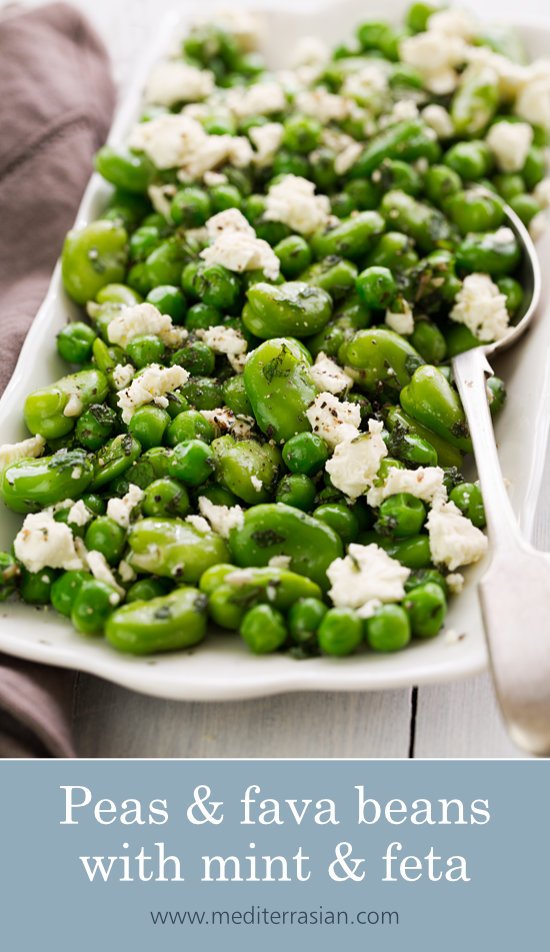 My parents are English, but they emigrated to New Zealand not long after getting married, and that's where my sister and I were born and raised. Christmas day for my folks in New Zealand was a lot different to the traditional Christmas's they'd been used to back in England. That was mainly because it was summer on Christmas day in New Zealand — and often a sweltering hot summer day at that.
But that didn't deter my mum one bit from cooking a traditional British hot roast dinner with all the trimmings for Christmas day. And the heat certainly didn't deter me from wolfing it down until my belly couldn't take any more!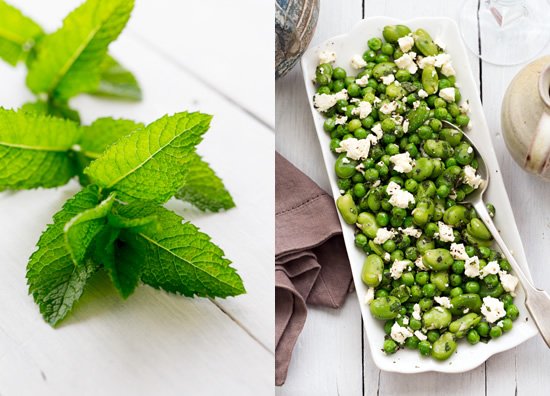 For me, the side dishes were just as important as anything else on the table, and one of the things I particularly loved was minted peas (green peas with fresh mint, salt, and butter). I still love minted peas to this day, but a couple of years ago Trudy and I discovered a Greek dish that's similar to minted peas, but even better.
Extra virgin olive oil is used instead of butter, and the addition of fava beans (also known as broad beans), freshly cracked black pepper and crumbled feta take it to a new level.
It makes the perfect Christmas side dish served warm with all the classic roast trimmings, or at room temperature as a buffet dish. Any leftovers can be tossed with pasta the next day with some chopped leftover ham if you like. Or, if you mash the veggies and feta a bit with the back of a fork, it makes a yummy bruschetta topping.
Peas and fava beans with mint and feta
Serves 4
A simple and highly appetizing Greek side dish with green peas and fava beans (also known as broad beans) tossed with extra virgin olive oil, chopped fresh mint, cracked black pepper, and crumbled feta.
2 cups frozen fava (broad) beans
2 cups frozen green peas
3½ oz (100g) feta cheese — crumbled
2 tablespoons finely chopped fresh mint
2½ tablespoons extra virgin olive oil
½ teaspoon salt
½ teaspoon freshly ground black pepper

COOK the fava beans in boiling water for 4 minutes, then rinse under cold water. REMOVE the leathery outer skin from the fava beans and discard. COOK the peas in boiling water for 3 minutes and drain. PLACE the peeled fava beans and peas in a serving dish. ADD the olive oil, mint, feta, salt and pepper and toss gently to combine.